Another big week in the city on the cards, Getintothis' David Hall shuffles the deck and sees what suits.
Whichever way you cut it, whether you're from the red or the blue half of the city, whether you're a football fan or not, this coming weekend is massive for Liverpool as a city.
Football has changed a lot in the last decade. Yes, it has become a sport increasingly run by money, but it has also become more international than ever. So this Saturday's Champions League final tie between Liverpool and Real Madrid is big for the local economy.
Don't believe us? Hotel prices in the city have shot up almost as sharply as those in Kiev. There are city centre bars charging not-inconsiderable sums of money for football fans from all over the country and the world to watch the final.
We're mentioning all of this because you can sense the Merseyside gig scene has dropped down a gear this week. Yes there's plenty on, and big gigs too. But if you're after a huge choice on every night, you'll have to wait until later in the summer.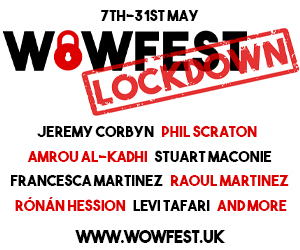 What is in the offing this week however is quality, quality and more quality. There's also a Champions League alternative on Saturday, for the really football-averse.
Phoebe Bridgers: Leaf On Bold Street, Tuesday May 22
Rising Los Angeles indie-popper Phoebe Bridgers has already enjoyed support dates for Sylvan Esso and The National, amongst others.
Having just released her second album Stranger In The Alps on the Dead Oceans label last year, Bridgers hits Leaf as part of a five-date UK tour. Her Liverpool date is sold out.
Paris Youth Foundation: The Cavern, Wednesday May 23
One of the most exciting prospects about town, Paris Youth Foundation are gearing up for a Cavern date this week.
They take to the stage of the legendary venue midweek following the release of their newest single The Off Button and a recent string of well-received national dates.
Robyn Hitchcock: Philharmonic Hall, Wednesday May 23
Psychedelic jangle-popsmith Robyn Hitchcock takes off on a solo UK tour, having only just wrapped up full-band dates with backing band His LA Squires.
The former R.E.M. collaborator and surrealist London eccentric is currently knee-deep in wide-ranging tour dates, and has US gigs lined up in the autumn.
Echo & The Bunnymen: Philharmonic Hall, Friday May 25
Bring on the dancing horses, Echo and the Bunnymen  release new album The Stars, The Oceans & The Moon in October. In the meantime, they're previewing the album – which features new material, plus reworked versions of some of the band's classics – with a UK tour.
The band recently caused controversy by first appearing to reschedule the follow night's Birmingham show, before going back on this announcement. Their Philharmonic gig is unaffected.
Asian Dub Foundation: Invisible Wind Factory, Friday May 25
Asian Dub Foundation present a unique show at the Invisible Wind Factory on Friday, soundtracking the seminal French indie film La Haine live.
It's the latest in a limited number of performances that Asian Dub Foundation have commissioned for the live soundtrack, the first in 2012 coming in the wake of the previous year's national riots. They follow up a Liverpool performance with just two further shows, in Glasgow and Leeds.
Cocaine Piss: EBGBs
, Friday May 25
Punk rock noisemakers Cocaine Piss (worth the admission for the name alone!) hail from Leige, Belgium.
Maybe not a place that screams 'punk' at you, but with a lineup including Strange Collective, the incendiary Salt the Snail and rising local charlatans Eyesore & the Jinx, the EBGBs crowd will have a proper punk show on their hands this Friday.
The Fernweh, Marvin Powell, Niamh Rowe: EBGBs, Saturday May 26
Someone had to do it, and it seems that The Fernweh, Marvin Powell, Niamh Rowe have drawn the short straw.
Yep, those are the acts bravely going up against a Champions' League final in Liverpool city centre on Saturday. If you're not into your football, this night of acoustica seems like the place to be.
This gig has been POSTPONED due to a certain football match taking place. A new date will be scheduled and announced very soon.
If'n you don't like what you've seen so far, maybe Getintothis' Gigbites will be more up your street!
April Towers: Sound Food And Drink, Wednesday May 23
An Evening Of Music Night Presented By LIPA – featuring Daddy, Jakkals, Ego States, Eli & The Vito, Bandit, Amelia Wallace: Zanzibar, Thursday May 24
Will Sparks: Hangar 34, Friday May 25
David Starr: 81 Renshaw, Sunday May 27
Circus – featuring Sven Vath, Ben Klock, Robert Hood, Yousef, Mella Dee, Acid Mondays, Bontan, Mark Jenkyns: Camp & Furnace, Sunday May 27
Upcoming gigs to keep an eye on:
Boy Azooga: Shipping Forecast, Thursday June 7
We're getting closer and closer to this nicely-hyped date, so there's still time to get your tickets before excitement starts boiling over. Following a national TV appearance on BBC music staple Later… with Jools Holland, interest in Boy Azooga is sure to peak.
More Boy Azooga material will be on the nation's screens on the Sunday this guide is published, so act fast! Plus with Tracky and Seatbelts on support duties, two of Liverpool's most hotly-tipped new bands will also be in attendance.
Comments
comments