Gerry Cinnamon had the O2 Academy going nuts as Getintothis' Lewis Ridley reports on a Scottish invasion.
Gerry Cinnamon put on what must be one of the shows of the year as he had O2 Academy bouncing to his stomping belters.
The Scot had a huge hometown following and combining with a passionate Liverpool crowd eager to see what the fuss was about, created a tremendous atmosphere.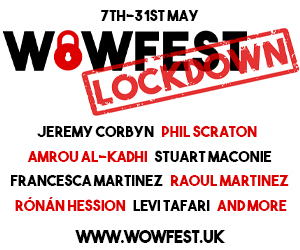 The show had sold out in a flash, and upgraded accordingly almost immediately. Expectations were high.
Dylan John Thomas was the warm up act. All hair and impenetrable Glasgow accent, he got a warm reception by kicking off with the Stone Roses Waterfall and then mixing a few of his own tunes with more covers. He strutted around the stage as though it was his front room at home and seemed completely at ease with the setting in front of a packed O2.
The rendition of Bob Dylan's Like A Rolling Stone was a real highlight for this audience who belted out every word in appreciation. It was a sing-along kind of night.
But the real love in the room was for Gerry Cinnamon and we were not impressed by the "Gerry, Gerry" chants during Thomas' set. It was rude and unnecessary and a massive disrespect to a support artist who put on a pretty decent show. We get the fact Cinnamon was the main event, but we've never heard that kind of insult to any band before. Thomas let it slide though and fair play to him. But it shouldn't have to be like that.
When the main event arrived, it was after a section of big singalong songs from Rod Stewart to Neil Diamond, people in the crowd were already on shoulders in full Saturday night mode.
Dylan John Thomas appeared around the stage door and, to his delight, had fans asking for pictures and congratulating the young man on his set.
A tracky top and a guitar, Cinnamon appeared to a rapturous reception, tops came off, and the crowd sung their hearts out. As much as he was, they were phenomenal.
LightNight Liverpool 2018 review, pictures and what we learned from this year's happening
A cover of I Wanna Be Adored has been a mainstay in this tour, one that is set to spread far an wide on social media, having Cinnamon as a major name within his genre.
From his trademark Belter to the gentle Diamonds In The Mud, Cinnamon told tales of his hometown that the crowd couldn't get enough of. A backdrop of the town ensures nobody forgets where he comes from.
'I was greeting there like a big jessie', says Cinnamon, clearly moved by the love shown towards him in the room.
The crowd screamed for Discoland, and a track that falls somewhere between rocking acoustic and Glesga clubland, it was brilliant. All ages, from a young lad on the shoulders of strangers to seasoned gig-goers were completely wrapped up in this spirit.
He's a breath of fresh air, and this writer can only admire the enthusiasm of the crowd. The scenes were something to behold.
No label, no band, Cinnamon exclaims that all he needs is a crowd. They combined to produce a superb Saturday night gig.
Images by Getintothis' Peter Goodbody
Comments
comments