As Amber Rudd exits the trap door and embarrasses the Prime Minister along the way, Getintothis' Mark Rowley chooses his pick of Manchester gigs for May.
By the time you read this, the local elections will most likely have been the hot topic for one whole day. The barometer of opinion regarding the state of the nation will no doubt be interpreted through the results, before we return again to our slumber, and accept the powerlessness we feel to see any real change through the ballot box.
Thankfully then, we have music to lift our spirits … and plenty of it this month!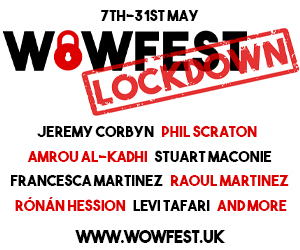 Manchester is going to be awash with a fantastic selection of live acts to feast your ears on. So without further ado, here are the top picks from who is going to be on, when and where this month.
Kamasi Washington: Manchester Albert Hall, May 4
American jazz saxophonist, Kamasi Washington is back in the UK for four dates (including the Cheltenham Jazz Festival) as part of a European tour to promote his latest release, the Harmony Of Difference EP.
With a career that spans the best part of two decades, including numerous high profile collaborations (such as those with Herbie Hancock, Lauryn Hill and more recently, Thundercat), Washington's  show last year in Liverpool was described as spellbinding and jam-packed with special moments.
The iconic surrounds of the Albert Hall provide a perfect setting for a Kamasi Washington concert. Your attendance is strongly recommended!
Stella Donnelly: Manchester The Castle Hotel, May 7
 Australian contemporary folk-pop singer-songwriter Stella Donnelly brings her beautifully cultured voice and softly plucked acoustic guitar arrangements to a very intimate setting.
Causing a major stir following her first hit, Boys Will Be Boys and its condemnation of patriarchy, from the 2017 EP, Thrush Metal, head down to The Castle to hear what else Stella has up her sleeve. You won't be disappointed.
Nap Eyes: Manchester Soup Kitchen, May 11
The East Canadian quartet hailing from Halifax, Nova Scotia returns to Manchester, to showcase their infectious slacker, lo-fi rock in promotion of their 2018 album, I'm Bad Now.
With a sound that has hints of Pavement, enhanced by a deadpan vocal delivery borrowing from both Lou Reed and Jonathon Richman, Nap Eyes will more than live up to their record label's old tag of 'the best band you've never heard'. Unless of course you have by now (with three album releases under their belt to date); in which case you'll know exactly what was behind the claim.
Passing through on a whirlwind European tour, Manchester is very lucky to be one of a handful of UK destinations to host Nap Eyes. This is one show you should do your utmost not to miss!
Oshun: Manchester Soup Kitchen, May 17
 New York-based hip-hop and RnB soul duo Oshun appear at the Soup Kitchen as a stop-off for their UK tour, following last month's debut album release entitled, Bittersweet Vol 1.
Hailing from Washington DC originally, Oshun's influences range from poet/rapper Lauryn Hill through to George Clinton's Parliament. They claim to be 'the sonic manifestation of Afrofuturism, mixing digital music with heavy drum and bass, along with atmospheric melodic layers'.
As recent collaborators with popular UK soul artist, Jorja Smith, expect these 'Sistars in Arms' to welcome you into their world.
On the bill also  is Manchester's very own rising star, RnB singer, radio host and DJ, Katbrownsugar.
Samurai Kip
Swanhunters, Octopus, Deh-Yey, Samurai Kip: Manchester Castle Hotel, May 19
A DIY night of four bands for a fiver, presented by Elephant Management, is the offering that catches the eye this particular Saturday evening. Named after a once-thriving shipyard in Wallsend, in the county of Tyne and Wear, post punk three-piece, Swanhunters have a gritty sound with a vocalist that resembles early Mark E. Smith, circa Live At The Witch Trials.
On the bill also are Manchester-based tentacle rockers, Octopus; Chester scuzzy, blues-rock duo, Deh-Yey; Liverpool funk and groove hipsters, Samurai Kip, who are one of the brightest young bands to grace a Merseyside stage (which they do regularly) in the last decade!
You're advised to get there early as you'd be foolish to risk missing any of these acts.
Avi Buffalo: Manchester AATMA, May 27
Psychedelic dream-pop multi-talent, Avi Buffalo returns to Manchester to perform solo in the intimate setting of AATMA.
With two album releases behind him (including his critically acclaimed, self-titled first album), Avigdor Zahner is a highly respected songwriter, producing songs with beautifully intricate melodies. The date, part of a European DIY tour, sees the Long Beach, Californian 27-year old doing what he enjoys most, playing live for your delectation.
On the bill also are Sam Forrest of Nine Black Alps/Sewage Farm fame playing a solo set; plus Seatbelts, featuring Ryan and James from Hooton Tennis Club.
Also recommended during the month of May are the following:
Wreckless Eric: Manchester Gullivers, May 9
Wilko Johnson, Hugh Cornwell: Manchester Academy, May 12
Strange Bones, Witch Fever: Manchester Night People, May 17
Cabbage, The Blinders,The Rhythm Method, Witch Fever: Manchester O2 Ritz, May 19
Snail Mail: Manchester Gullivers, May 20
Nilufer Yanya: Manchester Deaf Institute, May 20
Rolling Coastal Blackout Fever: Manchester Gorilla, May 21
Japanese Breakfast: Manchester Deaf Institute, May 22
Spear Of Destiny: Manchester Ruby Lounge, May 24
Unknown Mortal Orchestra, Deerhunter: Manchester Albert Hall, May 26
Cameo: Manchester Academy, May 27
Frankie Cosmos: Manchester Albert Hall, May 28
Comments
comments