As Field Day 2018 took place once again in Brixton, Getintothis' Sinéad Nunes delivers her verdict on this year's festivities.

Any new festival is going to experience teething troubles, whether it is a brand new enterprise, or an expansion set in a new location.
Especially if that festival is set in the bustling capital city, amidst an almost entirely residential area, full of a middle class clientele.  And so, Field Day attempted to tiptoe into Brixton's gentrified area of Brockwell Park, not without the twitching of many a curtain, and the presence of what felt like half of the Metropolitan Police Force lining the streets.
Not to dwell on the security levels at Field Day, but never before have the festival gates felt so intimidating; facing multiple body searches, sniffer dogs and an unfathomable door policy which banned tote bags for being larger than an A4 sheet of paper.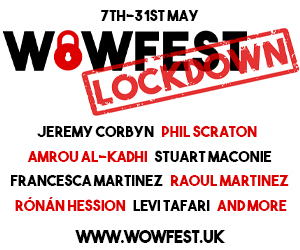 The journey towards the gates was punctuated by angry punters who'd been told to go home and dump their bags, or risk losing them, and students being turned away for having their friend's name on their ticket.
Friday's festival atmosphere warranted none of this extremism; Field Day's grounds were gently filled with sun-seeking middle aged couples, jazz-loving twenty-somethings and the most well behaved ravers you've ever come across.
Featuring jazz stylings from the likes of Moses Boyd Exodus, Obongjayar, Sons of Kemet and The Comet is Coming, free-wheeling instrumentals and funky bass lines were the order of the day. Meanwhile, IAMDDB, Mahalia and Erykah Badu ensured strong female representation in the soul and urban jazz fields, whilst Loyle Carner's main stage performance was the perfect vibe for the afternoon slot.
Saturday's atmosphere was a different story entirely, which later saw Four Tet's set suspended, and electronic stage The Barn wholly inaccessible for most, meaning this reviewer missed out on big hitters like Daphni, Floating Points and Panda Bear, due to overcrowding.
Earlier in the day though, Oumou Sangaré charmed the crowds with her sultry, multi-tonal voice, Princess Nokia delivered half a decent set (see below) and Mount Kimbie improved on their missable performance last year at Liverpool's Invisible Wind Factory with a set of crowd pleasing favourites.
Elsewhere, comic relief (and a no-holds-barred opportunity to dance like no one's watching) came in the form of Kurupt FM, whose presence on the main stage highlighted their undeniably likeable charm.
Live mixing heavy garage beats and grime tunes from their BBC 3 show People Just Do Nothing, with cheeky in-jokes, banter with the audience, and the chance to play some of their favourite records from the massive stage across one of London's biggest parks, the group were clearly having a laugh and happy to invite us to be part of the fun.
Other highlights from the day included Charlotte Gainsbourg's syrupy vocals on the main stage, Thundercat's funky headline set and intense techno and electronica in the form of Avalon Emerson and Daniel Avery.
FESTIVAL HIGHLIGHTS:
The Comet is Coming, Dimensions
Happily, there's been a massive uplift in the amount of jazz, and jazz-crossover artists finding themselves high up on festival bills across the UK this year.
Where once older generations complained about the lack of originality in contemporary music, fusion jazz bands are fulfilling an unclenched thirst among young people, and The Comet is Coming are part of that trend.
Hosted in a tent run by Total Refreshment Centre, the Dalston venue associated with many London jazz acts, the three-piece combined free jazz, prog rock, post-punk riffs and electronic melodies to a raving crowd, who lapped up every minute.
Saxophonist Shabaka Hutchings' hooks are instantly recognisable and the star of each track, especially on songs like Final Eclipse and Space Carnival.
Erykah Badu, Eat Your Own Ears
No doubt the woman that most of the punters had come to see, Badu did not disappoint (that honour was taken by someone else).
We started our Erykah experience, somewhat high (no, thank you, atop a ride spinning over the entire festival site), taking in the mammoth crowd that had gathered at the main stage to see their neo-soul icon.
Arriving on stage with gigantic crimped pony tails, the 46 year old wasn't concerned about acting her age, dancing, joking about and pumping out hits like Tyrone, Next Lifetime and On & On.
Unfortunately, so as not to upset their new neighbours, the organisers pulled the plug on Badu mid-song, to boos and chants from the crowd as she mimed to the audience what had happened. Not a great way to close the festival's opening night.
Oumou Sangaré
Malian songbird and all-round African Queen, Sangaré opened up the main stage on Saturday afternoon, welcoming the sun to the festival in her lilting french between songs.
"Regarde le soleil" she smiled, as she graced the crowd with her majestic presence, clad in a floor length gown, backed by a band in stunning shades of blue.
Oumou and her band – so tight one would think she might exhibit James Brown levels of precision behind the scenes – grooved, moved and wound their way through a set of some of her best known tracks, including the infamous Koounkoun.
Having just flown over from their slot at Primavera the night before, the fifty year old and her entourage were full of energy, the backing singers getting every hungover festival goer dancing to start the day right.
Thundercat, Eat Your Own Ears
Saturday's main stage headliner delivered a powerful jazz fusion set, with his falsetto voice oozing through new arrangements for songs like Walk on Bye, Tokyo (played twice, because he's so in love with that track), Captain Stupido and Friend Zone.
Littered with mind-melting bass runs, epic free jazz instrumentals and cheeky asides to the audience between songs as The Cat flirted with his listeners like the smoothest of radio DJs, the show was undoubtedly one of the best of the festival.
To top off the night, he invited a guest onto the stage, asking "guess who it issssss?" as former collaborator Erykah Badu, for whom he played in the 2000s appeared in a spidery fringed jacket and her signature bunches alongside the shorts and sandals wearing Thundercat. Delivering a tingling rendition of Them Changes, the duo finished the night with a frenzied, unexpected and invigorating duet.
Fever Ray, Crack 
Flanked by two backing singers-cum-dancers, the electro-art-punk artist delivered a set that was part raucous punk rebellion and part dreamlike electronica.
In a powerful display of strong femininity, an all-female band (including African drummers) joined Karin Dreijer on stage, one half of the Swedish electronic duo The Knife, as she belted out Wanna Sip and Keep the Streets Empty For Me, mixing it up with a massive beat drop for party banger Idk About You.
Ever-hypnotic, her set fluctuated from seductive and sweet to aggressive, with jagged pastel lighting (ever exploring the dichotomy of feminine vs masculine) and a strange interpretive dance breaking up the visuals on stage.
Towards the end of her set, an incredible moment saw Dreijer's voice drowned out by thousands of (mainly women) for To the Moon and Back, screaming: 'I want to run my fingers up your pussy!' Girl Power indeed.
But how about the least great acts of the festival? The award for Top Worst has to go to Princess Nokia, for her excruciatingly off-key live rendition of a flurry of covers from her emo mixtape, delivered as a nasal, extended Tom DeLonge impersonation which saw the majority of the bursting tent leave for AJ Tracey.
Teething troubles aside, Field Day was a great weekend, with plenty to cater for even the most eclectic of tastes.  Lets see what 2019 brings.
Comments
comments