In this week's Singles Club, Getintothis' Matthew Wood uncovers the return of two sublime, veteran acts along with some ferocious compositions from a brand new metal band. 
Single of the Week 
Spiritualized – I'm Your Man ft. J. SPACEMAN
Britain's finest space rock pioneers, Spiritualized announce their first record in six years, titled And Nothing Hurt set for release September 7 on Bell Union/Fat Possum records.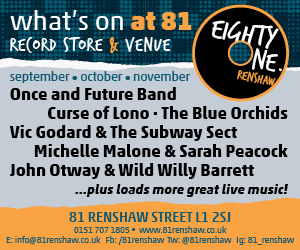 Following the lonely steps of J. SPACEMAN, the blissful waltz is a track to win over any heart with Jason Pierce professing his love for another, but recognising that being a perfectly dedicated lover isn't exactly his forte, and instead decides that he better suits the description of 'wasted, faded and uneducated'.
Scattering bluesy riffs and uplifting horns to create a euphoric crescendo, the jubilant sections of the track contrast greatly with Pierce's sincere vocal delivery, recalling Daniel Johnston's heartfelt yet downtrodden style that touched so many hearts, while Pierce sits in his spacesuit, in a car, looking a little helpless.
It's a rollercoaster of feeling and emotion, tipping from one extreme to the next; calm, then frantic, troubled then celebratory, it's a stirring emulation of the human disposition.
Cigarettes After Sex – Crush 
Specialising in intimate slices of heaven as we all know, Greg Gonzalez and co. release Crush, which was recorded during sessions for the their debut self-titled studio record.
The fact that it didn't make it onto the album, or their decision to postpone release could work tremendously in their favour with nods to swimsuits and taking a romantic dip, the composition glows like cool moonlight over a deep blue swimming pool and will undoubtedly serve as a blissful summer romance soundtrack.
Each hushed utterance from Gonzalez is so superbly sensual, 'I wanna fuck your love slow' he announces, the expletive losing all sense of disgrace and blending beautifully into yet another irresistible track from the El Paso quartet.
Dead Circus – Silence (feat. Leah Rae)
Wigan-born electronic duo, Dead Circus return with their finest output to date, Silence, this time with the help of sibling and friend, Leah Rae.
Swathes of swirling synths open their foray into gloomy, electronic-pop, a delayed clap beat charges the track with a progressive energy before settling into a throbbing groove as Tom Odell's multi-layered vocal is let loose.
Odell finds lyrical inspiration in his dreams, human consciousness and the abstract, creating a carousel of images embedded in the pulsing, ethereal soundscape, adopting a role not dissimilar to Alex Turner in his socially pertinent musings from Tranquility Base Hotel & Casino.
Adding a melodic layer through some glossy backing vocal work, Leah Winstanley forms the track's addictive hook and tops off the duo's most refined pop tune.
Dead Circus will play Old Courts, The Grand Vault, Wigan on July 20.
Tanukichan – Perfect
Occupying a much desired space under Toro Y Moi's wing, San Francisco multi-instrumentalist Tanukichan is making deserved waves with her brand of dream pop that glows immensely but feels largely grounded in the drive of the city.
Heavy, droning guitars create an urban sprawl for Tanukichan's heavenly vocals to float through, held together by a vintage 80's beat, it's easy to get lost in the fast-paced melee.
Taken from Tanukichan's debut record, Sundays, out July 13 on Company Records.
Interpol – The Rover 
Post-punk powerhouses Interpol have pronounced themselves firmly back on the scene, having recently toured their phenomenal debut record, Turn On The Bright Lights again for their 15th anniversary celebrations, they've now announced details of their sixth studio record, Marauder, out August 24, plus this killer single.
Having reigned as rock & roll royalty through the years, Interpol are one of few bands who need not necessarily delve into the unknown and 'progress', and while they've no doubt covered immense ground as a band, their sound is so unique and instantly recognisable they can recycle their sound much to the joy of their fans.
The Rover is a mighty monster of a track, the opening lick is rudimentary at heart, sounding like the first riff a youngster plays on their telecaster after their first week of lessons but as ever with Interpol its their utilisation of the simple that brings their charms.
Marked with huge driving bass licks and Paul Banks' iconic baritone, they glide like a knife through honey and it is, as ever, a joy to behold.
Eleanor Nelly – Polaroid
Liverpool's country queen is back with a brand new video for new single Polaroid. Eleanor Nelly has easily worked her way up from the open mic nights to signing with legendary Decca Records and recording in Nashville – surely every country-lover's dream.
Her latest single is filled with reflective, wishful thinking, its melodies easy listening and soothing to those who might be tempted to harbour more aggressive feelings towards current affairs.
Effortless finger-picking is laced with Eleanor's genteel descriptions; 'If we can stand still we can be something real', characterised by her classic country-style akin to June Carter or Sheryl Crow.
Who Killed The World – Rustlung
Metal has always held a place at the heart of Stoke-On-Trent's music scene, through the years it has dominated the local haunts going in hard with 10mm stretches, largely debilitating skinny jeans and windmilling arms.
As with most vibrant music scenes, many bands of this ilk were mere passing trends, but a select few musicians have continued to push the boundaries of music with heavier tendencies, particularly in the Stoke-On-Trent area.
Who Killed The World is the amalgamation of four of Stoke's finest metal musicians; they're inventive, passionate and incredibly talented. Having seen the progression of Matt Cartwright (guitar) and Alex Jardine (drums) as musicians first hand through their admirable commitment to their respective projects, its a joy to reveal their latest E.P. featuring three outrageous instrumentals.
Rustlung will knock your proverbial socks off with its hectic time-signature changes, mind-bending fills and the band's exploration of the brutally punishing and expansive melodies. Even if metal isn't your thing, you can appreciate the formidable force these boys create, and if metal is your thing then wrap your ears round that explosive beat down.
Take a bow, lads.
<iframe width="100%" height="300″ scrolling="no" frameborder="no" allow="autoplay" src="https://w.soundcloud.com/player/?url=https%3A//api.soundcloud.com/tracks/449422794&color=%23ff5500&auto_play=false&hide_related=false&show_comments=true&show_user=true&show_reposts=false&show_teaser=true&visual=true"></iframe>
Gabe Gurnsey – Eyes Over
Co-founder of 'post industrial' noise outfit, Factory Floor, drum machine merchant Gabe Gurnsey explores new ground and sounds in his latest solo venture.
Inspired by the moments of lust felt on the dance floor, Gurnsey has sought to channel those warming moments of passion in his new record, Physical, ditching the minimalist sounds of Factory Floor and instead channeling something more intrinsically human.
Eyes Over is altogether a pretty frantic piece, mirroring the concoction of chemical reactions and emotional explosions one may endure in a nightclub. Synths bubble and throb, while Gurnsey's spoken-word, robotic lyrics affirm that he'll get us 'shaking like jello', and while its a funky, energetic piece, there's an overriding, disconcerting tone to the piece, just as with great highs come great lows.
Comments
comments