Psycho Comedy took over the Royal Standard for a night of art, poetry and general mayhem as Getintothis' Lauren Wise was on hand to see.
A lot of bands will get up, sing some songs and leave it at that.
And while the music might be brilliant, and they might be your favourite band, there's something to be said of musicians who want to completely immerse you in their world – so you can really understand the experience and where their music has come from.
Psycho Comedy's Welcome to Smashville saw the Liverpool-based six piece do just that, giving fans a trip around 70s New York from a Baltic Triangle warehouse.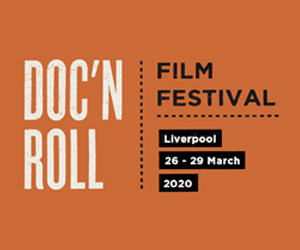 Their event comprised much more than a gig. It was a three course meal of the arts, featuring an exhibition as a starter, spoken word as the main and a rock show as the ever-so-sweet dessert.
To begin with, attendees were first ushered into the exhibition room, where Sophia Duff's work was on display.
A series of pieces featuring the band, their lyrics and their apparel, this acted as a taster of what what was to come.
A Warhol-esque silent video played in the background with portrait shots of band members, who were often holding the 70s icon that is the glass Coca-Cola bottle – a small representation of everything that New York (and America) was on its way to becoming.
Pop art also featured in the exhibition, and it was from here you could begin to see how the band's influences worked. It became clear that this wasn't just a type of music, it was part of a wider movement that harked back to the love-lost youth of 70s America, when rebelling against the nuclear family was its peak, and drugs, literature and rebellion were the way out.
Moving into Performance Area 1, as the song would later suggest, you can see how the art gallery had been transformed into a music venue while retaining its studio charm, enhancing the idea that this was very much an entire concept that needed to be bought into, not just some folk making noise.
The playlist that preceded the next instalment of the evening was inherently New York, further adding context to the musical influences that Psycho Comedy draw from featuring Lou Reed, The Ramones, CBGBs and Television.
In between this time, band members milled amongst their friends, family and fans. It can be easy for musicians to fall into the trap of rock-persona haughtiness, excluding newcomers; this was far from the case with Psycho Comedy.
Willing to encourage everyone to learn about the movement they were part of, they welcomed new and old faces, happily expanding on the ideas they were bringing to life, and being genuinely nice.
Spoken word from band members Matthew Thomas Smith and Shaun Powell followed. Akin to the stream of consciousness poetry Ginsberg or Kerouac once performed, it's galvanised by its urgent and passionate delivery.
Following this, a five minute film created by Caitlin Mongan was previewed, in which Liverpool becomes the UK's New York as Powell talks about his influences and his music.
After the art is absorbed, it's time for the final act – the music itself.
With all the run up and preparation, I was half expecting to find the music predictable, but was pleasantly surprised.
Although there were the obvious influences that had been built up throughout the various aspects of the night, there was also a freshness to it that meant they weren't simply living in the past, but instead bringing it to 21st Century Liverpool.
Spoken word acted as an integral part of the set which on the whole was gravelly, visceral and raw – effectively ready for rebellion and to lead its own movement.
Frontman Powell's was the main performer, his androgynous style mirroring Lou Reed while Thomas Smith's spoken word interludes did the same.
Highlights of the set included First Cousin, Once Removed, I Adore You and new track Sleepwalking. Each song was underpinned by tight drumming, a groove-inspired bass-line and a healthy dose of vicarious thrills.
There's not much not to enjoy when you're plunged head first into a conceptual evening brimming with influence, intellect and art, making it the perfect time to be introduced to the music and ideals of Psycho Comedy.
Images by Getintothis' Peter Goodbody
Comments
comments