Dance punk veterans !!! (Chk Chk Chk) brought their groove to Hangar 34 and Getintothis' Peter Goodbody on a sticky and sweaty night in Liverpool.
With a career now spanning more than 22 years, Sacramento's !!! aren't exactly prolific.
Having released seven albums since their self-titled debut in 2001 to last year's Shake The Shudder, theirs has been a career focusing on quality rather than quantity. So we're taking lessons and learning from the people who know less is more. This is perhaps the shortest gig review we've written.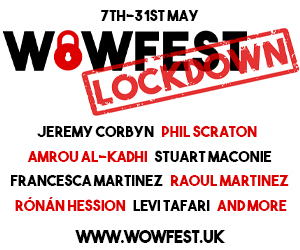 !!! turned up as a six piece, which proves somewhat of a crowd on the Hangar 34 stage, but they weren't too bothered, on this their second visit to Liverpool after a mighty Sound City set last year.
It was hot outside, and it was damn hot inside, and !!! were set to ramp up the temperature considerably. Nic Offer was wearing his customary skin-tight shorts – he knew what was about to unfold.
However, first off there was Lola. Go on, have a guess at their choice of intro song before they took to the stage, we'll bet you have no clue. It's decent enough rock for 30 minutes, although half an hour is probably enough. It seemed an odd choice as a support. They have nothing at all in common with the main theme.
Tonight was the launch for the band's new single Against The Tide. It all went down well enough, but most people here were only interested in one band.
Come 9.30pm and Nic Offer starts as he means to go on. Kicking off with NRGQ from the recent album Shake the Shudder. That pretty much describes what went down for the next hour. Shakes and shudders in Hangar 34.
Offer is a fucking lunatic on stage. Like the kid at school with untameable curly hair and borderline ADHD he can't stop bouncing and pogoing for even the briefest of moments.
On four separate occasions he doesn't just leap into the crowd, he gyrates, body-slams, forms a pit, goes for extended walkabouts and pretty much engages with all 300 of the attendees as camera phones are at first raised but then put away as everyone joins in unison to dance alongside him. It's the first gig in sometime we've seen so many people discarding their clothes as sweat literally dripped off the ceiling.
In defence of hippies – the movement which shaped culture, politics and radicalism
We have to confess to not being !!! scholars; not having a detailed knowledge of their back catalogue. But we were a bit surprised at the absence of  Me and Giuliani Down by the School Yard – perhaps their best known song, but no worries. This was a disco inferno and everyone was having a party.
By 10pm Offer was a liquid mess much to the delight of his band-mates who routinely have to unfurl wires as he twists and turns among them; breaking two microphones along the way.
The turnout in Hangar 34 was surprisingly thin for a heavyweight act like !!!, but that really didn't seem to matter as everyone who did turn up were treated to a night of pure class.
Proper New York disco and the vibes to go with it. There was even a kind of YMCA moment during Freedom with Offer and co-singer Meah Pace doing speed semaphore in unison.
As Festival No. 6 takes a year off – here's an open letter from Getintothis
"Alright, Liverpool, we've got two more for you" and then it was over after about an hour. That's spot on in our view. We are not fans of two hour sets. If you can't make your point in 60 minutes then you're encroaching on our time and we start to get a bit tetchy.
However, we'll allow an encore for an extra few minutes. Just the one mind as they close with Yadnus – the only track plucked from their glorious 2007 album Myth Takes – a manic behemoth of a thing and perhaps one of the best things we've seen all year. This was by far the heaviest track of the night. A glam rock scream fest and it's a wonder the building is still intact.
Forgive the brevity of this review, but the word count isn't always a mark of quality. This was quite simply a brilliant gig from a band that knows how to do it live.
And then Nic Offer blew kisses to the crowd and that was that. Contender for gig of the year. Superb stuff.
Images by Getintothis' Peter Goodbody
Comments
comments