Haley Heynderickx brought her oom-sha-la-las to 81 Renshaw and Getintothis' Mark Rowley was there to see her garden grow.
It was good to see on Facebook this gig was a sell out.
There was decent competition for attention in the form of Michael Head at the museum, Creamfields and, of course, the bank holiday weekend weather, which had reverted to UK standard wind and rain. All designed to put us off venturing out anywhere, let alone the back room at 81 Renshaw.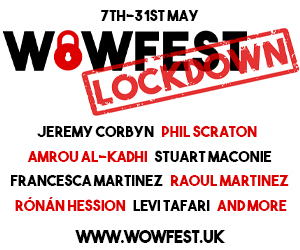 So, on the face of it this could have been a tricky sell. But then, when you have such a soulful voice like Haley Heynderickx; with a confident delivery to match, maybe you don't need to worry.
Heynderickx is from Portland, Oregon and if America does folk (which it does), then she's the real deal. Touring her newish album I Need to Start a Garden, even the song titles give an indication of what you get.
The Bug Collector and Ride a Pack of Bees get an airing tonight; along with Drinking Song and No Face. Also on the setlist were Worth It and a cover of the Jackson C Frank song. Blues Run The Game.
Her music, at times mesmerising, has a calming sound and feelgood effect and there was none of the annoying background chatter that occasionally does its best to ruin the enjoyment of a very good performance.
Heynderickx finished off her set (just shy of one hour) with her best known song Oom-sha-la-la, which prompted a singalong by an appreciative 81 Renshaw audience.  She mentioned that this tour of the UK was unusually a solo acoustic one and that on her next visit to these shores she hoped to bring her full band in tow.
On tonight's performance there's a strong argument against doing so, as Haley Heynderickx solo was such a pure, joyous and uplifting sound!
First up on the night's bill was talented Liverpool singer-songwriter, Rachael Jean Harris. She arrived on stage almost unnoticed and delivered a set of acoustic folk/blues that demanded our attention, and which thankfully she received.
It was a short set, finishing with a quartet of songs based on a theme of people who have endured long term incarceration or confinement. If this sounds less than appealing, then it was anything but. Her guitar playing and sense of rhythm were right up there with the best and her vocal range was impressive also.
Main support was provided by local solo performer, Charlie McKeon. Mixing acoustic folk guitar with traditional old style folk vocals, with a range of influences as diverse as Bob Dylan, Nick Drake and Bert Jansch, McKeon lit up 81 Renshaw with his fine musicianship and humorous asides.
His introduction to the song Sarah was as comical as it was confusing, explaining that it was about a girl with pink hair (… or was it purple)? He also told us his wife Rachel doesn't like the song, but then went on to say he's not really married, but has a friend in the audience named Rachel!
There were other songs about Apple Pie and having devilish tendencies, in which he was able to display his ability to purposefully hit bum notes and fit them into his songs with such aplomb!
All in all, this was a splendid night's entertainment organised by Harvest Sun Promotions, featuring a highly talented lineup that complimented each other perfectly.
Images by Getintothis' Peter Goodbody
Comments
comments