Protomartyr bring dissonant chaos to Liverpool's O2 Academy on a chilly August evening and Getintothis' Simon Kirk was there to see it unfold.
With the night's pulling in and the weather creeping slowly towards the colder months, at least there's something to look forward to this Thursday night: the gale-force behemoth that is Protomartyr, who return to the UK.
Tonight, it's Liverpool's turn to be swept up to the shore courtesy of the Detroit four piece's tidal surge of noise.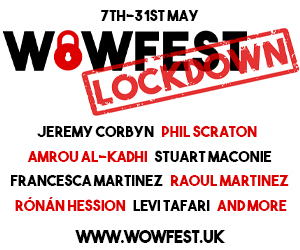 Having been on the road for almost twelve months since the dazzling Relatives in Descent, Protomartyr will either be splitting at the seams due to ailing fatigue, or really hitting their straps. After all, having previously been exposed to their live performance, there is no middle ground with this band.
Since their last tour, Protomartyr have released the brilliant four track Consolation EP. Again, another string to the bow of their already formidable body of work. 
Local three piece, Eyesore & The Jinx, kick things off. They are a good choice of support, with their rolling waves of boisterous noise sounding something along the lines of the Gun Club mixed with Shellac.
Next up is London based Sauna Youth and they are equally as beguiling, carving out manic short bursts of angular urgent post-punk. 
With the aforementioned acts opening up the relevant gateway, it's time for Protomartyr to show us how things are done. Nonchalantly, Greg Ahee, Alex Leonard and Scott Davidson enter the stage and occupy their positions. The Carling drinking, casual every day man, better known as Joe Casey, follows and the stage is set for Protomartyr's frontman to deliver his bleak political diatribes through the foggy prism of desolation.
First is My Children, a nervous splintered number that is played with a meat-raw intensity. More greatness from Relatives in Descents follows. Windsor Hum – the finest track from the album – has an off-kilter edge and the crowd are floored by its jangling prairie hum. So too The Chuckler, which comes across as an ear-splitting tirade that is almost unrecognisable in comparison from the record. It's the loudest track of the night.
No Passion All Technique's highlight, Jumbo's, is even more stripped back and frenetic live, as Protomartyr have well and truly blown off any cobwebs, kicking into gear.
Casey doesn't talk much other than thanking his favourite band Sauna Youth, along with Eyesore & The Jinx, for providing support. He then orchestrates more dissonant chaos in the way of Wait. A malaise-like harangue which Casey delivers with aplomb, drenched with a backdrop of atmospheric droning guitar licks, accompanied by Leonard's sprawling drums. The young skins-man moves around the kit with consummate ease, underpinning the sound for this post-punk animal.
Win two weekend passes for The Psych Weekender at Night People with Astral Elevator
The one-two jab/uppercut that is A Private Understanding and Here is the Thing follows, with the sonic interpretation being much quicker and stripped to the bone.
Cuts from The Agent Intellect also receive the obligatory coarse treatment. Pontiac 87 and Coward Starve seem refined and are delivered with an unparalleled poise.
As the band close with Half Sister you get the feeling that there's more to come and, true to form, after exiting the stage, Casey ushers his troops back onstage for one final assault.
The sonic barrage consists of Under Color of Official Right's closing number, Come and See. It sounds urgent, jarring and just plain fucking fantastic. Ditto, The Devil in His Youth, which has an effect akin to twisted metal sparking off asphalt.
Casually, Casey thanks the crowd and with little fanfare, Protomartyr depart from stage. It's an hour and ten minutes of brooding post-apocalyptic portraits sculptured and inspired by the band's native Detroit.
As odd as it may sound, Protomartyr almost produce something that's bigger than themselves. These days, there are not many guitar bands that possess the energy and downright significance that Protomartyr offer. Best band in the world? Why not? This week they most certainly are, anyway.
Images by Getintothis' Keith Ainsworth
Comments
comments