Another week, another trio of essential underground sounds, it's what Unknown Pleasures does best and Getintothis' Mike Stanton is once more your dedicated guide to all that is good.
If music is about mood and atmosphere, and let's face it, it mostly is, then London shoegazers Cosmic Strip are sitting right there in the valley of lush dream-pop forests, shrouded in clouds of melodic mist.
Brand new single Heavenly is a heady concoction of shimmering guitars, thrumming bass, spacey atmospherics and reverb-kissed vocals. Defined as "a song dedicated to the addictive feeling of your first love", Heavenly thrives within its carefully constructed lyricism, sweeping vocals and layers upon layers of dreamy guitars, showcasing four minutes of giddy dream pop.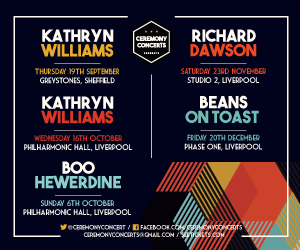 The brainchild of frontwoman Camella Agabalyan and self-described as "music to watch girls by, music to move the stars", Cosmic Strip's latest cut has been drawing comparisons to the likes of Beach House and Alvvays and follows on from their debut releases last year.
Cosmic Strip's Heavenly is out now and available on all digital platforms.
Liverpool gig guide: Bishop Nehru, Getintothis Deep Cuts #18 plus win tickets to Fiesta Bombarda
More woozy-edged alt-pop, this time from Leeds courtesy of quartet Party Hardly. Terry Shure is a tight and compact rock/pop track with an ambitious and expansive production sheen. It evolves and builds into an anthemic stomper and by the end of its four and a half minutes run it's time throwing shapes into an ambient and hazy realm. The groundwork is laid out as context and mood is established; vocals are clear and understated with a jaunty guitar bed and steady beats.
We are then scooped up and carried out on wigged-out noise and gauzy chanting which will no doubt be a gig favourite with loads of scope for audience participation and much arms-in-the-air bouncing.
Guitarist Matt Pownall says: "Terry Shure is my personal realisation of seeing people's lives go stagnant. How over time you go from doing new and exciting things to telling the same old stories and being stuck in the past".
Upcoming debut EP Cycle Of Life sees the fuzzy outfit take another giant leap forward with their eccentric brand of indie rock and in lead single Terry Shure they give us a glimpse of what's to come.
Produced by Hookworms' MJ, Party Hardly's Terry Shure is out and available on all digital platforms.
Singer/songwriter Chris Simmons releases Saturn Returns at the end of the month and further enhances his reputation as a skilled and nuanced song-smith who draws on the sounds of the past and re-purposes them very much for the now.
Earning comparisons with Brett Anderson, Neil Finn and Paul McCartney, Simmons has concocted a sound so memorable that his choruses stay with you long after the song has finished. Simmons' vocals are clear-eyed and pitch-perfect with slight vibrato and consummate phrasing and the melodies he toys with are meticulous and delicately atmospheric.
Written for a friend, Saturn Returns unflinchingly illustrates the human dynamic of hard times. A starry tumble of a guitar lick gives way to influences as far ranging as Mark Knopfler, Paul Simon and Jose Gonazalez.
After losing his beloved brother four years ago, writing became difficult, performing even more so. Simmons decided to take a break and one day the words came. "I started writing again. Loads actually. I decided to hold off performing and just totally absorb myself in writing and recording. Now I have a new record ready to go. What I think is my best ever material."
Saturn Returns is released on August 31.
Comments
comments