The Beatles' most creative period is being marked by another bloated, over inflated pisstake, Getintothis' Peter Guy asks why do Liverpool's big set piece events so regularly miss the point.
I wonder whether anyone at The Pier Head Village has heard the Badly Drawn Boy song Pissing In The Wind?
It's a decent listen, and incidentally, the video features glamour puss Joan Collins skulking about in her pink fluffy bathrobe pondering the superficiality of her existence as Badly Drawn Boy comforts her in his trademark tea cosy.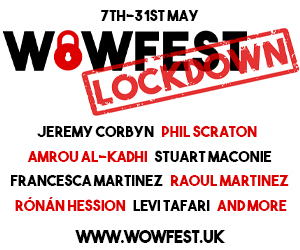 It's a side point, but seems rather apt in this instance as both the song, video, artist and most of all message are inexplicably linked to the Pier Head Village's September two night 'spectacular': The White Album at 50.
A happening which should carry the tagline: While We All Gently Weep…
The verbose press release which pierced our inbox in early July like an ill-judged X Factor audition, proclaims the event to be "the jewel in the crown of this year's live music programme celebrating the Beatles' The White Album which will be performed by some of the world's greatest musicians and artists."
And these world greats are…
"The star-studded celebration features: Mike Rutherford, Marc Almond, Badly Drawn Boy, Hugh Cornwell, Glen Matlock, Allman Brown, Heather Small…"
Wait just one moment, Verbose Press Release Person. Heather Small of Mercury Prize winning M People, Glen Matlock – the one who was briefly in the Sex Pistols and Mike of the actual Mechanics. This is quite something…
But there's more. "China Crisis, The Christians, Connie Lush, Miles Kane, Roachford and the Prague International Orchestra."
Well, if Connie didn't seal the deal, Roachford and his Czech Republic string section will certain to have us Ob-La-Di, Ob-La-Da-ing.
And the cost to experience this execrable exercise of bloated nostalgia?
All yours for fifty three pounds a ticket.
Or should you wish to splash out on a Gold Circle Experience – a snip at £118.80 per ticket.
Hey, why not take the wife and kids? At £475 you could witness Marc Almond's priceless rendition of The Continuing Story of Bungalow Bill. Look longingly over the water as a member of The Stranglers leathers Back in the U.S.S.R.
Or sack off your entire summer holiday and instead tell your mates of the time you stood on the banks of the Mersey as Miles Kane jizzed off in his leopard print slacks to Why Don't We Do It In The Road?
But hold up a minute. This isn't really a dig at the artists. They're content at playing The Monkees in a whopping organ grinder of pop detritus.
The key point here is that once again, we're left wincing as a Liverpool culture company wallows in vacuous anemic nostalgia producing an event with all the imagination of a Louis Walsh staged karaoke convention.
Check out the 101 finest artists and bands that have shaped Liverpool in the last ten years
This is, after all, ten years on from Liverpool's 2008 Capital of Culture celebration.
To contextualise: 10 years on from one of the city's finest artistic achievements and 50 years from one of The Fab Four's landmark musical moments, a masterclass album in popular culture – and we've booked Roachford to do Rocky Raccoon.
It's unimaginable how a concert of this nature could be assembled so spectacularly badly. But we're not surprised.
We've been here before – many times.
It's all remarkably consistent with the now infamous Lennon at the Pier Head show in 1990.
Noteworthy for appearances by Terence Trent d'Arby, Wet Wet Wet and inexplicable turns from UKIP-supporting disc jockey Mike Read and Superman Christopher Reeve.
When asked how he felt about being the only Liverpool band on the bill, Garry Christian was more confused about being asked to play. "There's a lot of bullshit going round, and I don't really know. I feel really… a bit weird about the whole thing."
Garry may wonder the same about this event too.
Relive Lennon at the Pier Head and the gig many would like to forget
Salient to all this supposed grandstanding was a point made on Twitter last week by Liverpool design agency, Kindholm.
Regarding the glorious cardboard sandcastles, they wrote: "As much as we love the Giants, it's been incredible – and maybe a good lesson to those up top – that something as simple, imaginative and low budget as a bunch of *cardboard boxes* can get people excited when it comes to public events. It's been great to watch play out this week."
I can't help thinking that this kind of creative approach could be tied into these such events. Just imagine the otherworldly talents of a.P.A.t.T combining with the internationally acclaimed Ex-Easter Island Head backed by the CHIC-supporting Sense Of Sound Choir and a royal rumble of musicians from musicians from Liverpool's thriving new music community.
Imagine staging it in Sefton Park with the Invisible Wind Factory and Kazimier crew designing a White Album inspired Revolution 9 back drop – overflowing in Savoy Truffles, Honey Pies and the odd Glass Onion.
Somewhere in the distance you'd have Liverpool Psych Fest bands jamming to Helter Skelter, Mick Head singing Dear Prudence and then a cameo as Jayne Casey and Deaf School tear it up with Happiness Is A Warm Gun.
You could even erect a fence, charge a fiver and it'd all cost less than this Pier Head debacle – and chances are Liverpool's music community would all be involved. And people would attend. All Scousers. All contemporary. A festival for Liverpool celebrating then and now.
Imagine…
Instead we've got Glen Matlock doing Everybody's Got Something To Hide Except Me and My Monkey. I guess we really are just pissing in the wind.
UPDATE: This event is not affiliated with Culture Liverpool or Liverpool City Council. The event's promoters did, however use Liverpool City Council, Culture Liverpool and the Mayor's logos in promotional materials and logos.
Comments
comments