Liverpool Music City Region Music Board is launched at The BME, Getintothis' Peter Guy reflects on what went down.
The Liverpool City Region Music Board was launched at the British Music Experience outlining its strategy and key objectives.
The LCR Music Board, made up of 18 members and seven 'observers' were revealed by head of the newly created voluntary collective, Michael Eakin, CEO Royal Liverpool Philharmonic.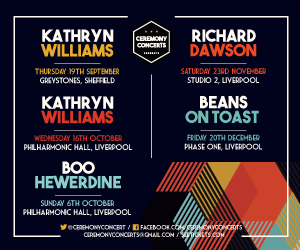 The board in full is:
Chris Meehan, CEO Sentric
Rebecca Ayres, Managing Director Liverpool Sound City
Ian Thomas, Chair of LCR Music Education Alliance
Steve Levine, music producer
Craig Pennington, editor of Bido Lito!
Matthew Flynn, University of Liverpool Music Industries
Paul Gallagher, Deputy director at Museum of Liverpool
Ben Williams, Commercial Director, ACC LIverpool
Andy McClusky, OMD vocalist
Cath Hurley, mostedeffo music manager
Hannah McKearnen, Independent Accessibility and Inclusion advocate
Yaw Owusu, Playmaker Group, LIMF
Catherine Tackley, Head of Music, University of Liverpool
Alok Nayak, MILAPFEST
Barbara Phillips, Positive Impact
Anne Thwaite, Arabic Arts Festival
Jennifer John, Sense of Sound
The Music Board observers include Michael Dugher and Tom Kiehl (UK Music), Joe Anderson, Mayor of Liverpool), Kevin McManus (head of Liverpool UNESCO City of Music), Peter Hooton (The Farm, Beatles legacy group), Sarah Lovell (Culture Liverpool), Kelly Wood (Musician's Union), Lord Dave Watts (Leader of St Helens Council).
The event was kicked off by Michael Eakin, CEO Royal Liverpool Philharmonic, who outlined the city's heritage insisting 'music is our calling card – it's there in the music brought in to the city across the centuries from around the world – it's there in the Beatles and in the UK's longest standing orchestra, The Royal Liverpool Philharmonic."
Here's @mayor_anderson – "My ambition is, before I peg it, is to have a Fame School for working class kids to attend and realise their musical ambitions. We want to engage and inspire young people. There isn't another city out there like Liverpool." pic.twitter.com/AYiL497aPa

— Peter Guy (@Getintothis) January 21, 2019
Steve Rotheram and Joe Anderson were united in insisting Liverpool had to capitalise on the many skills and opportunities that were readily happening within the city, while also insisting youth and the working class were at the heart of what they aim to achieve.
Perhaps most pertinently were the words from Liverpool Sound City's Rebecca Ayres who told the packed room, "We will be held accountable." Rebecca was also keen to shed light on the new music delivery that is currently on offer in Liverpool reeling off an extensive list of venues, artists, press and creatives who make the city tick.
Metro Mayor Steve Rotheram talks about capitalising on the £165m spend on music in Liverpool region (last year) – but says we need to work on retaining homegrown talent which we lose to London/elsewhere and investing inwardly. "We want working class kids to get the opportunity." pic.twitter.com/jljr4kbShS

— Peter Guy (@Getintothis) January 21, 2019
Liverpool Music Board member & CEO @SoundCity @Beckoir talks about new music legacy giving shout to 24 Kitchen St, IWF, Constellations, Bido Lito, Sentric, Ditto, Getintothis plus a long list of artists saying we need to safeguard development of new talent – "we are accountable." pic.twitter.com/MQxgIMfFnD

— Peter Guy (@Getintothis) January 21, 2019
She added: "I am excited to consider how the Board can make a difference to the music industry and how we can facilitate, advocate and lobby those with power and influence in order to bring forth new talent and creativity which our region has an offer."
Music on the day was provided by LUNA.
EDITOR'S COMMENT: Liverpool is often referred to as a village – everyone knows everyone. Well, today's Music Board lauch was like a WI meeting with a who's who of everyone from all culture sectors – and everyone was keen to get into everyone else's shit. Among the David Bowie costumes and Oasis memorabilia stood Council suits, festival organisers, promoters Harvest Sun and Mellowtone, Liverpool Music Week's Mike Deane, studio operators from Parr Street, music PRs, the odd musician, dance and choir organisers, venue heads from 24 Kitchen Street and Liverpool Philharmonic, and UK music figureheads, Echo & The Bunnymen and Cabbage's management and many more – all keen to see what on earth was about to happen. What did? Not much truth be told. A couple of speeches continuing the three year thread of 'we need to make this happen' before Rebecca Ayres addressed some of the more pertinent issues central to the people on the ground – venue protection, new music strategy and most importantly transparency and involving all. Today was a positive happening – it is FINALLY the starting point for some kind of action. But for that action to happen and make a difference the Music Board has to engage with those at the forefront of Liverpool Music. Namely, and primarily, the musicians – and those who can provide funds to support them. As Kevin McManus said to Getintothis – I want to make a difference here, there's been too much talking and now it's time to do things." Let's see how all this pans out – we're hoping the Music Board do exactly that. – Getintothis, Peter Guy
Pictures by Getintothis' Christopher Flack.
Comments
comments