Spare Snare brought their Scottish rock to to 81 Renshaw Street and Getintothis' Peter Goodbody found the Dundee rockers in rude health.
If you google Spare Snare you wonder if they get damned with faint praise.
They're the 19th best band at this or were named as the 46th best band from Scotland at doing something else. Honestly, it seems like Wikipedia is struggling to be nice about them.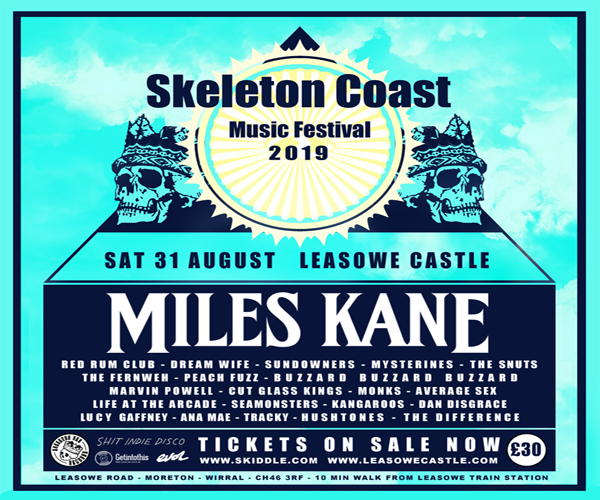 They also have the unique, albeit somewhat curious, claim to fame as being the only band ever to have recorded sessions for both John Peel on Radio One and Aled Jones On Radio Two. We kid you not – there is no other band in the world who has achieved that double.
They have 13 albums to their name, the most recent being the Steve Albini produced Sounds Recorded by Steve Albini. Huh? Yup, that's what it's called.
So there's surely going to be quality on offer tonight. Happily, we're not the only ones checking out Dundee's finest and 81 Renshaw is busy on an inhospitable Friday night in January.
It's this writer's first gig since the break and we're up for it. Don't let us down lads.
First, the supports.
What the jiggery fuck is going on?
Have you tried turning it off and on again?
Oh, let's just go.
Lazy Mary perhaps live up to their name and kick off proceedings minus a working guitar pedal.
Embarking on the third date of their exhausting World Tour (the previous two dates having also been in Liverpool. And last year). This was pretty tight and enjoyable bar blues / punk styled frivolity.
This next song used to be The Minute Song, but then we added another 30 seconds to it. Now we call it 90 seconds. They kick off proceedings in fine style.
In one review we wrote last year for a bill that included Peach Fuzz, we said you could probably get as much as you needed to know about the band from their name alone.
The same can't be said of tonight's number two slot, Mono Sideboards. We know not why or how they got their name, but they are a damn sight better than they sound like they would from that moniker. Trippy, laid back, proggy, almost psych-ish tunes that made us think of Veyu in a way.
Apart from the name, the other thing that would help would be a real drummer. The guys know how to do melody and emotion. They just need a bit more punch and they could go places.
Massive Attack's Mezzanine: 21 years anniversary reissue and tour news
Champion! Spare Snare are on stage. Although it soon proves a stage too small for singer Jan Burnett as the band launch into Action Hero and Photograph Me Properly, both from the new record, he goes walkabout into the audience, strutting and giving eyes to anyone who dares to engage.
We're treated to a raucous romp through the highlights of a rich back catalogue from a band who seem to have the quality to hit bigger stages, but for some reason don't seem to travel that well south of the border. That's not us complaining. It's us wondering why this tight classy, rocky, outfit isn't better known.
They mightn't do interaction, fashion trends or drum and bass (how very 1998!) but Spare Snare were terrific tonight. Great first 2019 gig.

— Paul Higham (@pmhigham) January 11, 2019
The crowd in 81 Renshaw knew what they were gonna get, but it's a small venue. And we think Spare Snare deserves a wider congregation.
If you want comparators, then think Wire or Clinic. This is a band who fits right at home in Liverpool and we'd have them back any time they fancy.
We are the Snare they declare in their eponymous declaration of intent.
We know it. Or at least we do now.
Images by Getintothis' Peter Goodbody
Comments
comments