As part of Independent Venue Week, Jacaranda Records Phase One was the site for a memorable metallic KO  and Getintothis' Roy Bayfield was there to absorb the joyful punishment.
It's a literally freezing Thursday night in Liverpool but Cancer Bats have drawn a venue-filling crowd to Jacaranda Records Phase One and they're ready to party.
There are many grins of anticipation as fans look forward to a night of mayhem.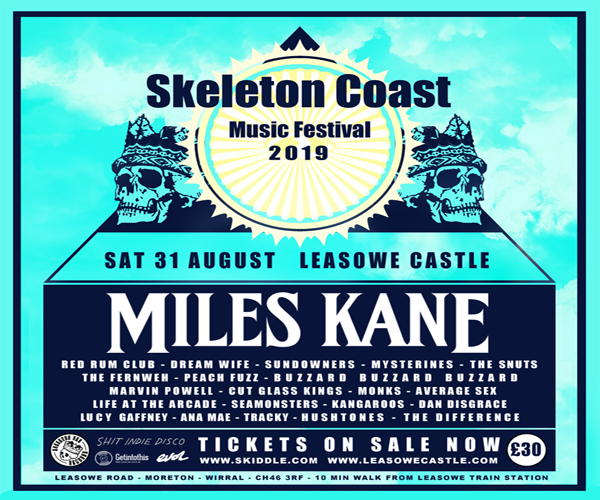 Openers Underside, from Kathmandu Nepal,  are a beguiling surprise. Pioneers from a metallic subculture emerging in a beautiful and troubled land, Underside are on a mission to bring their eclectic sound to the world.  
A masked and dreadlocked dancer adds to the band's visual presence during the opening number. Their sound is a metalcore assault with a two-guitar-no-bass line up generating tentacles of noise. Surprisingly there are no tracks from their self-released 2018 album Satan in Your Stereo – the band taking the opportunity to 'try new stuff' on their UK gigs.
The 'new stuff' comprises of songs with passion and drive, such as Sky Burial, which singer Avishek KC introduces as being about a ritual from where Nepal meets Tibet that achieves 'the highest form of salvation and freedom'; a funeral rite involving corpses being disassembled on mountains and high places to be consumed by vultures. If that's not hardcore, nothing is.
There's a lot of appreciative talk about these Nepalese adventurers as the night progresses. 
Breaking the fear of death: Nick Cave, Brian Blessed and The Haunting of Hill House
Next up Glasgow's Bleed from Within bring some overwhelming firepower to the stage. Tight and intensely committed they're appealingly massive, with Scott Kennedy's vocals bringing emotion to the maelstrom. Kennedy literally commands the crowd, a sweary sweaty dancemaster decreeing circle pits and walls of death,  inciting ever-increasing chaos levels. 
Tracks from their return-from-hiatus album Era form the core of the set with fast and furious Crown of Misery a particularly monstrous standout.  Alive brings things to a spectacular conclusion – definitely a band that could be headlining shows like this. 
Bleed from Within have engaged the crowd and the atmosphere is already full of sweat-mist, but there's a clear expectation that Cancer Bats will take things to yet another level. After a break to reset the stage it's on, Liam Cormier emerging to leap around the stage as a hoodied grinning dervish, the band hammering the crowd into wilder levels of action.
Opener Sleep This Away may be a song about tiredness, but it blasts plenty of energy into the room. Their delirious blend of hardcore punk, metalcore, Southern rock, and sludge metal creates a relentless machine of fun. The form is rapidfire groups of songs interspersed with banter.
Cormier reminisces about the previous trip to Liverpool when 'silver foxes' filled the pit, 66-year-olds acting like 22-year-olds. It comes across that the band love Liverpool and playing 'cool rooms like this'. Sporting a Straight Edge vest, the overwhelmingly energetic and upbeat frontman is a good advert for the no-drink-no-drugs lifestyle. 
Cancer Bats' crowd-thrilling set spans their entire career with tracks from their six studio albums. Naturally 2018's acclaimed whipped-out-of-nowhere The Spark That Moves album gets plenty of airspace with tracks like Winterpeg, Brightest Day and post-human planet-leaving epic Space and Time commanding attention.
Current single Inside Out includes a special moment when a female fan takes the vocals for a full couple of minutes, validated by a delighted Cormier who capers around pointing like a shaman throwing energy her way – solid evidence of the close bond between this band and its fans.
The sentiments of Road Sick must resonate with a band in the middle of a 35 date tour though you sense they genuinely love what they do and relish 'the madness of minds on a single track' – a madness that the crowd is participating in fully.
'Satan in Your Stereo' may not have been summoned, but the Horned One is invoked in fine style in Lucifer's Rocking Chair, an irresistible stomper from 2008's Hail  Destroyer.
By now the pit has gone totally beyond, becoming an ecstatic tangle of hurtling bodies, thrashing mops of hair and flying limbs. Only vultures making off with body parts would make it crazier or more sublime.
Massive album-opener/concert-closer Gatekeeper drops the bolt on a life-enhancing night of noise, and we stumble out into the cold, still grinning.
Images by Getintothis' Chris Everett
Comments
comments