Orange Goblin made a welcome return to Liverpool, managed to unite both Reds and Blues in the mosh pit and Getintothis' Nedim Hassan was there to witness a band at the peak of their powers.
The doors have not long opened in the O2 Academy, but as we venture up the stairs and to the bar there are already a healthy number of punters. Any gloom we had as a result of delayed trains or cold weather immediately dissipates. Smiles abound and among the metal faithful there is a sense of anticipation. It feels like the eve of a celebration.
Emerging behind their now customary green smog of dry ice, Video Nasties swagger onto the stage with determined glints in their eyes.
Merseyside's finest purveyors of dirty rock 'n' roll get the party started with the furious Stay Gold, vocalist Damien's banshee wails barely combatting the dual guitar assault. Tattoo adorned bare chest exposed, it is not too long before the bearded vocalist receives the first heckles of the night. 'Show us yer nipples!' screams a girl in the crowd. 'They're right here baby' Damien grins before the band launch into more material from their (hopefully soon to be released) debut album.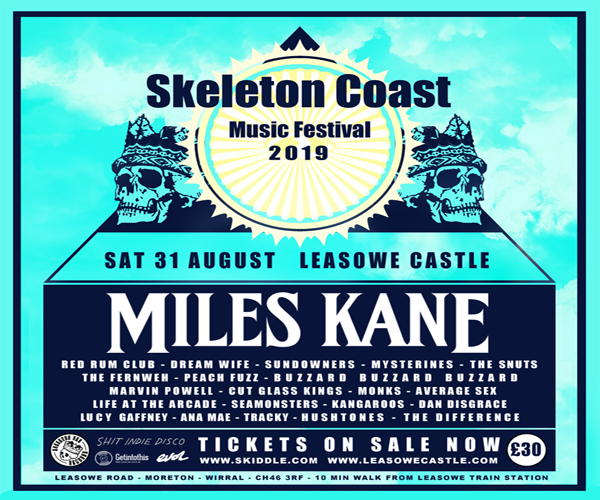 Songs such as Helvetica underline why this band are such a compelling live act, as they fuse riffs that have post punk groove with the stark intensity of black metal delivery. The O2 stage also augments the eerie visual aesthetic that is integral to the Video Nasties' set. During local crowd favourite, Transvoltum, the strobe lighting pierces the green haze in a manner akin to a Skynet Hunter-Killer seeking out its prey in The Terminator.
In contrast, Bury's PIST eschew atmospheric lighting in favour of living up to their name.
'Liverpool we are PIST, let's go fuckin mental!' shouts beaming frontman, Dave Rowlands, before the band launch into their brand of groove-laden, heavy metal. Their sound is epitomized by songs such as Gutter Slut, which features free-flowing riffs that the crowd could shake their asses too, as well as bang their heads.
Referring to Liverpool FC's earlier emphatic victory against Bournemouth, Dave raises the ire of a few Evertonians in attendance when he declares that 'you're top of the league.' Not that Dave seems to care, as he admits while laughing, 'I'm drunk as fuck.' The lads then proceed to put grins on all our faces with more huge riffing. At one point, the vibes from the bass makes the floor underneath us literally shake but that just seems to encourage the mosh pit to up their game.
Orange Goblin are, quite simply, masters at what they do. From the moment they emerge on stage to a backing track of AC/DC's It's a Long Way to the Top…, we know that we are in for a hell of a night.
Opener Turbo Efflunt (Elephant) sees everyone shaking their dandruff loose like crazy and man mountain vocalist, Ben Ward, immediately cools us off by spraying water in our direction. Sons of Salem keeps the momentum going, before the mosh pit explodes into life during The Filthy and the Few. LFC fanatic Ward then dedicates the classy title track of their latest album, The Wolf Bites Back, to 'Mo Salah for scoring today.'
Dig Vinyl – look inside the Bold Street record shop's new Liverpool home
Prior to a pulverizing rendition of Saruman's Wish, the ebullient Ward implores the crowd to 'go crazy' by any means necessary even if it means grabbing 'the person next to you in a head lock and punching them in the face.' Friendly violence (but thankfully no punching) ensues in the pit.
The diversity within the London-based metal veterans' repertoire ensures that unrelentingly furious Lemmy inspired monsters such as Renegades can exist comfortably alongside the less frenetic driving riffs of Acid Trial and Scorpionica.
As the set nears the end, triumphant master of ceremonies Ben no longer holds back from displaying his love for the Red half of Liverpool's two football institutions. Dedicating Red Tide Rising to 'Jurgen's Reds', Orange Goblin still manage to unite both Red and Blue contingents via one final epic mosh pit.
Indeed, we were left with no doubts that if the Red half of Merseyside displayed as much passion and power as this British metal colossus then nothing would stop them this season.
Images by Getintothis' Chris Everett
Comments
comments