London post-punk eccentrics POZI have music and gigs for us, Getintothis' Cath Holland has the scoop.
For POZI, this week is all about landmarks.
The three-piece unveil not only album details, but first shows outside London.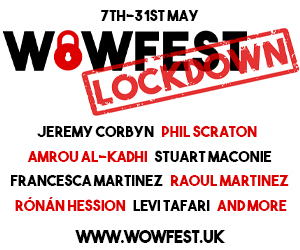 Toby Burroughs on drums and vocals, Tom Jones on bass and vocals and Rosa Brook on eerie, crooked violin and vocals – there's no guitar – released single KCTMO last autumn. The song, a savage, no compromise response to the 2017 Grenfell tragedy, gave a taster of what is to come from the band.
POZI excel in tight, economic songwriting with no frills.
Debut album PZ1 is due for release on PRAH Recordings – also home to Oliver Coates and Group Listening – on 5 April.
The record is sharp, much-needed shock informed by PiL to ESG, Devo, Wire, Television and David Bowie.
A new single, Watching You Suffer is out this week, and tackles the issue of poor mental health provision and services.  The band are passionately opinionated and politically aware but Burroughs is reluctant to position the group as social preachers.
"Our songs mostly have an observational standpoint," he says, "just reflecting some current social and political situations. I don't think they have a direct impact, but maybe ask a few questions."
POZI UK tour dates
20 March Shacklewell Arms London
24 March Eagle Inn Manchester
29 March Lexington London
7 April Rough Trade Bristol
10 April Rough Trade London
13 April Rough Trade Nottingham
11 May Punch Bowl Hotel Newcastle
15-18 Aug Green Man Festival
Comments
comments