As Gwobrau'r Selar announce this weekend's award winners, Getintothis' Cath Holland observes triumphs for the country's new blood making its voice heard.
Organised by contemporary Welsh language music magazine Y Selar, the Gwobrau'r Selar annual awards are now in their seventh year and were held at Aberystwyth University for the fifth time.
For 2019, the event was expanded over two days, confirming the boom in the popularity of Welsh language music.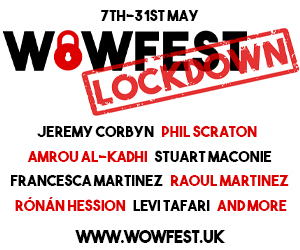 Saturday night's tickets sold out three weeks in advance, and over 1500 people attended over the weekend.
Alffa were the recipient of the brand new Platinum award.
The teenagers hit the international headlines last year when second single Gwenwyn hit a million streams on Spotify.
Albums are now declared platinum after 300, 000 sales; this award is intended to acknowledge the value of digital streaming, and gives a much deserved nod to music achieving a million streams.
Gwenwyn's streaming figures have now doubled in the last two months, meaning the song is now double Platinum – and so Alffa were given two Platinum awards.
Reaching a million streams for the first time was a breakthrough for Welsh music. With digital streaming now dominating the music market, and platinum sales becoming more infrequent, the intention is to present this award to every Welsh song that reaches that million from now on.
The duo were presented with the surprise awards on Friday, the day of the release of new single Pla, which they performed at the event.
Alffa are enjoying Spotify support once more with this new release, landing a spot on the New Music Friday UK, The Rock List and All New Rock playlists this week.
Alffa play the Lexington in London on 27 February with Accu and Private World, promoted by Cardiff venue Clwb Ifor Bach.
Also at Gwobrau'r Selar 2019, Best Individual Artist and Best Independent Promoter were awarded to Alys Williams and  Clwb Ifor Bach respectively, for the second year running.
Alys is a former contestant on The Voice, and has released a couple of original singles so far, plus collaborations.
Last year's Best Breakthrough Act, Alffa's label mates Gwilym bagged an impressive five awards.
Together for just two years, they have already released 5 singles and an album and are set to headline some of Wales' most prestigious festivals. At the moment, all four members are scattered around the UK studying at different universities – two of them in London, one in Birmingham and the other on Cardiff.
Gwilym took home gongs for Band of the Year, Best Song for Catalunya, Best Video for Cwîn and Best Artwork for debut album Sugno Gola, which also won Best Album.
"Gwilym have certainly been a good example to any young Welsh language act," said Y Selar Chief Editor and awards organiser, Owain Schiavone.
"A year ago they were just starting to establish themselves, and won our 'Best Breakthrough Acts' award. They've used that as a launchpad, picked up momentum and built up a substantial audience. There's no doubt that they're a really popular band, and the fantastic reaction to their set to close the weekend was certainly a confirmation of that!"
"We've been coming to Gwobrau'r Selar as punters for a while, and to perform here last year and take home an award was brilliant," said Gwilym frontman, Ifan Pritchard.
"To be picking up five awards this year is absolutely amazing, and we're very thankful to all the people who have voted for us."
Y Trŵbz won Best EP for Croesa'r Afon, their first release in three years. Their lead vocalist also performs under the name Mared and has released some work under that name, including collaborations with Majestic Casual Records' Denton Thrift.
Lewys who so far have released three singles and only played their first show last year, won Best New Band. They play Focus Wales in Wrexham this May.

Special Recognition Award  went to Y Cyrff's Mark Roberts and Paul Jones. 
Branwen 'Sbrings' Williams took home the Star of the Scene award. This acknowledgement is given to someone who is currently working hard to make the Welsh language music scene a better place.
Branwen has been serving that purpose for over 15 years and as well as being a member of Siddi with her brother Osian (who is also the frontman of popular Welsh band Candelas).
She has also run the label Ikaching, releasing some of Wales' most popular artists of the last decade. Her passion for Welsh language music has also seen her organise numerous of gigs, most notably at Neuadd Buddug in Bala and more recently as a part of the national youth event, Eisteddfod yr Urdd.
Best Live Event was awarded to Maes B. The fringe event for young people at The National Eisteddfod of Wales, the four day music festival attended by 1,000 – 5,000 annually.
Also performing at Gwobrau'r Selar over the weekend were rising stars Los Blancos – who released double a-side single Cadw Fi Lan/ Ti 'di Newid on Welsh Language Music Day earlier in the month – and Mellt, named winners of Welsh Language Album of the Year 2018 at National Eisteddfod last summer.
Comments
comments