Dead Naked Hippies made a triumphant return to Liverpool and tore the Jacaranda apart as Getintothis' Peter Goodbody was there to see the aftermath.
We last saw Dead Naked Hippies at Maguires in June for Liverpool Calling.
The good folk of Getintothis were so impressed we declared them one of the top ten picks of the weekend. We loved their punk anthems and the way lead singer Lucy Jowett prowled around the venue both on and off the stage.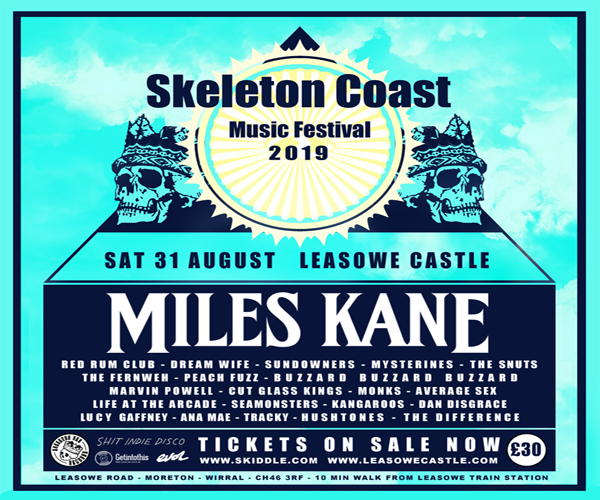 Indeed, we heard a rumour that that performance is one of the reasons Capeesh persuaded them back over the Penines from Leeds for this gig.
So, we expect nothing less than a repeat performance. In the meantime a glance at the band's Facebook page tells us they've been gigging hard recently and have signed to Wipe Out Music Publishing – home to Sleaford Mods and Pigs x 7. These are good things.
First things, however, and we need to get the right venue. We're having a leisurely pre-gig pint in 81 Renshaw, convinced in our head this is where the gig is at. But the audience doesn't look "right" and there's something starting to make us doubt our conviction. "Are you here for the play?" we're asked. "Huh?" we reply in our best Homer Simpson impression. Gulp down the pint and hot foot it to the Jacaranda just in time for the off.
ElleJohanna kicks off proceedings with some spoken word. She's recently launched a podcast series called Words for Birds with Gen Degenerate. We've seen a few gigs recently where spoken word is used to good effect and this is no different.
Her line: "Satsuma in a Smiffy's wig building a death wall" is probably one of the best descriptions of Donald Trump we've heard.
"I've got 15 minutes and I'm rattling through these too quickly. This is my last one", says ElleJohanna before she reads Poem of Unfortunate Happenstances. "Like in the rain when you don't have a brolly or you're late and don't say sorry".
Great stuff.
Flamingo House are a new one on us, but they're polished and pretty good, really. A heavyweight psych/ punkish feel that wasn't dissimilar to early PJ Harvey at the Dry and Rid of Me era.
"This one's called Bluff. It's our punk song." announces singer, Evie. There is no doubt they got that one right, with pure Becky Bondage, Vice Squad, style. There are four of them in a classic guitar, bass drums line up, but the addition of Evie's keyboards adds a bit more depth and provides an extra layer to the sound.
A cracking set. And we'd be keen to see them again.
Uncle Jane brought the heads into the Jac basement and it's fair to say their rocky brand of Velvet Underground psych was a proper hit. The band has been away from gigging recently, so this is a sure fire welcome return to the circuit.
It's lo-fi fast paced rock and just the thing to rattle you out of the effect of that fourth can of Red Stripe.
It's infectious, catchy, raucous and there are moves on the dance floor. There are Black Angels vibes coming through and it's apparent these are a well crafted unit with a following to prove the point.
They finished the set with a new one. 'Not got a name yet'. It soon will have.
We had other options tonight. We think we chose wisely and we're yet to see the headline.
Dysgeusia 49: Venom Prison and the challenge to brutal death metal
Dead Naked Hippies are setting up. Lucy has a mic chord that's gonna get her singing at the back of this room, no problem. Some of the Uncle Jane crowd have left, which is a shame because we know what they're missing before it even starts.
This is a curious phenomenon and one on which we have commented before. It's great you support your mates' band, but by leaving early you're nearly always missing out.
"Hello, Liverpool. We're called Dead Naked Hippies. We hope you don't mind, but we're going to play a lot of new songs for you." Not in the slightest , if they're this good. It's a full on, no compromise assault.
There's the three of them on stage, none of them dead, nor naked. Lucy belting out vocals as if she's trying to be heard in Manchester. Joe Clarke on guitar / bass and Jacob Marston on drums deliver a really clean sound and not once do we think there's a beat missing.
"This is a new song. It's called Dead Animals". "What's it about?" asks one joker. "Dead animals", says Lucy as we get some Gang of Four in a mad mood kind of rhythm with a guitar sounding as angry as it seems appropriate for the subject matter.
Last year's single Guillotine is a perfect punk riot of a tune. It's a masterclass in how to do punk.
The set closes with Curiosity and after about 40 minutes they're done. It's a pretty much perfect set from a band who absolutely know what they are doing. Curiosity saw Lucy prowling into the audience again as the band gave us the heaviest tune yet.
Thanks to deadnakedhippies for a stunning set that blew the roof off thejacclub last night! Thanks also to uncle_jane_ , weareflamingohouse, elle_johanna and coshep_ for your contributions… https://t.co/KOFb2uVILh

— Capeesh (@CapeeshKOTJ) March 16, 2019
And there was time for one more. "I'm deliberating about what to do next", muses Lucy. Dream You is what we got. A smart and tight choice as an encore.
Kudos to Capeesh for putting on this gig. It was an excellent night all round. Dead Naked Hippies are a quality act and if they play anywhere near soon, you should go see them.
Images by Getintothis' Peter Goodbody
Comments
comments