Friday is International Women's Day, Getintothis' Cath Holland finds the best ways to celebrate the sisterhood around town and beyond.
International Women's Day activities in our city have carried an often drippy hippy and elitist reputation.
Events in the even recent past were sometimes spoof-like, quite frankly, and had little do with with the way women live their lives.
It's good, then, that gone are the days when International Women's Day in Liverpool was about meditation, chanting circles and painting pictures of our vaginas.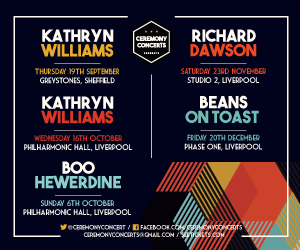 Indeed, 2019 brings with it a wider variety of activities than ever before. Liverpool embraces the annual event more fully and inclusively this year than previous, with a range of creative, political, informative and entertaining get-togethers.
Here at Getintothis, we present on Friday a day of 100 per cent female sourced and written content, featuring both musicians and women who work behind the scenes locally within music and creative industry.
And to help you plan what to do on the day, we've collected a selection of what's happening across Merseyside, intentionally restricting the list to events that are either free at the point of access or charge only a modest fee.
For too long women on low incomes have been disregarded and omitted from feminist debate. it's important to acknowledge that women's rights and class intersect, and we can't help but be bloody proud that Merseyside has done a bang up job this year in embracing women from different communities.
Each event included has an aspect to it which is supportive of other women, an important part of the day on any given year and vital in the struggle against the patriarchy.  There really is something for everyone, whether you're staying at home on the day, going into town or nipping to the library.
It's pleasing that so many organisations, promoters and individuals have made the effort to try and include as many women from different backgrounds as possible.  So have a look at our handy guide to what's on and no matter what, celebrate International Women's Day exactly how you want to.
Support the Pink Box Campaign
Friday 8 March
9am – 5pm.
With period poverty becoming more of an issue in deprived communities and families with low or irregular incomes, initiatives where people can donate sanitary pads, tampons and towels are on the increase.
Wirral's Pink Box Campaign has a large number of donation points this International Women's Day which includes libraries, supermarkets, churches, independent shops and council buildings.
For full list go here.
Melodic Distraction International Women's Day radio takeover.
Friday 8 March
11am to 10pm.
Online radio station Melodic Distraction will feature some of Liverpool's finest creative women throughout Friday and into the evening, showcasing music from women artists and discussing gender constructs in the modern music industry.
Listen and watch live
International Women's Day Research Cafe: PhD research by women, for women
Friday 8 March
John Foster Building, Liverpool John Moores University
12.30 – 2pm Free plus free lunch. Booking is required.
LJMU's Research Cafés are designed to bring researchers from across the University together to discuss and share their expertise. This special International Women's Day Research Cafe has talks that are: by women, about women or for women, sharing their work across different faculties.
Organised by LJMU Library Research Support and Doctoral Academy teams, this free lunchtime event will feature 15 minute talks from up to three different LJMU PhD researchers – spanning a range of disciplines and research activities. There will also be time for questions and further debate.

Speakers taking part are:
Abbie Romano: Novel bio-based materials for passive humidity indoor regulators for buildings within the United Kindgom
Jane Rooney: Negation in the childbearing continnum-an in-depth exploration of women's narratives.
Thathira Siriphan
Sevie Tsampalla: Commoning the biennial or the biennialization of commoning? Recurrent contemporary art exhibitions and politics in the post-Occupy condition.
Women Write, Unity Theatre
Friday 8 March
2-6pm, free. Booking is advisable. 
An International Women's Day celebration in association with University Women in the Arts.
Writer Jennifer Davidson and artist Alice Evans, in association with University Women in the Arts, present an afternoon of talks and workshops. This event is open to all women in the arts and female arts students and focused particularly on a celebration of women as artists.
International Women's Day Lecture – Eleanor Rathbone – the MP for refugees
Victoria Gallery and Museum, University of Liverpool
Friday 8 March
6-7pm, free. Booking is required.
This talk by Janet Woolf, Professor Emerita of Cultural Sociology at the University of Manchester is a personal reflection on aspects of Eleanor Rathbone's life and work, seen through moments in Woolf's own family history.
Rathbone's political work on behalf of refugees and of 'enemy alien' internees in Britain in the 1930s and early 1940s had been noted and appreciated by Woolf's father, a refugee from Germany in the late 1930s, who spent a year in an Isle of Man internment camp.
Making Music Merseyside Private View – A Photographic exploration of Merseyside's Music Scene by Georgia Flynn – .Constellations
Friday 8 March
7pm – 9.30pm
Free. RSVP here
As well as the exhibition of local photographer Georgia's work, there will be live music from  Eleanor Nelly and Katie Nicholas
SisBis Presents International Women's Day – Things To Do – 24 Kitchen Street
Friday 8 March
6pm – 4am.
A social for everyone. Expect live music, food and things-to-do.
Craftivism Workshop
6pm-10pm. Free.
A pop-up crafty workshop!
CRAFT + ACTIVISM = where craft and activism meet to reclaim domestic art and create lovely things
This workshop is free but there will be a bucket accepting donations RASA Merseyside from participants.
Things being made include:
Love Notes for Survivors / a therapeutic method of validation for survivors of domestic and sexual violence, in the past organisers sent notes to RASA Merseyside and My Body Back, this time they want to display them at events.
Zines – participants will be making lovely women-y zines which can include anything you want and can take home.
Reclaim the Night march is coming up in Liverpool so why not also make some banners for the march? Materials provided.  The after party from 10pm is ticketed, and raises funds for Refugee Women Connect features Manara + Giovanna + Nina Kehagia + Tiz
The empowerment of women in modern society
Bait-ul Lateef Mosque, Breck Road L5.
Sunday 10 March, free.
The Ahmadiyya Muslim Women's Association Liverpool invites women to attend this event celebrating Women's Empowerment in the modern society and the work of the community in supporting and promoting women to be at the forefront of development in the society, plus active citizens propagating and fostering peace in their families and communities as a whole.
This event is a series of panel and workshop style discussions, exhibitions, followed by audience Q&A , networking and refreshments afterwards.  Please reserve your place by booking or RSVP to : lajnatabligh.liverpool@gmail.com
Comments
comments