With Jeff Tweedy releasing his new memoir and latest solo album late in 2018, Getintothis' Simon Kirk takes a closer look at the Wilco frontman's latest accomplishments.
Reading an artist's biography or memoir has a sense of adventure like no other.
Not for those elusive stories that may have evaded even the closest of roving eyes. Sure, they can sometimes be interesting, but the main reason is because it gives you a chance to delve into the artist's back catalogue and reacquaint yourself with albums that, at the end of the day, made you buy the said biography/memoir in the first place.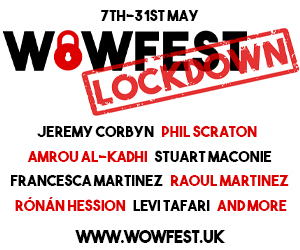 Not only that, but hearing someone else's voice can be the catalyst to a particular album that you initially weren't so enamoured with.
Example. After reading Manic Street Preachers by Mick Middles, he expertly dissects, then presents on the finest of silver platters, the genius of The Holy Bible. His words were like a key to a gate that seemed destined to remain locked, but the way he delivered his argument on the importance of this album was a thing of artistic beauty in its own right. Since that moment, I'd strongly argue that The Holy Bible is one of the finest pieces of art to come out of this country in the last thirty years. Of course, that argument is for another day.
Reading Jeff Tweedy's Let's Go (So We Can Get Back) boasts those very same moments as you reconvene with the man's brilliant body-of-work as a musician.
It starts with reacquainting with Uncle Tupelo and in particular, No Depression and Still Feel Gone. Both albums feel like they have a new meaning.
Sonically, while there's certainly a steadfast nod to the Minutemen (they named one of their songs D Boon, for Christ's sake!), there's also an unmistakable tie to the post-hardcore bulwark that Squirrel Bait erected so proficiently during their short existence. Second time around with Uncle Tupelo and this is something I'd never associated with them.
Then there's Wilco. From a personal journey with this exquisite creature, many years were spent unconditionally mesmerised by A Ghost Is Born, meaning anything else merely paled in comparison. Hearing Tweedy elaborate on A.M. and Being There during Let's Go (So We Can Get Back) provides a new path with the band, digging further into tracks like Misunderstood and finding a rough diamond that is the rust-belt boogie of Casino Queen. Did I mention the raw beauty of Should've Been in Love, too? Well, you get the picture…
Of course, this process doesn't discriminate of going back to the tried and trusted old staples, either, with Yankee Hotel Foxtrot, Summerteeth and, of course, the boundless mind bending genius of A Ghost Is Born.
Onto Let's Go (So We Can Get Back). Without trying to breach the walls that protect Spolierville, in context, here's an extract from the pen-smith himself:
'Every time somebody asks me, "How 'bout them Cubs?" I want to respond with "Yeah, the Cubs, they're going to die some day. Do you ever think about that? All of them. All of them. Rizzo. Bryant. The one with the goatee. The other ones. The entire team. Some of them probably soon, you don't know. They could be dying right now while we're sitting here making conversation about baseball. Death is lurking."'
This isn't the premise to Let's Go (So We Can Get Back), but for the most part, this very much feels like the tone. There's anxiety. There's drug abuse. There's alcoholism. There's love. There's heartbreak. Every emotion Tweedy pours out to his readership, no matter how tough it gets through these pages, is bound by one thing: music.
Let's Go (So We Can Get Back) doesn't, for instance, read like Bruce Springsteen's Born to Run. It lacks that poetic edge, but that's not something you would expect from Tweedy.
Although this may not be the case sonically, as a lyricist the true essence of Jeff Tweedy is that he is – at heart – a song-writer immersed in the simplicity of a song and that's what makes the music he has produced what it is. Tweedy captures that very same spirit with Let's Go (So We Can Get Back). A work that finds its groove from page one, filled with sharp observation and candour. There's no messing.
*** POTENTIAL SPOILER ALERT ***
When reading Let's Go (So We Can Get Back) it feels like there is a nexus with Tweedy's latest solo record, WARM. Almost like the album presents itself as an auxiliary piece, of sorts. Not because the album and book were released within the space of two weeks of one another last November, but the tone throughout both artistic mediums possesses an unmistakable interwoven thread. Tweedy goes on to explain this in the memoir's epilogue and basically confirms these initial suspicions.
*** END OF POTENTIAL SPOILER ***
Which leads us WARM. Its simplicity and honesty shines through like never before. The songs are actually the finest work Tweedy has written since A Ghost Is Born. Despite the latest incarnation of Wilco having been a mainstay since post-production of A Ghost Is Born, it's fair to suggest that Wilco haven't reached anywhere near the heights on record since.
Sure, there have been some fleeting moments. The Whole Love and Stars Wars are two records that shape up and could handle themselves against their older siblings in a Midwestern bar brawl. Everything else, though? Hit and miss and if anything, since A Ghost Is Born, Wilco's true soul as a band is that of a live one. Any bill with them on it is far better for it, as they are arguably one of the finest live representations of rock music currently occupying this earth.
With WARM, however, Tweedy recaptures something and had the album been released earlier in the year of 2018, then it would have easily featured in many end of year album lists, including ours, I suspect.
Lyrics such as those from Don't Forget:
"Don't forget/Don't forget sometimes/We all/We all think about dying/Don't let it kill ya".
…and Warm (When the Sun Has Died):
"Please take my advice/Worry into your song/Grow away from your anger/Distance belongs/Oh I don't believe in heaven/I keep some heat inside/Like a red brick in the summer/Warm when the sun has died".
Then there's Wilco. From a personal journey with this exquisite creature, many years were spent
The above two songs contain some of the most honest and jarring lyrics Tweedy has ever written. We've never associated Tweedy as being poetic but with Warm (When the Sun Has Died) this is one of the most emotionally driven songs from him. Even typing those very lyrics is an experience of the dewy eyed variety, let alone listening to the song itself. It easily stacks up against Tweedy's previous heart melters, I'm Not Trying to Break Your Heart, Reservations, At Least That's What She Said, Wishful Thinking and Hell is Chrome.
WARM is not an Indian summer record by any stretch, though (at the time of writing this, it has been confirmed that a second album, entitled WARMER, which was written as a companion piece to WARM, will be released on Record Store Day 2019, limited to 5,000 copies). It's Tweedy scratching those artistic itches that all artists have – the constant irritations of never feeling comfortable. On WARM, it feels like Tweedy has grabbed his guitar and just gone for it and he, along with the songs, are far better for it. It's the same feeling you get when reading Let's Go (So We Can Get Back), too.
Like Tweedy's music, particularly WARM, Let's Go (So We Can Get Back) provides a clear image of an artist who has sometimes been perceived as prickly and detached. While I'm sure that may have been the case throughout certain periods of his life, at the heart of Let's Go (So We Can Get Back), Tweedy reveals his true persona. An earthly self-effacing individual, totally unpretentious and, despite his battles with substance abuse, a person who has seemingly broken through his own barriers, now appearing comfortable in his own skin.
Comments
comments