As indie-rockers Idlewild make their long-awaited return to these Liverpool shores, Getintothis' Howard Doupé brings out the bunting.
It's a tall order, keeping a music career going this long- especially in this modern climate. Idlewild are a band that just refuse to keel over and bow down to the pressures of keeping a musical venture afloat.
So they've had the big tours, shared plenty of stages with too many names to namedrop and weathered the stormy waters of independent releases post-major label gubbins. Even having singer Roddy Woomble express his creativity in the form of an ever-evolving solo career isn't enough to derail this good ship of the Scottish seas.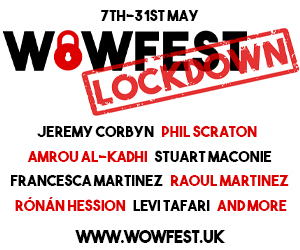 Here we are in 2019 with a brand new, week-old Idlewild album. Who'd have thought we'd be saying that the last time they were in town- a mere nine years ago. It's like we've gone for a bevvie down Renshaw Street, spotted that the keys were in the DeLorean and just borrowed it for a min.
Interview Music has entered the album charts just shy of the Top 20, a massive success for the band who's heyday existed in a pre-social media world of old. What's more impressive for anyone who's a long-standing fan is the avenues they're daring to tread with it. Five years since their last release Everything Ever Written, the passing of time has left a taste that maybe their previous avenues of exploration didn't quite go far enough.
It's this latest offering that see the band satisfyingly deliver a collection of songs that would surprise anyone. Yes, Woomble's thoughtful and comprehensive lyrics are ever-present and the odd riff-laden track reminds us why we love Rod Jones' guitar playing. Something's different though. It's mature, expansive, soundscaping and intriguing. We can't wait to hear it live and what's better than the opening night of the tour.
Firstly, there's a quick set from Blackaby to get though. It's a strange choice really and we struggle to see the appreciation from those who've turned up early. This three-piece have all the will in the world but attempts fall short when mid-set guitar amp sabotage left the crowd noise no choice but to take over the cavernous venue.
As service resumes, they're straight into the four-chord pop-bopper. With the delay it's obviously the catchy moment of the set willingly thrown out to reel 'em back in.
Before we know it Idlewild are primed and ready to deliver. Coming on to huge cheers, it's evident Liverpool have missed them. Opening with lead track Dream Variations is a superb announcement of their return. It's all a luscious distortion of fire and determination, sweeping guitar lines wrestling with those unmistakable harmonies. Even the curve ball tempo shift mid-song is just the first of many teasers tonight of how resolute the new material is to break the mould.
The more established line-up of friends old and new allow the musical journey to take a left and keep on going. There are more keys tonight, the guitar-driven sound of old respectfully acknowledged whilst the lyrics take a further depth into Woomble's conscious.
They're really engaging with the new tracks and looking pleasurably enthusiastic. Even the usual stance stage centre, mic pointing to the side rather than out front was regularly canned during the new tracks- Woomble even throwing a few Friday night shapes during There's A Place For Everything.
The beauty of tonight's show is that we've been treated to a stroll though the entire back catalogue. There's a handful of new tunes littered amongst old favourites- You Held The World In Your Arms and Live In A Hiding Place sounding like world- beaters. What surprised the most is how some tracks have had a tweaking, with the intended effect. Make Another World from the often overlooked 2007 album was overwhelmingly guttural whilst El Capitan brought into play the most crowd connected moment of the night.
As Everyone Says You're So Fragile– a welcomed surprise during the encore- is met with mutual appreciation of giving the crowd what they want it's left to In Remote Part / Scottish Fiction to send the audience on their way.
Tonight has shown that bands with the staying power, if faith prevails can be trusted with the monumental task of sound tracking far more than a moment of your life.
Images by Getinothis' Warren Miller
Comments
comments