Record Store Day is back to taunt us with its wares, the Getintothis team of Peter Goodbody, Mostyn Jones and Marty Saleh head out to see what it's like for the 2019 version.
Record Store Day is not one for the cynics.
It divides opinion that's for sure. It's pretty much no longer an independent celebration of the humble vinyl and has turned into a well oiled music industry machine.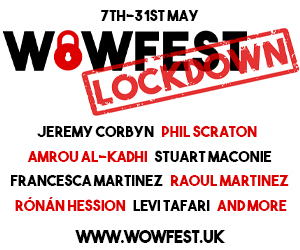 It is no longer the encouragement to have a mooch around your local vinyl emporium, have a flick through the racks and see if there's anything that takes your fancy.
If you want to get into the 2019 version of the spirit of RSD, then you need to be well prepared, preferably with a spreadsheet and up and out on the streets at some unholy hour in the morning that should really exist only as a pm, at least on weekends.
New releases are carefully guarded, limited in edition and distribution. Only those shops who have shifted enough units in the past 12 months will be invited to the party. Liverpool's Dig Vinyl are not taking part.
This corporate control is the reason 3B Records in Liverpool were excluded from the event last year and, in good grace, they released a video explaining why they were out, yet encouraging people still to support their local stores.
It is not a particularly comfortable watch.
You only need to look at the list of releases to see what's going on.
The list on the official site runs to 20 pages of A4 and includes a 4 x 12″ boxset from 808 State, a 5 x 7″ singles set from Aretha Franklin, a 2 LP version of Trout Mask Replica from Captain Beefheart, The "Epic Archive" from Cheap Trick (really), a David Bowie picture disc release, some live thing from Elvis Presley … we could go on. It's become a commercial exercise like Valentine's Day, Mothers' Day or Halloween.
There's a lot to gripe about.
On the other hand, there is interesting material from The Delines, a load of live stuff from The Fall, some Ian Brown 7″s, Soccer Mommy and This Is The Kit. The list is long and you'll find something that grabs.
But, we leave that aside and venture out early on Saturday to see what the people on the ground think. These are the ones who queue up from 'kin early in the morning. They spend their hard earned, so, we leave it to them to have their say.
It's a clear, bright and frosty morning as we head into town on Saturday. Our man Mostyn Jones is number 6 in the queue at 81 Renshaw. The first guy has been there since 11pm last night.
We're thankful the RSD organisers choose a spring day for this festival. June perhaps would be more gentle, because it's not warm at 8.30am, but at least we're not having to freeze our nuts off in November.
There are healthy queues outside the three main players in town, Probe, 81 Renshaw and Phase One. The latter is getting the BBQ fired up, but it's not quite ready yet.
Outside 81 Renshaw, Richer Sounds reps are handing out goodie bags to the early attenders, but despite that, we're not quite getting the vibe. Something's missing.
Defend Vinyl on Smithdown Road is also taking part in the fun.
We ask one guy in the line at 81 Renshaw what he's hoping to score. "Floyd, Queen, The Police" he says, almost apologetically.
The first group in the queue at Probe had been there since 2am. They're after The Charlatans, Sigur Ros and Bowie.
Probe opens its doors bang on 8.30, to the surprise of most in the line (they were a fashionable 10 minutes late last year). But it's all feeling a bit flat this year; most we've spoken to agree it's a quieter affair than last year.
Certainly, there doesn't seem to be the same buzz around the venues we remember last time. The queues are not as long and the sense of a shared experience is not their same. There doesn't appear to be the thrill of the chase. Nobody is leaving a venue having a trophy to hold aloft, rather, they get what they came for and then move on elsewhere.
We head back to 81 Renshaw, who have probably got the longest queue outside, but they're also doing food and drink in their cafe. We need some fuel. There's a one out, one in policy going on here as people wait for their number to be called. What could have been a scrum is dealt with capably and fairly.
Punters here were generally in good spirits, with the early arrivals praising the venue's handling of the event in previous years. This is only the third Record Store Day that 81 Renshaw has been open for but they've got a loyal following thanks to a decent selection of vinyl and a helpful staff.
Maybe it's the fact the cafe is open, but the best atmosphere is here. There does seem to be more of a community spirit as people drink tea and scoff sausage sarnies before going into the back room to see what they can snag from the racks. Bonus drink token for tonight's gigs if you buy a record.
Record Store Day 2019 – what's with the rise of coloured vinyl?
But, here we also find an unexpected surprise. The staff from Liverpool JMU have brought a John Lennon time capsule. This is one of only three in existence, created by Yoko Ono and delivered, out of the blue, in the post to the university in 2010. The other two are in Tokyo and the Rock and Roll Hall of fame in Ohio.
This is a big deal. Not only is it rarely on show, even at the university, but it has never left the campus before now. The plan is that it will be opened when Lennon would have been 100 years old – on 9 October 2040. This is the best thing we've seen all morning and it's generating a lot of interest. 81 Renshaw have pulled a blinder here and it's clear why they are the front runner in terms of numbers.
Accompanying the time capsule are various other bits and pieces from the JMU music archive, photos, gig tickets and the like. It's a fascinating collection, which kept us occupied for longer than we'd anticipated. There are a couple of JMU staff on hand to talk to punters and explain the exhibit.
Phase One is doing a steady trade too, but the real action here will be later in the day as they have a series of shows lined up from Zuzu, Bang Bang Romeo, Munkey Junkey and Gene Pool for this afternoon.
Our final stop of the morning is Bold Street Coffee. No records on sale here, but the Melodic Distraction DJs are twiddling knobs throughout the day. There's also a new exhibition of prints on the walls by Texas artist Tim Kerr. They are colourful and striking portraits of a diverse range of people from Martin Parr to Aretha Franklin, John Martyn and Aaron Copland.
And with that we bow out of RSD for the time being. There is a real feeling it has lost its way to an extent. If not completely irrelevant, the purpose and meaning, the intent of its creation is getting mired amongst the commercialism and the desire simply to get people to part with cash.
Whereas it was born out of well meaning – support your local, independent record shop, we are now at a situation where it feels as though that sense of community spirit has been lost to a bigger force pushing the other way. The buzz from previous years was lacking.
We'd be interested to hear your views.
RSD continues all day and we'll be updating this piece with further comment and news as the day goes on.
Images by Getintothis' Peter Goodbody and Marty Saleh
Comments
comments