Montreal outfit The High Dials come to Phase One as part of their UK tour, Getintothis' Lewis Ridley looks forward to a high calibre line up.
It's high time for The High Dials.
Having been on a two year hiatus after their 2015 album, In The A.M. Wilds, The High Dials reappeared last year with a new line-up.
Bassist, Simon Quevillon, drummer, Max Hebert, who join frontman, Trevor Anderson, multi instrumentalist, Charles Pham-Dang and guitarist, Robbie MacArthur now make up the Montreal band, who are arriving on these shores for a UK tour which includes a date on Thursday May 16 at Phase One in Liverpool.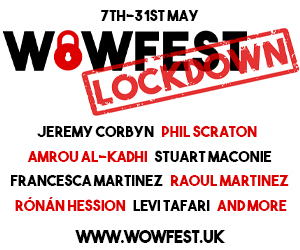 Forming as The Datsons in 2003, the band have developed their sound which merges shoegaze, psychedelia and folk rock to produce a unique sound.
This melting pot of influence shone through on their November EP Foreverish much to critical acclaim.
The opening title track along with the excellently titled Iluminati Bop have a psychedelic power-pop Byrds-like quality. Fortune Cookie and the EP's closing track, Sea Dogs, rub shoulders with Jason Pierce and sounds of Spiritualizedcirca Ladies and Gentlemen We Are Floating in Space.
Tickets are just £5 for the event and can be bought here.
Stephen Morris: "We didn't want to be Joy Division anymore, but we didn't know anything else"
Support on the night will come from Hannah and The Wick Effect and Feral Wheel.
The former have been championed by Getintothis for some time as one of Merseyside's finest up and coming talents, but this week will mark their last show in their current form.
Singer, guitarist and songwriter, Hannah Brown will embark on a new project following Thursday's gig, and her pending graduation from studying in the city will mark a new era musically, too.
Getintothis can only hope that she stays around and continues to produce the sound that has gained her so many plaudits over the past couple of years. We're pretty sure whatever musical path she takes will be the right one.
Feral Wheel, meanwhile consist of members from the now defunct Wild Eyes, Huw Roberts (guitar/vocals), Steven Rawlinson(bass), Sam Gill (keys/vocals) and Terry Green (drums) are also involved on Thursday.
They too are tipped to make 2019 their own, combining kraut rock with seething psychedelia to produce what is a sound fit to shake any venue.
It really is a "get down early" type of night, and for just a fiver, you could say you'd be daft not to.
The High Dials play Phase One this Thursday, May 5 with support from Hannah and The Wick Effect and Feral Wheel. You can buy tickets here for just £5.
Comments
comments