The Real People have a rooftop gig and there are masses out to see this one at the Shankly Hotel, Getintothis' Peter Goodbody is up there with the faithful.
The planets have aligned pretty well.
Liverpool legends, The Real People are playing the roof terrace at the Shankly Hotel and not only is it not raining, but it is in fact a decently warm and sunny spring evening. Which is just as well for an outdoor gig.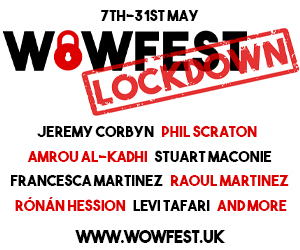 Arguably worthy of inclusion in discussion about bands such as The La's and the Stone Roses the Realies are the real deal. It is accepted rock history that the Real People helped out Oasis to produce the 8 track demo that got the Gallagher crew their first record deal. Liverpool people are like that.
Our timing is impeccable and we arrive on the roof terrace just as the Cheap Thrills strike the first chords of their warm up set. Looking genuinely happy to be here, they romp through a classically Liverpool style indie rock set. They're the perfect foil for this gig, really – the young pretenders snapping at the heels of the old guard.
And giving a lesson or two of their own. It's polished and seems just the thing for nights like this. Now, where did we put that Peroni?
They finish off with Same Old Faces, which actually feels like an ironic statement of intent as the Cheap Thrills clearly announce their presence.
There's plenty in the crowd who know the words to this one and the band bugger off (as they put it) to well earned and deserved cheers from an appreciative audience.
There's a bit of a hiatus before the Real People hit the stage and a chance to take a look around.
This is not your average gig audience. For a start, this is the Shankly Hotel and not the basement in Sound or the Shipping Forecast, if you get our drift.
Second, the Real People have been kicking around for a while and there is a clear demographic who have turned out for this shindig. Now, before the comments come raining down, we're happy to confess we feel right at home here and we have no beef with anyone coming out and having a good time, which is precisely what is going on tonight.
Netflix's Black Summer: Apocalypse now with a side order of comfort
This is as much a social get together as it is a chance to see a, quite frankly, cracking band.
Bang on the advertised set time of 9pm the Real People start making music and there's a rush to the stage. This is a proper love in.
It's also a very recognisable Liverpool sound and the comparisons made above are fair enough. At least until we get to Smash It Up about half way through the set and here perhaps the Real People don't really sound like anyone else. They make their mark in about 2 minutes.
And it feels like the set has taken a turn and we are getting into proper Real People territory. The Truth follows, along with Dream On and Going Nowhere. All classy stamps of authority and a reminder as to how it is this band sold out this gig with no difficulty.
The Real People are a Liverpool institution and a much loved one on this showing. We champion new music on these pages, and so we should. But sometimes, just sometimes, we have a space in our heads for a band that's been around the block once or twice. The Real People are worthy recipients of this particular accolade.
Images by Getintothis' Peter Goodbody
Comments
comments