Wild Beasts front man, Hayden Thorpe returns with a debut solo album and new single as Getintothis' Jane Davies reports.
Wild Beasts Hayden Thorpe is back with a debut solo album a couple of years after the the band dissolved.
His first album in his own name, Diviner, was be launched on May 24, along with a new single, Love Crimes has together with a video directed by Alexandra Liveris. This follows on from the release of the title track single Diviner in February 2019.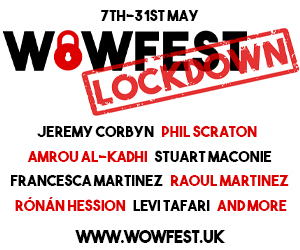 Diviner, described as a deeply emotional album is in dramatic contrast to his earlier work in Wild Beasts who s disbanded in 2017 after releasing five studio albums and one live album in a career that spanned 15 years.
With the breakup of his former band, still fresh in his mind, Thorpe explains: "It served It is a break up album but not in the traditional sense, I broke up with myself. So this is a break-up album, but not about a relationship. It's a break-up from a past self; it's a breakup from the old idea of yourself and therefore every relationship, of all kinds, that you've ever had."
Written in California, Cornwall and his new home in London, the whole experience was deeply cathartic. As he says; "The whole album production experience was that of healing. I believe in the medicinal properties of songs. I believe in their healing properties,"
Billed as a stirring mix of voice, piano and bass, be prepare to feel transformed and inspired by this album.
The track listing is as follows:
Diviner track list:
Diviner
Straight Lines
Earthly Needs
Love Crimes
Stop Motion
In My Name
Anywhen
Human Knot
Spherical Time
Impossible Object
 
Watch the new single Love Crimes below:
Comments
comments