As Supersonic gets set to celebrate its 15th anniversary in style, Getintothis' Nedim Hassan has the hard job of picking out the highlights from a truly spectacular line-up.
Supersonic is a festival that truly belongs in its location.
As the birthplace of metal music, each year since 2003 Birmingham has played host to acts that epitomize the spirit of that genre. Call them experimental, call them willing to push boundaries, place whatever tag on them you like; artists are booked because they do not conform to easy genre labels.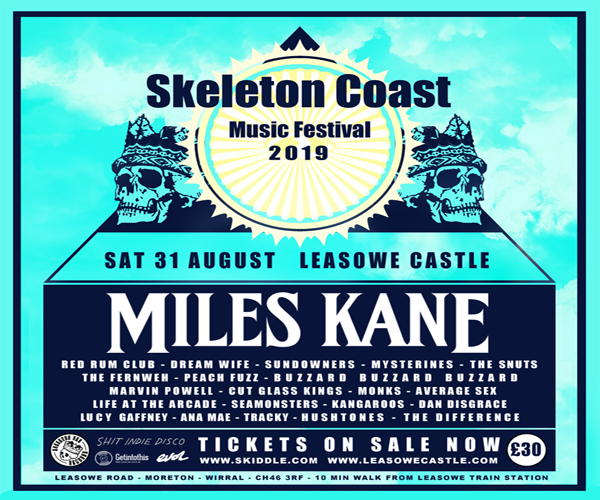 Just as Black Sabbath before them rejected the dominant 'peace and love' aesthetic of the late 1960s in order to create often bleak, challenging heavy music that resonated from their industrial surroundings, this year's Supersonic line-up is replete with uncompromising performers.
Yet Supersonic 2019 is much more than a music festival. Critically acclaimed as one of Europe's premier experimental festivals for several years, this year's incarnation continues to feature challenging art installations, exhibitions and events to satisfy its diverse audiences.
It also coincides with a major Home of Metal exhibition celebrating the aforementioned Black Sabbath. The exhibition will feature a range of archival materials from Home of Metal's impressive collection, including photos, ephemera and memorabilia from band members' own collections.
From major headliners to upcoming and cult artists, the calibre of music on display throughout the weekend of July 19-21 is staggering in its depth. To assist you with uncovering hidden gems, as well as remind you of the heavy hitters, we've surveyed the line-up to pick out six acts you should not miss.
Dysgeusia 51: Bloodstock Open Air 2019 and feeling the pulse of a vibrant scene
Neurosis
An obvious choice for sure, but these headliners are something truly special. Neurosis do not come to these shores too often and the prospect of them opening the festival at Town Hall Birmingham is as intriguing as it is exciting. The Californian post-metal visionaries are renowned for their visually stunning live shows, which provide an immersive means of displaying the power and depth of tracks from their acclaimed back catalogue.
Godflesh
Adding support on the opening night are Birmingham's own pioneers of industrial metal, Godflesh. Founding members Justin Broadrick and Ben Green admitted to feeling emotional and almost overwhelmed prior to their previous Supersonic performance in 2010. With so much of their musical evolution tied to their home city, their crushing and almost hypnotic repertoire will be one of the most compelling experiences of the entire weekend.
YOB
One of doom metal's most enduring and captivating acts, YOB continue to do what they do best – put out astonishing records. None more so than last year's Our Raw Heart, an epic album that epitomized their bold, progressive and highly melodic approach to sludge doom. The fact that it was released after its founder member, guitarist/vocalist Mike Scheidt, had recovered from serious illness that required emergency surgery made it all the more miraculous. Their appearance at Supersonic may just be the most emotional performance of any you will see there.
Big Joanie
This London-based feminist punk trio describe themselves as "Similar to The Ronettes filtered through '80s DIY, and Riot Grrrl, with a sprinkling of dashikis." The resulting sound deserves to be heard far and wide. Joyous and sometimes brooding in equal measure, 2018's full length debut album, Sistahs, affirmed Big Joanie's songwriting talents. Awash with memorable guitar hooks, harmonies and hand claps, songs like Fall Asleep and New Year beg to be witnessed live.
MONO
Japan's MONO have evolved into a band that, perhaps more than any other modern rock act, can construct soundscapes which evoke the alienation at the heart of life in contemporary cities. Sweeping orchestral melodies are entwined effortlessly with a rock sound to create instrumental songs that seem to both synthesize neon emptiness and offer transcendence from it.
Anna von Hausswolff
Again, perhaps an obvious choice, but Anna von Hausswolff simply demands to be seen at this year's Supersonic. Never did we dream that an artist could come this close to channelling Kate Bush's incredible bravery and fierce intensity until we heard last year's Dead Magic. Returning to the site of one of her breakthrough performances in 2017, von Hausswolff could easily be the highlight of the entire weekend.
Comments
comments