As Bloc Party return to Manchester Sounds Of The City annual summer series, Getintothis' Howard Doupé rings the not so Silent Alarm.
It's a funny ol' line up this year for the summer outdoor gigs Manchester tends to put on this time of year in the Castlefield Bowl.
Not just content with putting on a token 'pop' act and a couple of guitar-based bands, this year they've gone whole hog with the fishing net factor.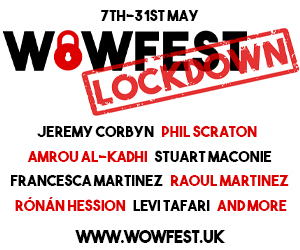 Between now and next weekend there's a plethora of musical feasts. Along with the likes of Kylie, Elbow, The National and Hacienda Classical are Bloc Party.
But forget this 00's era indie band doing a greatest hits set or something of that ilk, instead they've decided to revisit, in full their stunning debut Silent Alarm.
Judging on the crowd tonight, it's a very favourable choice too! Way before the band take to the stage there's a youthful buzz in the air – we like to call it the post-Glasto effect.
Any gigs in the week after the Worthy farm gathering always seem to have an air of 'this vibe is coming home with me.'
Everywhere you look there's leeriness. Voices are loud, people are rushing around, drinks are already starting to  fly overhead – and nothing's even happened.
As the band arrive it's clear there's surprise from singer Kele Okereke's face at the wave of energy he's greeted by. Straight into the album, but hang on we're all a little bamboozled.
A split second to let our brains readjust and catch the dropped penny – they're playing it in reverse order.
It's an interesting approach, the merits of which take a while to reveal.
Not only are the crowd a little stifled but once the two closing tracks are done with, we reach something the crowd can grasp hold of in the shape of Luno. It's driving drum and bass intro unleashes sheer frustration and bedlam in equal measures.
The surges from the back flow and we're pretty sure the crowd surfing isn't far behind. Okereke looks genuinely surprised albeit very pleased.
Many times tonight he expresses the bands genuine pleasure in being here tonight – with fans like this, who wouldn't.
Flying through the album at a backwards-rate the sheer exuberance doesn't let up.
You can pretty much anticipate the reactions: swooning for This Modern Love, mass clap-a-longs for She's Hearing Voices and a cascade of high-flying drinks for Helicopter.
We didn't expect the attempt at forming a mosh pit during Like Eating Glass, but there was.
It has to be said though that not all would have been impressed with the continuing laddish behaviour – after all Bloc Party were never the type that appealed to the average Liam Gallagher fan. Never forget it was the introverted skinny indie-kid who they spoke to in the first instance.
With a quick break the set comes to a close with an encore of a flurry of hits including crowd pleaser Two More Years and the ever edgy Hunting For Witches. The nights end is capped off with Flux and Ratchet – two examples of how far this band have evolved in the nineteen years since their debut.
Even though this modern line up (now long established) features only half the members who made these songs originally come to life, tonight they were fresh sounding and possibly even more significant and notable through the eyes of nostalgia.
Surely, over a decade is long enough passage of time to become indie classics.
Images by Getintothis' Howard Doupé
Comments
comments