The Real People return to their city hometown for a night of classic indie-pop, Getintothis' Howard Doupé was there to relish proceedings.
Tonight's the perfect situation for a gig in town. Blistering sunshine, town's buzzing on the last bank holiday weekend of the summer, and The Real People are playin' – magic.
It's only the second time this reviewer has been down to see another gig from anyone at Jimmy's since the opening evenings superb set from The Coral.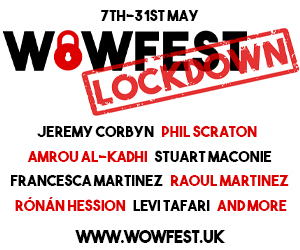 That night we nearly buckled under the heat due to an air-con system getting stage fright on its debut performance. Nevertheless, in the few weeks that have passed Jimmy's has hit the ground running, intent on firmly establishing itself as  hot competitors for the best venue in the city.
With this sort of bill, offering up loal legends backed by fellow Scouse raconteurs The Sums it should be a lively affair.
Early doors though Krank Williams opens to an empty floor. Beer in hand, straw hat for effect rested on a logo-ed suitcase-come bass drum and cigar box guitar in arms.
Has Seasick Steve docked in town and dropped anchor via the Mersey?
Blistering through a set of mainly covers this ragtime, dirty south, bar room howler giving a bone breaking brawled assault via Hank Williams, Iggy Pop and Leadbelly.
Entertaining enough it's a good way to start off but also a rude awakening of how tough it can be for the openers, as Williams announces mid-set 'fuckin' buy a CD so I can go home with £20.'
Jimmy's Liverpool – how The Cabin became the city's newest rock and roll venue
Liverpool's finest 90's royalty comes next in the form of a stripped down set from The Sums.
Digsy, ever the enigmatic frontman, 'welcome to the house of misery' he declares with that all too familiar wry smile.
The hooks are just as fresh and when the fires are stoked so is the voice. With a somewhat relaxed attitude the set ambles on, plenty of humour in tow.
Softer moments get somewhat lost in the general 'Saturday night out for a bevvie' crew, who throughout seem more intent on talking jibberish than paying attention. Shame, if Digsy felt appreciated the performance would be magical.
'C'mon kids' is the rallying cry when diving into a better known chorus, from a set varying through their three albums released to date.
Buckling under the weight of nostalgia, it seems an airing of former band Smaller's arguably biggest hit Wasted ends in a brief 'intermission' aka guitar malfunction.
A quick scramble and we're back to it. Saving the best till last, closing track Contraception tells stories of regret and wisdom that only time presents.
Coming in at a respectable time for a Saturday night, The Real People tear into reaffirming what everyone knows. The tunes hit that sweet spot those long-time devotees keep craving. With room to move, or should we say just enough to inflate those lungs to capacity for the crowd participation?
Chris and Tony Griffiths are intent of delivering business as usual tonight. They know these tracks inside and out. Each melody sways, dips and lifts for maximum live effect. After all, these brothers know exactly how to orchestrate a show. It's pure indie-pop with stomping chords and roaring melodies.
Great @RealPeopleband gig tonight at @JimmysLiverpool pic.twitter.com/g6Jh9TIcL3

— Chris Brooks (@chris_brooks) August 25, 2019
https://platform.twitter.com/widgets.js
There's a definite audience demographic tonight, with those middle-aged fellas who've seen the lads back in their hey-day accounting for 90% in attendance. It becomes a sweaty affair, yet air-conn'd cool (nice one Jimmy's). Burly bodies revisit their po-going days of youth through stompers such as Everyday's The Same, Smash It Up and Going Nowhere.
Saying that each and every tune tonight is greeted with cheers, each break in between pierced with banter from the crowd – amplified in such a small venue. Both brothers are on top form, with smiles of appreciation and self-effacing comments about deteriorating sight.
It's a triumph of a performance, once again ensuring each spring chicken of a venue this city breeds gets to know its local musical heritage. The musical wheels of this particular bandwagon have been turning a long, long time y'know!
We may be obsessed with the future, promoters with the present, but don't ever forget the quality of the past.
Images by Billy Vitch
Comments
comments