Portugal cosmic groove trio joined by London's Ugly Mothers and Merseyside free-jazz duo Nick Branton and David Kelly.
Ugly Mothers plus Nick Branton and David Kelly will support 10 000 Russos in Liverpool on Sunday November 10 at Phase One.
Renowned for their industrial psychedelic post-punk, Porto based trio 10 000 Russos have been igniting stages across the globe with their relentless stomp and otherworldly grooves.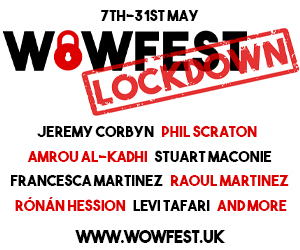 Sharing stages with with contemporaries A Place To Bury Strangers and Wooden Shjips, João Pimenta (drums/vocals), Pedro Pestana (guitar) and André Couto (bass) make their Merseyside return since 2016's Liverpool Psych Fest.
And on November 10, audiences can bask in their rhythmic glory when they make their long-awaited return lining up alongside two superb support bands.
Nick Branton and David Kelly have been making music on Merseyside for more than a decade.
The former's saxophone work has been a staple in bands around the Kazimier, MelloMello and Liverpool jazz scene for as long as this writer can remember.
Founder of Dead Hedge Trio and band leader of his own trio, Nick's musicianship has been an ever-present on the jazz circuit in Liverpool.
Telescopes to play Phase One in 30th anniversary special – tickets on sale now
David Kelly, meanwhile, has provided the percussive backbone for Dan Croll, Bad Meds, Vasco Da Gama and more recently Real Terms.
And for his latest project, he's teamed up with Branton for an interstellar improvisational sax-drum duo for fans of Eli Keszler and Ill Considered with their first outing supporting Peter Broderick hailed a success on these pages.
Joining them are London-Liverpool collective Ugly Mothers.
Combining spaghetti western surf with high octane guitar rock and roll plus street-beat vocals, their last show at Phase One saw something real special – including the first band attempting to set fire to their instruments – so it'll be great to see what happens this time around.
With new single Gringo set to be released on Mainline Records the week of their 10 000 Russos slot, it's sure to see the band take another step up the live circuit ladder.
10 000 Russos play Phase One with Ugly Mothers plus Nick Branton and David Kelly on Sunday November 10, tickets £7 ADV. Buy them here.
Comments
comments