Melon Yellow is set to light up Liverpool's North Docks in 2020, Getintothis' Peter Goodbody has the exclusive details.
I Love Live Events are teasing gig goers and festival fans with the announcement of a new happening in Liverpool's Invisible Wind Factory on March 14, 2020.
Given the moniker Melon Yellow, details are being kept under wraps for the time being, but expect more announcements and band line ups later this month.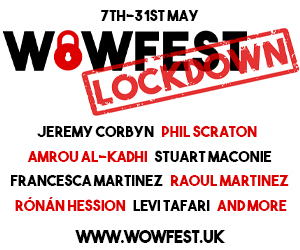 For now, all we know is it will be a day of celebration of shoegaze, punk, arts and sustainability.
Something which is certainly different to the current crop of festivals on our doorstep.
The Melon Yellow programme's aim is to test the best sounds in a live environment accompanied by a full sensual experience, across food, drink and the visual arts.
Keep a watch out for more announcements in the coming weeks, with ticket details later in November.
We're confident this will be an exciting addition to the Liverpool culture scene and while we've had announcements of festivals calling it a day, or taking fallow years recently, it's pleasing to see there is still a desire to push the limits.
More details are to follow soon, so stay in touch with Getintothis and the festival announcement in full is below.
Independent Venue Week reveals Anna Calvi as Ambassador for 2020
Editor's comment:

"The announcement of a new festival in Liverpool in recent times may have been greeted with slight indifference.

However tonight's reveal should be something which pricks the ears of all new music fans for a number of reasons.

Over the last 18 months music festivals on Merseyside have struggled considerably with many folding or being significantly reduced – see once again no Liverpool Music Week, no Positive Vibration, no Liverpool International Festival of Psychedelia – not to mention the many smaller festivals which have fallen by the wayside; see Wrong Festival, Liverpool Calling etc.

Melon Yellow, however, is from the team behind I Love Live Events – perhaps unknown to many outside of Liverpool music's inner circle – but Ste Vondy and Craig McVeigh have cultivated a reputation of unearthing new talent while booking blockbuster names. They've also shown they can take the likes of Catfish and the Bottlemen from the basement to the Arena big league.

This has earned them top booking agent for Liverpool Sound City with them booking all the bands – and that is all the while booking the weekly raft of gigs on Merseyside and some overseas shows in Amsterdam and Barcelona.

While details of Melon Yellow are scant – punk, rock and DIY garage are the music stylistics being touted – the news of this new festival should be greeted with excitement on Merseyside and indeed the North West of England – because the team behind it have a track-record few in this city can match." – Peter Guy, Getintothis editor.
Comments
comments