The Mysterines' Lia Metcalfe caught up with Getintothis' Amos Wynn to discuss their next single release, a UK headline tour and the use of social media. 
The past 12 months has seen the Mysterines become less of a mystery, as their stock has grown and grown.
With their debut EP, Take Control, released back in August, things are continuing to get better for the band, lead by vocalist and chief songwriter, Lia Metcalfe.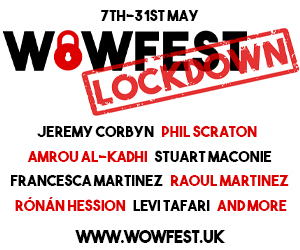 The Liverpool act have released their latest single, Love's Not Enough yesterday.
"We are very busy at the moment, just getting ready for the tour and the single release," Lia said.
She adds: "I'm really excited about it as it's pretty different to the other things that we've put out. It's a good reflection of our songs and my writing so I'm looking forward to it.
The last stuff got really positive feedback and we got some great support slots out of it. Because I had written the songs when I was so young, doing them live added a different perspective so it was about taking them as far as they could go."
Metcalfe's song writing has recently been recognised by Domino, as she has signed her first ever publishing deal with the record company.
"It was great, and I really like them. They've got some artists I really like, like Alex Turner, so it is really flattering to be a part of that and hopefully I'll be just as successful one day."
The bands' lead vocalist says her lyrics come from a range of different places.
Li said: "My lyrics are a mixture of personal experiences and from the perspectives of other people. Who's Your Girl is from the view of a very dark character, so has this very threatening vibe to convey aggression. I just write really horrible lyrics to see what happens.
"I really liked reading books and writing stories growing up, I always liked the villains in films so just wrote from their point of view."
A few weeks after the single release, the Mysterines are heading on a UK headline tour, which includes dates in Glasgow, Manchester and London.
"I love playing in London," says Lia. "It was the first one to sell out and needed an upgraded venue because people were angry that they hadn't got tickets.
"I think the myth that Northern bands don't do well there has died down a bit, we've not had any issues and we've done some amazing shows that have been better than hometown."
The Liverpool band also return home, when they play the Arts Club on February 22.
"It's going to be great, I didn't expect any of the shows to sell out. Liverpool is almost done, which is really good as I didn't think anyone liked me. It's exciting to sell so many tickets and to have that many people interested. It's just built up slowly, but to play to 500 people in your hometown is pretty amazing, especially when we've only got one EP out. I didn't think we'd sell one, never mind 500."
The Mysterines are used to playing in front of big crowds, having supported the likes of Miles Kane, Royal Blood and the Amazons.
"It's really flattering to have them backing us, you get to know each other pretty well on tour so it is good to have that relationship."
Curb Your Enthusiasm returns – 11 times Larry David was definitely in the right
Most recently they received the seal of approval from Paul Weller, appearing on the Modfather's Black Barn Sessions on YouTube.
"It was great because he is a really well-respected song writer and has done a lot for the music scene with the Jam and the Style Council. He's a really nice guy and was supportive of us. I've had a lot of conversations about famous song writers."
When the Liverpool band first broke onto the scene, they were very much made popular by word of mouth, due to having no social media.
Lia adds: "There was no pressure, now social media is involved I hate it because I can't do it, I don't identify with it and it's not my thing. We have to get someone in, otherwise I can't keep up and get in trouble for not posting things.
"It is important to have because you can only take it so far without before it becomes a hinderance due to it having a big role. When we didn't use it, the hype was sort of natural, like when Arctic Monkeys used MySpace as a tool, so we wanted to reverse that."
Music has always been a part of Lia's life, with her father being the singer in late 00's band, Sound of Guns.
"My dad is really supportive, watching him from an early age influenced me. The whole family are into music so it's not like I have parents who want me to be a lawyer. Liverpool is just a very creative city in a different way, so it's good to be surrounded by that too."
The Mysterines, also comprised of bassist George Favager, have recently bid farewell to drummer Chrissy Moore.
"I'm really happy for him," says Lia. "We're still really good mates and just wanted to support each other. He is a creative individual as well and has his own vision, so I didn't want to keep him enclosed in something that wasn't entirely his direction."
Looking forward, the Mysterines vocalist is excited about what the future holds.
Lia adds: "I'll take it one step at a time and keeping moving up and working harder. I want to keep writing more so then hopefully we will have an album out next year.
"I can't wait to see it grow, everything we've got lined up suggests that it'll be a big 12 months for us."
Comments
comments