Between deportation, coronavirus and who knows what else, BC Camplight had trials and tribulations before we caught onto him, Getintothis' Jamie Bowman catches up with him as he shares some wisdom.
Several bands and artists have had the misfortune to dubbed 'unlucky' over the years.
Baggy survivors The Charlatans were dogged by death, jail sentences and a dodgy account while the tragic story of Badfinger's demise is woven into rock legend.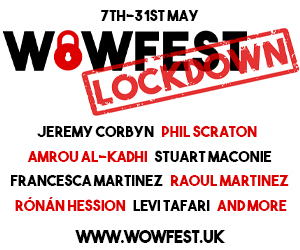 For poor Ritchie Valens it was all decided on the toss of a coin.
Were it not for his incredible powers of recovery it would be tempting to add Brian Christinzio, the inimitable force behind BC Camplight, to this list.
Just days before the native Philadelphian's 2015 album How To Die In The North was released, he was deported and banned from the UK because of visa issues.
Estranged from his new home, his girlfriend and his dog, unable to promote his album and back home with his parents, Christinzio sunk deep into the dark.
An Italian passport, care of his grandparents, eventually allowed him to re-settle in Manchester, but then just days before 2018's Deportation Blues was released, his father Angelo unexpectedly died.
Now, as he gears up for the release of Shortly After Takeoff, his final, and finest, chapter of what Christinzio calls his "Manchester Trilogy", the 40-year-old is having to cope with the postponement of his upcoming Spring headline tour dates due to the coronavirus crisis.
"I've always felt like this," sighs Christinzio, pondering the stress and worry that is engulfing not only the music industry but the whole world.
"I just feel that now everyone is catching me up. I've been doing music professionally since 2005 and it wasn't until 2018 that things started to fall in place and I was able to look after myself and my profile began to grow.
"I guess the title of the new album is based on the fact that just as things were going well for me it all collapsed again. It was a bit predictable – it's the way things go for me."
Chrisinzio's story is a fascinating one. He signed a record deal with One Little Indian as far back as 2003 after establishing himself on Philadelphia's live music scene.
He played live with members of The War on Drugs and released two albums, in 2005 and 2007.
They were critically well-received but did not succeed commercially, he was dropped by the label and nearly quit music altogether while struggling with mental health issues, drugs, and alcohol.
"I toured Deportation Blues for something like 10 months," he continues, "I didn't really have a chance to sit down with my thoughts about my dad and at the same time, I was going through one of my wonderful cycles of struggling with mental illness.
"It was a perfect storm and I didn't really think I could pull myself together to make another album. Thankfully I did it and it seems like it is pretty good."
One way to process tragedy is through comedy; but Chisinzio denies that the writing process on Shortly After Takeoff was a cathartic one.
"I just answer the way my brain is thinking and I stop trying to be clever," he says. "It's about showing the world what is inside me rather than getting anything out.
"At the end of the day, I made this record and I still struggle a lot with mental illness and my dad is still dead so how cathartic can it be?"
Bleak comedy and a startling honesty are evident all over the album from its first song, I Only Drink When I'm Drunk to the closing tender 93-second Angelo (named in honour of his dad).
There are musical contrasts too as he veers from sumptuous pop melodies and opulent production to robotic funk and more pounding passages of noise.
"I've remained monetarily broke enough for long enough as an artist that I haven't got shit yet," he laughs. "I still have the luxury of still trying to get better and exploring new things while still having the authenticity of still being a mess. With this album, I wanted to challenge myself lyrically and do something different.
"I wanted to speak more directly to people because I'm tired of whimsy – look at 2020 – the last thing in the world that should appeal to anybody is twee music and we should just draw a line under it.
"I didn't want it to be playful, I didn't want it to be whimsical and I didn't want to talk about my dad dying and being like 'the flower losing its petals' or any of that shit."
Chisinzio has spoken about his move to Manchester as "an act of spiritual desperation" and the new album is littered with references to his new home.
"If it wasn't for this place, forget about jail, I'd be dead," he says. "When I was in Philly I was squatting in an abandoned church while all my friends were getting famous.
"I basically threw a dart at a map of England and showed up and in the past five years I've released three records and I didn't think in a million years that could be a reality for me. I owe everything to Manchester."
Coronavirus Liverpool: eerie photographs show city centre on lockdown
It's difficult to imagine Chisinzio's despair when he fell foul of UK immigration back in 2015 after riding high on the reviews for How To Die In The North.
"I'd had such high hopes for the album, and I was told I was being deported two days after it came out, and banned from the UK," he says.
"The next thing I know, I'm playing Pac Man in my parents' basement in New Jersey, thinking, this is my life now. Maybe it was one of those things that happened for a reason – I might be a butcher now but Deportation Blues was a big thing for me and wouldn't have happened if I hadn't had got kicked out of the country.
"I'm not saying it was a good thing but at least I got to see my parents. I've never been a 'hype' band before so it was neat to see what felt like the whole country rally behind me and make that record what it was.
"It was all from word of mouth and I'm not sure how often that happens now. It was really cool to see."
While Chisinzio's forthcoming shows are postponed until September and October, he is determined to add to a live reputation that has earned him an ever-growing legion of devotees.
"I'm just rolling it with it now because I have loads of confidence in the new record and whenever the dates happen it is going to be great," he adds.
"The band is amazing and I know most bands say this but I think we're the best live band there is – I love being on stage with these people and the audience at least gets something authentic every night – they may be crying or laugh or saying 'oh man I feel really bad for that guy' but it's always a good show.
"Most people bale out of music when they get to 30 so when you're 40 and you're still doing this you're all in.
"There's no going back. I've given myself two goals: keep getting better and to make the best record ever made. As long as I still have those two things going for me I'm not going anywhere."
Comments
comments