As businesses across the country start to take matters into their own hands, Liverpool City Council makes the decision to close all public libraries, Getintothis' Kris Roberts has the latest on Liverpool's closures. 
Well, what a week.
There's not much to say that hasn't been said, other than to reiterate the point that we will continue to do everything we can to support the various venues, artists and freelancers across the city that are facing unprecedented hardship.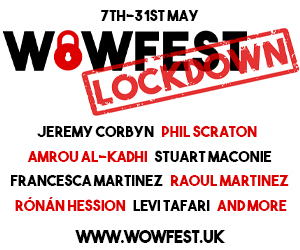 That being said, there are sadly many more closures to report on. 
Liverpool City Council announced today the immediate closure of all 19 of the city's public libraries.
This decision has been made as part of the ongoing efforts to reduce the risk and spread of the coronavirus. Deputy Mayor and cabinet member responsible for libraries, Councillor Wendy Simon, said: "This isn't a decision we have taken lightly as we know that our libraries and archives provide a cherished service for many of our residents both young and old. However, we need to do everything we can to protect both citizens and staff.
"These are unprecedented times and we ask for understanding around the difficult decisions that the city council, and organisations and businesses across the city are having to make."
These closures will affect:
Allerton Library
Breck Road Community Library
Central Library
Childwall Library
Croxteth Library
Dovecot Community Library
Fazakerley Community Library
Garston Library
Kensington Library
Lee Valley Library
Norris Green Library
Old Swan Library
Parklands Library
Sefton Park Library
Spellow Library
Toxteth Library
Walton Library
Wavertree Library
West Derby Library
The city's library eReading service will still be available and people are encouraged to use it if they require access to to library resources. The service allows the public to access and download books, audiobooks, magazines and comics. The book loan period has also been extended indefinitely without late fees.
The Zanzibar Club, one of Liverpool's most beloved music venues over on Seel Street, announced their temporary closure earlier today.
Following the advice from the government and Public Health England, The Zanzibar Club have had no other option than to close to protect the health and safety of their staff, customers, and performers. 
Many more closures are expected over the coming days following the government's latest press conference, in which Boris Johnson has ordered the closure of all restaurants, bars, pubs and gyms.
In a statement, The Zanzibar Club said: "It's with a heavy heart that we announce the decision of closure of The Zanzibar Club and all its events for the foreseeable future. We will keep reassessing the global situation and closely follow government announcements to decide how to move forward. Keep an eye on our social media and website to find out the latest information.
In the face of uncertainty we wish for everyone to find comfort and safety with their close ones. Remember to take care of yourself, to love one another and to stay at peace until it all goes back to normal, as it will soon enough. Sending love, wash them hands, and see you again soon. – Scott Burgess and the Zanzi family x"
Coronavirus Liverpool: Kazimier Garden and Phase One launch crowdfunders
Some of the events affected include United Vibe, Gallia, and Black Bones.  
Jimmy's have also been made to close their doors for both their Liverpool and Manchester venues following the latest advice given by the government. 
In a Facebook post, Jimmy's have said: "Last pint for a good while. We are so happy that the government have made the right decision and are supporting our staff and our company. See you on the other side."
This comes following the latest updates from the Chancellor of the Exchequer, Rishi Sunak, who pledged the government's support for businesses small and large across the country, and a wage bailout scheme that will aim to pay up to 80% of the wages and salaries of staff.
This isn't expected to be rolled out for a couple of weeks yet, though it will be backdated to March 1.
Over on Parr Street, Studio2 have also announced their closure. 
In a statement, the venue said: "Tonight is Studio 2's last night open, until further notice due to COVID-19. We want to send all our love to everyone and spread love to our fellow bars and restaurants in the area. Love yourselves and more important love others help where you can. Thank you for all of the love and support, Studio 2 Team x"
Some of the events affected at this venue include Natalie Joan and the Armchair Captains as well as Big Condo's Last Fish In the Tank competition.
To say these are uncertain times for venues, promoters and artists across the country is a huge understatement. Unfortunately, in a situation like this, there is no inclination as to how long this will last, and in turn, how long these venues will have to shut their doors for. 
As is the case with all of the aforementioned venues, guidance on how long these closures will last is non-existent. 
Comments
comments