Plenty of time on our hands to enjoy this week's selection of singles, Getintothis' Steven Doherty tires already of thumb-twiddling.
This time last week, myself and 70,000 like-minded individuals were attending the biggest horse-racing event in the calendar, with a Guinness in hand and not a care in the world.
And yet today, you can't buy more than four bananas at a time in Tesco.
Don't worry, this intro is not a Corona-bore-a-thon, I think we've all had enough of reading about that for now.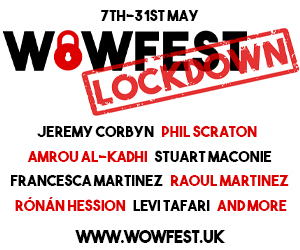 Nope, this is just about reflection.
A moment to think about the things you love doing and how we've all spent our whole lives taking them for granted and assuming that they would always be there for us to do whenever we liked.
Going back to last week, the four cornerstones of my social world are going to music gigs, football, comedy gigs and the aforementioned equine action.
In the space of seven short days, I should have been at the Merseyside Derby, Real Lies at the Shipping Forecast, and looking forward to the Grand National and Cannon and Ball (one for the teenagers).
Cancelled. All of it. Imagine if someone had told you that just a couple of months ago.
We'll all have our examples, Glastonbury, Sound City, Threshold, pretty much everything that was in your diary.
Gone.
The only thing that you should keep in your head is that feeling, when it all comes back, the party we are going to have.
Hopefully we will all learn to cherish it all the more.
But what we did still have is the joy of recorded music, and below are some (mostly) perfect examples of it.
Liverpool Sound City 2020 rescheduled as live streaming Guest House venture launched
The Lounge Society: Generation Game – Single Of The Week
Never in that way that some people are been 'into' any particular record label, I always thought it was a bit of strange thing to hang your hat on.
But, blimey, Speedy Wunderground are seriously testing my particular theory, with their constant stream of lovely things, they are truly spoiling us.
This is a glorious piece of social commentary, the sound of a disenfranchised youth, and it's easy to see why they have already sold out of the vinyl and are already having to produce some more.
As you can see from the photo, these are mere youngsters, not old enough to yet get served, yet old to write something that sounds so wise.
A song for bad times, this angry onslaught twists itself into such a fury, towards the end it seems to be turning in on itself, and the wall of noise is thrilling, just like the first time you heard Sigue Sigue Sputnik, fellow oldies.
Single of the week in pretty much most weeks, an absolute stunner.
Waxahatchee: Can't Do Much
Waxahatchee's current status is very much 'about to go massive' and with this single release it's very easy to see why.
This easy to listen to melodic catchy pop could easily be found on Radios' 1, 2 or 6 as well as Magic or Heart, it has that all-encompassing mass audience appeal.
Taken from her upcoming Saint Cloud album, this Americana vibe will push towards this Philadelphian towards the top of the charts.
Chemtrails: Frightful In The Sunlight
This is one fierce piece of power pop, reminiscent of a heavier Lush.
It chugs along at quite the pace, its all fuzzy guitar hooks and glimmering synths, which bodes well for their second full length album release in May.
The only downside is trying to find out anything about them, their band name not a friend of Google, hard to find under the amount of crackpot theories.
A lovely garage rock corker.
bdrmm: Happy
Happy is the first single from the upcoming debut long-player from Hull's bdrmm (always lower case, never a good sign).
There's quite the 80's goth vibe to it, but it feels a bit understated, and as such, never quite takes off to reach the heights you thought it would.
Coronavirus Liverpool: Kazimier Garden and Phase One launch crowdfunders
Youth Sector: No Fanfare
If you stuck every indie pop band from 2004 in a blender, it would come out sounding like this, and there's not many greater compliments than that.
Post punk guitar flourishes, choppy vocals with the odd shout that reminds one, of all things, of Billy Joel's seminal hit We Didn't Start The Fire.
It's a relentless blast, an absolute treat of an onslaught.
These are very much ones to keep a beady eye on.
Helen Money: Understory
It seems daft to call this a conventional single, when it is clearly just part of a wider suite of music, in Helen Money's case, her latest album Atomic, which is out as you are reading this.
This has some emotional heft to it, a depth that comes across so well, music to find yourself lost in.
If you like what you here below, her album was very much enthused over on these very pages, the full review is here.
Bambara: Stay Cruel
Loved by such diverse people as Simon Raymonde of Cocteau Twins and IDLES' Joe Talbot, Bambara are another band who are finally on the edge of crossing over to the mainstream, this one is a bit more unpredictable though.
A thoroughly tortured vocal, with backing vocals so haunting they belie the beastly music that accompanies.
The title track to their recently released album, which received the highly sought after accolade of being Getintothis' Album of the Month.
For those with long memories, they sound like a US version of Whipping Boy, for those a bit younger, Interpol with a right cob on.
Glastonbury 2020 cancelled due to coronavirus – read Michael and Emily Eavis' full statement
Lapsley: Speaking Of The End
Taken from very recently released album Through Water, Lapsley delivers an icy vocal alongside a sole piano.
Whilst seeming an odd choice for a single, it's simple, effective and lovely.
"Oh the fragility, my valentine" comes the refrain, and you can feel the heartbreak of relationships of the past in every note.
Captures the current sadness of the nation.
Mong Tong: Chakra
Signed to Guruguru Brain, the label ran by Kikagaku Moyo, this is the debut single from the widely-tipped Taiwanese brothers.
This sounds like a synth-led theme tune to a late 80's BBC1 detective show, once again a compliment.
They describe their sound as "a psychedelic journey to the east", and they've hit the nail very firmly on the head with that description.
You'll find yourself humming it hours later.
Modern Nature: Flourish
A brooding, almost scary vocal which breaks and cracks up to varying degrees in all the right places.
Just from it's very essence, you can tell straight away that this is going to find an audience right from the first listen.
Taken from June's 7-track mini-album Annual, the follow up to the majestic How To Live from last year, wonkiness personified.
Comments
comments