British Sea Power's mighty catalogue explored for the uninitiated by Getintothis' Matty Loughlin-Day.

Cliché is a tricky thing.
It is obviously something writers are desperate to avoid; it is unimaginative, it very rarely adds anything to the discussion and at its worst, induces eye rolling, scoffing and detracts from the content of the writing.
Unfortunately, cliché is also very often based in truth.
The reason for this ramble is that catch-all phrases such as "for x amount of years [insert band here] have ploughed their own furrow", or something akin to it, like "they have marched to the beat of their own drum".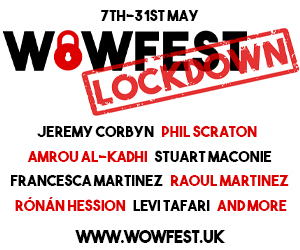 Phrases so widely used, they have surely been added to the Music Writing Cliché Hall of Fame alongside "sonic cathedrals" and "angular guitars".
Very often, such phrases are employed to cover a multitude of sins. Maybe the writer can't think of anything interesting to say about the artists' career trajectory, maybe the writer doesn't get it but doesn't want to say so, or maybe sometimes it is code for "have been about for years but haven't really been successful."
And yet. And yet. Sometimes, as with most clichés, such statements are true.
Take British Sea Power. It's safe to say there's no-one quite like them.
Since the early 2000s, they truly have, forgive me, ploughed their own furrow and marched to the beat of their own drum (quite literally in some instances, but more of that later…)
Radiohead's The Bends 25th anniversary: gateway to the summit
I know, may the Gods of music writing smite me down and may the ghost of Lester Bangs forever hold me in disregard, but this much is true. Once you enter their world, everything else starts to look a bit different.
Disclaimer: British Sea Power are the best band in the world. I've written it before and I'll surely write it again.
You can disagree with that, that's fine, this is a broad church, just as long as you know you are wrong.
Therefore, to the uninitiated, this Guide to British Sea Power is going to appear positively ecclesiastical at times.
I am well aware that to quote the band themselves, I will appear like "a hobbyist of deranged proportions", but such is BSP (as we will now semi-regularly refer to them) and the devotion they inspire amongst their legion of fans, who have long been referred to as The Third Battalion.
Quite why is lost to the dusts of history, but over their nearly two-decade long career, BSP have burrowed deep into the hearts of the battalion and to speak from personal experience, changed the way music and the world appears.
Songs about collapsing Antarctic ice shelves are nestled against songs about World War One, Fyodor Dostoevsky, distant nebulae, Rick Stein and wanting to be a cow.
Album/single covers and posters replicate old classic books and public information posters while dreaming of a time where the rest of the world learns of "what the valleys already know".
There are places to get a full biography of the band – former manager and brother of some members Roy Wilkinson's excellent book Do It For Your Mum! is highly recommended – but here's a very quick potted history.
Mostly hailing from the Lake District, the band decamped to Brighton, where their residency Club Sea Power nights caught the eye and ear of Geoff Travis, who signed them to Rough Trade Records.
American Music Club's Everclear: A lost album that deserves to be found
Since then, they have released six studio albums, four soundtracks (one being a BAFTA winning soundtrack to a video game), plenty of EPs/singles and a sort-of-live one and gigged in locations as exotic as the Mersey Ferry, Czech Embassies, remote Scottish islands, caves and the Chelsea Flower show – but crucially without ever falling into pastiche or novelty (they also gave The Libertines their first ever gig, but we can forgive them for that).
They have held their own Tan Hill festivals, the location of the Highest Pub in the UK and last year hosted the first Krankenhaus festival in the heart of the Lake District, featuring amongst others Squid, Snapped Ankles, Hannah Peel and er, Steve Davis.
From their early days, their live shows have become infamous, featuring on stage fauna and foliage, fighting eight foot bears, air-raid sirens, extraordinary feats of gymnastics from band members and The Wurzels.
Early shows often descended into chaos, with band members diving into the audience, dressed in World War One attire, banging huge bass drums and dispensing Kendal mint cake.
You're not here for their live shows, I understand that, but I just wanted to set the scene, to illustrate that we're not dealing with Razorlight here.
In compiling this list, picking six starting points to the band's catalogue, I've had to be ruthless (and a bit sneaky).
Simply, there isn't a bad place to start.
Leaving out the Valhalla Dancehall and Machineries of Joy albums or From the Sea to the Land Beyond soundtrack is not a reflection on said albums, nor does it represent a dip in quality, rather, it is just necessity.
Believe me, I could happily write an article exploring each and every album and their respective b-sides and off-cuts. See, a hobbyist of deranged proportions.
And so, on we go, 'Welcome In'.
Sing ye from the hillsides and let's learn what the valleys already know.
British Sea Power, Cavalry & The DSM IV O2 Academy, Liverpool
British Sea Power: The Decline of British Sea Power (2003)
What a move: calling your debut album The Decline of… A bold and brave tactic that in lesser hands would be disastrous and a field day for a scathing press.
Handily then, The Decline of… is a modern classic and a summation of everything that is fabulous about this wondrous band.
From the artwork, the quotation on the cover sleeve, the fact that as this point band members only had one name (Yan, Hamilton, Noble, Eamon and Woody) to the song titles – Apologies to Insect Life, Favours in the Beetroot Fields, Fear of Drowning – everything about this album is mysterious, alluring and other-worldly.
On its release in 2003, it gained fans in Radiohead, David Bowie and Peter Capaldi and seemed to be beamed in from another land, covered in the dust of its journey – Joy Division, Echo & The Bunnymen, The Psychedelic Furs, Pixies, Julian Cope being bedfellows with George Formby, death's head hawk moths and The Shining Levels, a book by John Wyatt comprising an account of going to live in the woods in the deepest depths of the Lake District.
But again, one thing to always bear in mind that this is not novelty or "look at us, we're mental, us!"
Although at times surreal and bordering on what might get cast as 'eccentric' (epic 11 minute-plus track Lately ends in a maelstrom of noise and singer Yan maniacally questioning "do you like my megalithic rock?!"), this is not daft music. It's rock music in the truest sense. Music of the rocks.
It is both claustrophobic and psychotic (the one-two punch of Apologies to Insect Life and Favours in the Beetroot Fields is exhilarating and chaotic) and at the same time grand, soaring and tectonic.
The breath-taking, heroic Fear of Drowning, the haunting The Lonely – featuring the fantastic threat/promise "just like Liberace, I will return to haunt you with peculiar piano riffs" – and tender let's-get-lost-in-the-woods-and-hyperventilate Blackout create a world that is as spacious and cavernous as standing atop Orrest Head and surveying other towering mountains and fells.
It was through The Decline of… that BSP made their mark.
Around the time, there was a danger that the shock of the new became the only thing that was discussed and at times, the media perception of them ("nutters in army gear singing about birds, arf") threatened to overshadow the truly magnificent music. Thankfully, it has been the latter that has endured.
Singles Fear of Drowning, Remember Me and Carrion have long cast aside such shackles are even now, 18 years on, they sound remarkably piercing, windswept and elegiac.
It wasn't for nothing that Remember Me reached number 9 in BBC 6 Music's top 100 tracks of the station's lifetime in 2013.
Likewise, the stop-you-in-your-tracks grandness of Carrion is no less astonishing – and it's not just this writer who thinks that, as the lyrics to the chorus; "oh the heavy water, how it enfolds, the salt, the spray, the gorgeous undertow… always, always, always the sea, brilliantine mortality" adorn the walls of the British National Maritime Museum.
In 2015, the band released a deluxe box-set, collecting the album, the singles, b-sides, demos and a plethora of other memorabilia from the time, forever preserving the moment in antiquity. It is a fascinating, nostalgic artefact of a golden era and a must for any diehards who enjoy "looking forward to the past".
In this writer's more, ahem, tender moments, he has said he'd want to be buried with it when the final curtain falls. He's still not sure if he was joking.
British Sea Power: Open Season (2005)
Recorded and released relatively quickly after The Decline of…, the band pulled no punches with Open Season.
Lead single It Ended on an Oily Stage was a tubthumping return that soared as much as anything they had released to date.
Typical BSP, it lamented failing to find God while others did in car parks and Wiltshire fields and writing elegiac stanzas and won plaudits from the press, with NME awarding it the (then) prestigious award of single of the week.
Follow-up single Please Stand Up should have built upon this success and soundtracked the summer of 2005, yet a bizarre ban from MTV for some perceived risqué lyrics ("a little excitement makes us wetter, wetter" – it's hardly Anal Cunt is it?!) meant that it was unable to climb such heights.
Regardless, 15 years on, it still, ahem, stands up, and like much of the album, sounds pristine and as fresh as spring's arrival.
Other album highlights include the intoxicating North Hanging Rock, which gradually builds to a barely contained climax that tumbles down onto the listener like a waterfall and contains the lyric that might sum up the band better than any other – "drape yourself in greenery, become part of the scenery".
It is stunning and for musos after a bit of trivia, features the very piano a certain Freddie Mercury used on a song called Bohemian something-or-another.
The sound is arguably more straightforward than Decline, though subject matters are anything but.
The exhilarating Oh Larsen B documents the impending collapse of an Antarctic Ice Shelf, Be Gone admires French guillotines and Victorian Ice lists herringbone, whitebait, and Edwardian snow atop a jaunty singalong melody.
Open Season also sees bassist Hamilton step further into the light, with three stellar offerings.
How Will I Ever Find my Way Home? is a frenetic Julian Cope style wig-out, detailing "running round in a field, out of my skull", The Land Beyond is a glorious, wistful number whilst album closer True Adventures is an enormous, vast masterpiece, that is uplifting and forlorn, melancholic and euphoric.
Sounding like standing by a boundless body of water at the foot of a mountain at dusk, watching an impending storm approaching, True Adventures is strangely heartbreaking and ecstatic.
Lakes form on the pockets of your brain, foxes are seen in the moon, whilst the winter charges and final cries, whimpers and sighs are gifted to the skies. It falls apart amidst a wailing noise that sees future permanent members Phil Sumners and Abi Fry entering the fold with cornet trumpets and violas whirling around.
From here on in, the band and their sound would expand; they would never quite be the same again, which is exactly how it should have been, to try and recreate these two albums would have been a step backwards.
From the sea to the land beyond, indeed.
British Sea Power: Do You Like Rock Music? (2008)
Arguably the nearest British Sea Power got to breaking into the mainstream, DYLRM? was nominated for the Mercury Music Prize and features perhaps some of the band's most well-known songs.
With Abi Fry and Phil Sumner now on board as permanent members and founding member Eamon departing, the already vast sound of the band became that bit bigger, with cornet trumpet and violas forming much more of the texture.
Lead single Waving Flags troubled the top 30 of the UK singles charts and remains a staple of live shows, and for good reason.
To employ another cliché, it is an anthem, if we take the Cambridge Dictionary definition of an anthem as "a song that has special importance for a particular group of people, an organisation, or a country, often sung on a special occasion".
Pro-immigration in its sentiment, it invites "astronomical fans of alcohol" and those who have travelled "across the Vistula" and from other far-flung locations and has the simple message "welcome in".
It sounds huge, rousing and yes, anthemic, and in these more than troubled times, offers respite from the all too prevalent xenophobia and dogwhistle racism – if anything, it has only matured more and its message became more relevant over the intermittent 12 years and is as stirring now as it was on its release.
Elsewhere, No Lucifer introduced the now ubiquitous "easy, easy!" chants that herald any BSP gig and would have been a huge hit surely, if not for lyrics of "dummy tits… the rest of the shit" and "the boys from the Hitler youth", but that is at the heart of what makes BSP so wonderful. Uncompromising, they tick all the boxes in creating a smash hit and then take a left turn and dive into the ditch.
The footage of the band playing this while masked Cumbrian wrestlers engage in battle in front of a bemused David Letterman is essential viewing, the juxtaposition of the straight edged world of US chat shows and the frankly bonkers world of BSP is magnificent.
Although it sounds as if more effort has gone into the producing and layering of the sound here, there is still the chaotic and wild, with A Trip Out and Down on the Ground, both Hamilton offerings, sounding as frazzled and manic as their live shows often do.
The ambitious, sprawling Lights out for Darker Skies is both a potted history of the "history of light" and a plea to create "a pitch black heaven" and Atom sees the band explore quantum physics while employing an air raid siren, because of course it does.
The album's highlight however might be in the song that features no lyrics at all. The Great Skua is an instrumental ode to the coastal bird and has since gained a near-sacred reputation amongst the faithful.
Stirring, evocative and hugely emotional, it surges and surges before finding release in a wordless chorus that at gigs finds the congregation arms aloft, eyes closed joining in, in sheer exultation. It is hairs-standing-on-end stuff and to make this all about me again, was a song used in this writer's wedding ceremony. Essential for any BSP playlist.
British Sea Power: Man of Aran (2009)
By now, you have probably sussed that BSP are not one for convention.
Three albums in, many bands would opt for a greatest hits, or perhaps a live album. Not many would, at this point in their career trajectory, choose to soundtrack a black and white quasi-documentary about life on a small island off the Irish coast.
Originally filmed in 1934, The Man of Aran is a semi-fictitious film about life on the island in the Atlantic Ocean that sees islanders wrestle with tiger sharks, use seaweed to cultivate potatoes and battle the unforgiving tides.
In the following decades, controversy would rage about whether this is a true "documentary" given the staged nature of many scenes, but by now, this matters little. On reflection, the film is a natural fit for BSP and positively begs for their epic sound to accompany it.
Originally set as live events, in which the band would play along to a screening of the film, the final soundtrack was recorded and released as a DVD and CD.
Largely instrumental, it features meandering, motorik originals such as The South Sound, which highlight the influence of bands such as Neu! alongside longer reworkings of previous material (True Adventures is reworked as the more subtle It Comes Back Again whilst the already hymnal The Great Skua somehow finds even more power as it becomes No Man is an Archipelago) and a cover in the eerie, surreal Come Wander With Me, originally used in an episode of The Twilight Zone.
Crucially, this works just as well on its own, minus the moving pictures as a near-ambient piece of work that transports the listener to another place – if not the Aran Island of the 1930s, then certainly somewhere else just as invigorating and mysterious.
British Sea Power: Sea of Brass (2015)
I've already stressed how unconventional BSP gigs can be, so let us not revisit that and rather, jump straight to this brilliant project.
Across 2015 and 2016, BSP toured the nation and in each location, teamed up with a local brass band for an incredible reinterpretation of their back catalogue that brought the orchestral to their already grand sound. The gigs featured the band and full brass band separated by a glass sheet and was jaw dropping in its scope and was a roaring success.
The triumphant aspects of the band's sound was pushed even further towards the heavens in instances such as The Great Skua and A Light Above Descending, while the more sinister, looming elements sounded that more ferocious and darker, such as When a Warm Wind Blows Through the Grass.
Pleasingly, the gigs were not just "greatest hits with some trumpets", but rather a delve into some of the more obscure corners of their backstory, with b-sides such as Albert's Eyes and The Smallest Church in Sussex elevated and occupying their rightful space alongside the more established classics as Machineries of Joy and Waving Flags.
Following the tour, they released an 8-track CD of studio recorded interpretations, but it's the box-set in which the true breadth and majesty of the project can be found.
Including the standard album, there is also a CD of bonus extra material, two live CDs and a DVD of a live concert.
We can only hope they revisit this project and tour it again.
British Sea Power: Let the Dancers Inherit the Party (2017)
Up until 2017, every British Sea Power had been released via Rough Trade, however for this, their sixth studio album proper, the band crowdfunded and released it via their own label, Golden Chariot.
Not that there was ever a question of BSP running out of ideas or momentum, but Dancers… is the sound of a re-energised and revitalised band.
Teaming up with producer Cam Blackwood, Let the Dancers… holds a lot more focus than other albums and there simply isn't an ounce of fat here.
Blackwood's influence is of importance here, having previously worked with artists such as George Ezra and Florence & The Machine. Perhaps a strange combination, but it pays off to great effect.
Following the whirling 30 second Intro, lead single Bad Bohemian is a classic BSP number without being derivative and sets the tone for the rest of the album.
The Joe Meek-esque International Space Station and almost Cure-like What You're Doing are perfect pop, but again, with the right sprinkling of the surreal to keep away from the middle of the road, suggesting that the teaming up with Blackwood was an inspired choice.
Elsewhere, the meandering and more left-field aspects of past BSP records is reigned in here, but never stifled. The swooning Electrical Kittens is a five minute plus ode to the power of radio to keep us hopeful during the end days, while the towering, driving Praise For Whatever sounds positively apocalyptic.
The overall sound remains grand, however much more colourful than prior album Machineries of Joy, largely due to the synths and electronics being pushed further to to forefront, especially on songs like The Voice of Ivy Lee and Don't Let the Sun Get in the Way.
Maybe the highest praise that can be gifted to Let the Dancers… is that it sounds like an album made up of the very best parts of every BSP album that came before it, with an added touch of newer elements that stop things sounding repetitive and reminds us faithful why it is we love them so.
So what next? The band are again crowdfunding their next album and if the snippets teased out at recent live outings are to be taken seriously, there is very little chance of us being let down.
It might be another cliche to call the band national treasures, but again, sometimes, this much is true.
British Sea Power – exceeding the national average since 2002. Long may they rule the waves.
Comments
comments