Noel Gallagher has revealed an Oasis demo Don't Stop, Getintothis' Peter Guy on the newly unearthed track.
Oasis demo Don't Stop… was made public today.
The track dates from around 2002 and was found by Noel Gallagher while sorting through old CDs while on lockdown due to the coronavirus pandemic.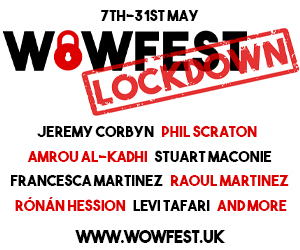 Noel told fans that only one version of the track was previously available, aired during a soundcheck in Hong Kong around 15 years ago.
He added: "I've had infinite time to kill lately so I thought I'd finally look and find out what was actually on the hundreds of faceless unmarked CDs I've got lying around at home. As fate would have it, I have stumbled across an old demo which I thought had been lost for ever."
After Oasis' split in 2009, Gallagher has released three albums with his band Noel Gallagher's High Flying Birds, as well as a number of EP releases. The most recent was Blue Moon Rising last month.
Oasis and their best tracks – Getintothis' Peter Guy selects their career defining moments
Liam Gallagher, meanwhile, recently announced a free concert for NHS workers for an Oasis reunion concert to benefit coronavirus relief.
Noel's involvement in the charity gig is presumed highly unlikely with his younger sibling taking to Twitter this week to reignite his feud.
Here's five things we learned about Don't Stop…
1. Don't Stop… is redolent of much of late era Noel led Oasis tracks in that it'd fit comfortably within the confines of Heathen Chemistry or Don't Believe The Truth.
It's not a world away from early 'solo' tracks Sad Song, Angel Child and As Long As They've Goy Cigarettes In Hell, but with the maudlin melancholy of later era Just Getting Older from single The Hindu Times.
2. If only it were sung by Liam. Let's be frank, every Oasis song is better when it's sung by Liam.
This writer would much rather Don't Look Back In Anger were sung by Liam. And Don't Stop… would be ten fold better if the same was applied there.
Granted it's a demo, so who knows if Noel would have gifted it to his younger sibling to sing. Either way, it'd be better.
Just check Lock All The Doors – a track later released by Noel for his High Flying Birds project – for evidence.
3. There's a distinctive nod to '65-66 era Beatles.
With it's tom-tom tabla-esque drums and George Harrison style middle eight, Don't Stop… could sit easily on Rubber Soul or Revolver. Albeit not quite up to scratch with the material on either album.
4. It could be argued, that Oasis became more of a democracy during 2002.
The introduction of Ride's Andy Bell (a strong songwriter in his own right) and Heavy Stereo's Gem Archer – very much an ally of Noel during this period, Noel felt it part of his role as defacto leader of the band to spread the band's released output around the band members.
That would certainly be indicative of Heathen Chemistry with five of the albums tracks being written by other members of the band. Perhaps that's why Don't Stop… didn't make the cut.
5. Some tracks should remain unreleased. At nearly five minutes, Don't Stop… is at least 90 seconds too long and you can see why it was shelved as it's on a par at best with the material released from that era.
If you want a better demo, see below – the original Setting Sun aka Comin' On Strong released later by The Chemical Brothers. He was that good, Noel could gift these songs away.
Let us know what you think in the comments.
Comments
comments