Here's another week of live guests to keep you entertained in these times of no fun, no flour and no gigs, Getintothis' Matty Loughlin-Day brings the schedule.
Getintothis Live, our new three-times weekly chat show is once again full to the brim with fantastic guests.
The live stream, which feature discussion, debate and occasional live music or spoken word is growing in stature as a go-to for all our cultural needs during this strange time in history.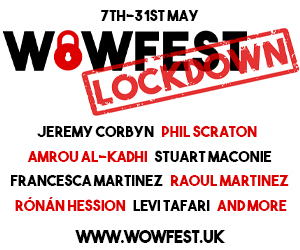 This week's lineup keeps up the standard.
Manning the fort as ever is the indefatigable Roy Bayfield, who will be discussing the latest news and features at 8pm tonight (Saturday), Monday and Wednesday, accompanied by Getintothis' Peter Guy.
Tonight sees Roy and Peter joined by a plethora of talent, including The Farm's Keith Mullin, who has also found residency as a lecturer at LIPA and label boss of Vile Music, amidst a host of other roles (and presumably finding time to sleep!).
Also joining the gang is the almost unbearably talented Congolese Liverpool-based rapper, singer-songwriter, poet and spoken word artist Blue Saint, arts writer and self-confessed theatre addict Catherine Jones from Arts City Liverpool and Ngunan Adamu host of BBC Merseyside's Upfront Show.
Deep Cuts #38 Hooton Tennis Club, Fumar Mata, Alice Mae, Lure In – best new tracks 
With such a wide range of interests and backgrounds, discussion is highly unlikely to be one-dimensional, so be sure to tune in from 8pm.
Come Monday, Getintothis Live will be joined by a guest who needs little introduction: former Frankie Goes to Hollywood axeman and solo artist Brian 'Nasher' Nash.
Also present will be Angela Samata, arts professional and presenter of BBC1′s seminal Life After Suicide and Becca Frankland, who has been responsible for establishing some of the North West's most exciting, forward thinking events, including the accessible raves for the disabled Under One Roof.
Finally, to top off the bill is Lisa Meyer, who amongst other achievements, can lay claim to being a key player in the running of the fab Supersonic Festival.
Looking further ahead, Wednesday's session features BBC radio and 6 Music Festival producer Helen Weatherhead, another key player in local heroes The Farm and untiring activist Peter Hooton, you-name-em-she's-booked-em promoter Tammy Tinawi, who is currently in role as Senior Music Consultant at Cavendish Music, the UK's largest independent music publisher and Laura Shea,  bass player with a multitude of bands including psych-pop collective Whyte Horses.
Getintothis LIVE special guest listings – all shows at 8pm – unless stated otherwise

Saturday, May 9th: Keith Mullin, Blue Saint, Catherine Jones, Ngunan Adamu, Peter Guy, and Roy Bayfield

Monday May 11th: Brian 'Nasher' Nash, Angela Samata, Becca Frankland, Lisa Meyer, Peter Guy, and Roy Bayfield

Wednesday May 13th: Helen Weatherhead, Peter Hooton, Laura Shea, Tammy Tinawi, Peter Guy, and Roy Bayfield
We're encouraging readers to get in touch, leave comments on the Facebook live stream to ask our guests, and in future we'd like to invite readers, musicians and music lovers on to Getintothis LIVE to join the debate.
Getintothis LIVE is streamed on Facebook, like our page to be keep up to date and watch here.  
Comments
comments