Kamasi Washington is set to release his soundtrack on May 15 and Getintothis' Andy Walker lets us know what's going on.
Kamasi Washington has provided the musica score for Becoming, Netflix's documentary profiling First Lady Michelle Obama, which debuted this month.
The score features new original music Washington composed for the film as well as selections from his catalogue. The score will be released May 15 via Young Turks Recordings on all streaming platforms.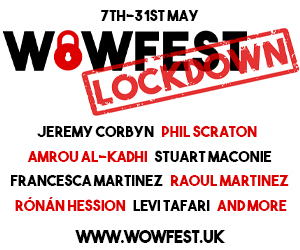 "Working with Kamasi on the musical score was a dream come true," says director Nadia Hallgren.
"Not only is Kamasi a masterful musician, he has a unique sensitivity that he pours into his music. His music reaches deeply into your soul.
When I read the line in Mrs. Obama's book 'And heaven, as I envisioned it, had to be a place full of jazz,' I knew immediately Kamasi could interpret her experience musically. His sound is contemporary and timeless, a magical fit to her story."
"It was such a pleasure and honour to work on" says Washington. "Michelle Obama is such an amazing person and this film gives a unique insight to who she is, how she thinks, and the way she navigates the world. It's truly inspiring to see."
Becoming is an intimate look into her life during moments of profound change, not only for her personally but for the country she served over eight years in the White House.
White privilege, racism and Question Time – Rachel Boyle interview
Kamasi Washington is a multi-instrumentalist, producer and composer born and raised in Los Angeles.
His three bodies of work to date, The Epic; Harmony of Difference, an EP originally commissioned for the 2017 Whitney Biennial; and Heaven and Earth, are among the most acclaimed of the past decade.
As Told To G/D Thyself, his short film companion to Heaven and Earth, debuted at the 2019 Sundance Film Festival and earlier this year he released his first concert film, Kamasi Washington Live at The Apollo Theater in partnership with Amazon Music.
The tracklist for Becoming is as follows;
1 Shot Out of a Cannon
2 Becoming
3 Take in the Story
4 Southside V.1
5 Dandy
6 The Rhythm Changes
7 Song For Frasier
8 Announcement
9 Detail
10 Fashion Then and Now
11 Provocation
12 Connections
13 Looking Forward
14 I Am Becoming
15 Southside V.2
Comments
comments