Loathe's ascendancy has been meteoric, drummer Sean Radcliffe reflects on the journey with Getintothis' Nedim Hassan.
While 2018 was a breakout year that saw them nominated for Best New Band at both the Metal Hammer Golden Gods and the Heavy Music Awards, this year has witnessed Loathe surpass already lofty expectations.
This is largely thanks to their sublime sophomore album, I Let It In And It Took Everything, which was released through SharpTone records in February.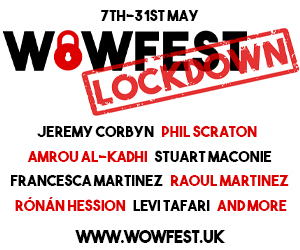 I Let It In…is one of the most compelling 'heavy' releases in recent memory.
In large part, this is down to the fact that, as it unfolds, it is a record that is genuinely immersive for its depth and versatility.
The listener is taken on a journey that can be both laden with lush, soothing melody, as well as white-hot incandescent rage and the bleakest of soundscapes.
Loathe are not the only band to juxtapose caustic metalcore with dream-like sections of shoegaze, but rarely has an album with such jarring sonic contrasts come together as cohesively.
As the critics continue to laud I Let It In… and with a recent duet of triumphant home-town gigs behind them, we caught up with drummer Sean Radcliffe who reflected on what has been an eventful time.
Dysgeusia 61: Staring into the abyss with BlackLab, Katatonia and Testament
Given Loathe's emergence from within the local Merseyside metal scene, we first asked Sean about his roots within that community.
"I grew up performing as most of us did, but one of the very first shows I ever went to with friends and paid for was a local show in a Liverpool venue called Barfly, where Carcer City were supporting Sylosis, coincidentally, years later I went on to meet [Loathe guitarist/co-vocalist] Erik in that same venue when we were both performing there."
Although they remained in separate bands for a while, Sean and Erik struck up an instant bond.
"We were both quite young and instantly hit it off, I think I overheard him sound checking with a riff I recognised and I went in to see who was playing it, and that's how we got connected.
"From then on we were always in separate bands but stayed in touch and spoke a lot about music."
The genesis of the entity that became Loathe was, then, not a straightforward one.
Members started out in different bands and even when Sean got together with Erik and co-vocalist, Kadeem, the early incarnations of the group only gradually arrived at the sound they were looking for.
As Sean recalls: "After a while Erik asked me to join Our Imbalance, and I played with them for a while, but knew it wasn't really exactly what I wanted to do musically, as my background and influence is from quite a different place.
"As well as this, [vocalist]Kadeem and Erik already felt they wanted to go somewhere else musically, so it all just worked out perfectly timing-wise."
Tool: a buyer's guide to the post-metal titans and their Fear Inoculum return
With the release of debut EP Prepare Consume Proceed in 2015, the band came to the attention of new label SharpTone Records who re-released the record in 2016.
From there, the band's journey gathered momentum rapidly as they toured extensively in the UK with the aforementioned Carcer City and performed at high profile festivals such as Tech-Fest and Ozzfest Meets Knotfest.
Their touring schedule intensified in 2017 after the release of debut album, The Cold Sun, and they headlined a UK tour, as well as supporting Bury Tomorrow later that year.
The period leading up to new album I Let It In… saw no let-up in the touring schedule, but this was something that Sean feels had a profound impact upon Loathe's development.
He singled out bands such as Stray From the Path, The Devil Wears Prada, Gideon and Crystal Lake as making a big impression.
"Touring with bands like these always makes us feel like a small fish in a big pond, but in the best way possible, because they operate on such high levels"
"We're always looking to others for inspiration and ways to improve, and bands of this calibre never fail to make an impression on us, whether it be in the performance itself, musically or even simply down to interaction and how we treat one another."
"We still consider ourselves to be a young band with much to learn, and these things, though sometimes overlooked, we feel are essential to progressing as a band."
To this point, Loathe have certainly been fast learners on the live circuit. In fact, in 2018 Matt Mills from WhatCulture hailed them as metal's greatest live performers since Slipknot.
Despite such accolades, what comes across from talking to Sean is that Loathe are a band who are consistently pushing their own boundaries and standards.
The song-writing process for I Let It In… illustrated how they were willing to challenge themselves in order to create something they could be proud of.
Sean provided some unique insights into how the record came together, "As a whole I feel like we all have our own ways of doing things.
"I will typically take a really long time to write a song, it'll often start out as a simple chord progression that I'll play for a long time, sometimes months on a guitar acoustically before I'll ever begin to actually record and compose a full song."
"During these months of playing it over and over, I will map out what I feel in my head and essentially just imagine the structure of a song.
"From there I move to a computer where I can actually start tracking things and working on the smaller details."
"After we individually flesh out songs we would work on them together, though it ended up in a lot of bumping heads, this paired with time constraints is likely what led to such a difficult writing process for the album." 
"Between the five of us we each have our own musical influences, and fortunately most of our influences overlap and we have great musical chemistry that I feel gets stronger as we grow together, but we also each have our own quirks and our own tastes that when combined, make for a very eclectic and interesting writing process."
Although I Let It In… is still a new record, it is also apparent that this is a band that is just getting started.
It is also evident that with future releases, Loathe will not be hesitant when it comes to pushing against generic boundaries.
"We've always had 'larger-than-life' aspirations as a band, of course our beginning and our roots are always grounded in heavy music in some way, but our music taste is so vast and broad that it just wouldn't be possible for us to only create in one avenue."
"There's always this spill-over into other sounds and other genres that we end up incorporating in some way into our music.
"It's always purely coincidental and down to what we feel at any given time, we've never tried to ride any waves of any other music, we just create what we feel and hope that people connect with it."
This fearlessness is what makes Loathe stand out from the pack.
The future is theirs and it will be fascinating to witness the next stage in their evolution.
Comments
comments