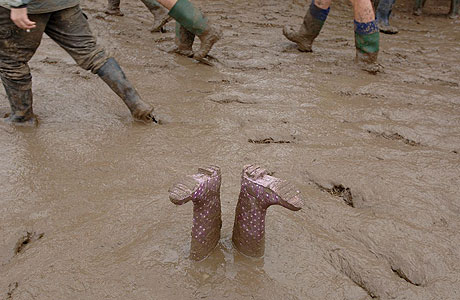 With just hours to go, Getintothis presents the ultimate guide to enjoying, and surviving, the greatest festival of them all.

There is simply no right or wrong way to approach Glastonbury. Everyone goes for their own unique reasons. For, unlike the gazillion other 'festivals' (read: gigs in fields) which are springing up across this isle, Glastonbury is the big 'un – as it is so much more than a music festival.
Whether you're an old school hippy content with basking in the stone circle, a new age nutter found skipping round the dance village, a family from Hull happy to decamp in the kid's field or a simple soul indulging in a spot of harmony in the healing fields, Worthy Farm has a limitless supply of fun for all.
My four years spent in the fields of Avalon run from 2003-2007, and having lost my Glasto virginity in the sun-soaked heatwave in my first year and endured the apocalyptic mudbath of 2005, it's fair to say I've experienced my share of vital survival lessons which go hand in hand to having a good time.
So while this list is far from definitive for those of you about to embark on your first, and probably best, Glastonbury experience, it will go a long way to ensuring you have a reet good time.
Chemicals: Let's cut to the chase, everybody likes a good time, but there's simply no point going down to Pilton with a campervan load of class As, Bs, Cs & Ds. This isn't 1977, and the men in black don't take too kindly with jokers waving round a rucksack full of skunk. If you're going to take 'something for the weekend' – of course we don't endorse this kind of behaviour – then make sure it's a sensible amount and well concealed. Going to Glasto shouldn't involve getting a criminal record.
One form of pill I do heartily recommend though is – paracetamol.
Fluids on the other hand are essential. Take as much as you can carry. The walk to where you camp will probably be a near death experience, but lugging a crate of ale, several plastic bottles of spirits and of course the all-important water bottle is a must.
Beer (London prices) and vision-inducing cider is readily available on site and there's always exploitative goons wandering around selling cans of warm piss, but taking your own mini-bar should ease your spending and more importantly time in queues.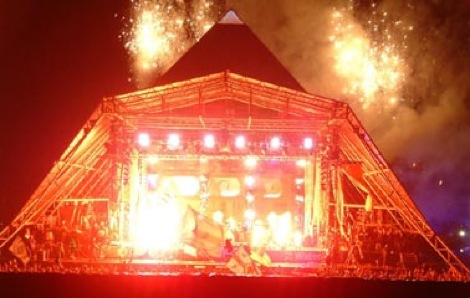 Essentials: I'm all for positivity, but you have to prepare for the worst: it's going to rain, you're going to have chronic diarrhoea and your tent will probably be raided by scallies.
Apart from the rain, none of this is likely to happen, but you have to cover all bases, so taking wellies, a sleeping bag, bin bags, toilet roll, wet wipes, a hooded waterproof, a towel and toiletries should be prioritised over cocaine and hair straighteners.
Other useful items are a torch (tripping over guy ropes in the dark is hilarious for all involved, unless it's you doing the tripping), sun block (you never know!), bottle opener and lighter – always a good one for making new mates and getting the campfire started.
Oh, and cash is also pretty useful too. Take loads; going the cash machine is a big no-no.
Do your own thing: Staying in a group is certainly fun, but never let this stop you from wandering off on your own. You will find people again – unless you arrange to meet up at the mixing desk. I once went on a 4am wander and found the Chapel of Love & Loathing (a church which stages marriages) were inside two scantily-clad women were wrestling while a ska band played top notch brass noodles and a James Brown immitator sang gospel. I then met Jason Pierce. None of this would have occured if I'd stayed back at camp and talked shit for hours with my spaced out chums. Exploring the entire site – FACT: it's bigger than the moon – is knackering, but hugely rewarding.
Become a druid (for a day): I realise it's all very cliche to pretend to be a hippy, but it's also true that once you step foot on the sacred turf you do feel incredibly liberated. So while stripping off isn't my particular course of action (ladies aggrieved at this situation can console themselves with the knowledge you are guaranteed to see at least one ageing wild hobo bollock-naked) you may indeed feel inclined to indulge in some hippy action. Top of the agenda is going to the stone circle at around 2am and waiting til dawn for the spectacular views during sunrise. While you're there you'll be treated to some tribal drumming, fire juggling, lanterns being released and being asked if you want to buy any LSD.
Other hippy-related must-do's are visiting the teepee field, eating free stodge that the Maharishi's hand out – it's surprsingly ok – and getting a free rubdown by a mystic named Meg in the healing fields.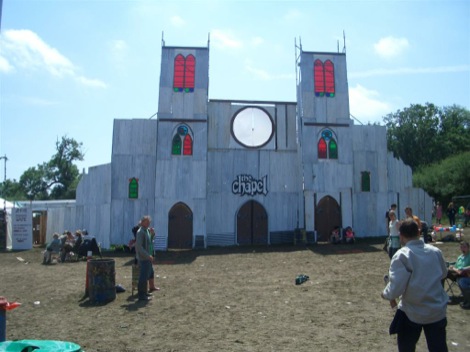 Shangri La & Trash City: Gone is the old hat and overcrowded Lost Vagueness replaced this year by this exciting new Eavis venture. What you can expect is all-round general naughtiness and late-night madness set to the tunes of lunatic dance music in which the line-up reads like a dictionary of wrong. Trash City on the other hand made a most welcome appearance last year bringing with it mechanical sculptures, scrap metal monsters and a pyrotechnic show which was straight out of Mad Max and the Thunderdome. Oh, then there's the nightclub with parading trannies.
Toilets: Simple – just go. In all honesty, nothing can prepare you for the sight and smell of a festival toilet. However, unless you really enjoy constipation or befriend the Eavis' the call of nature will eventually come knocking. My advice is avoid portaloos – unless you happen to find a freshly cleaned one (you'll be lucky), and go for the long-drops. They're open air, primative metal cubicles, which if you hover above are the best on offer. The slight problem of no lock, means you'll also have to have one arm firmly on the door resulting in a manoeuvre which some Olympic gymnasts may struggle to pull off.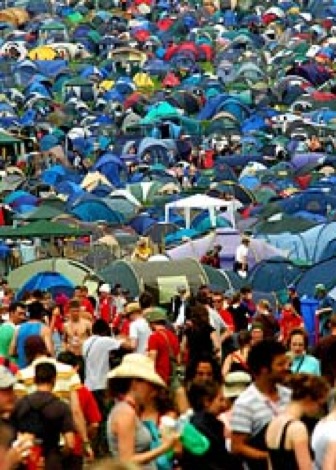 By the end of the festival you'll have developed a superhuman tolerance to filth and have thighs stronger than Lance Armstrong.
That's the spirit: Finally, enjoy it. No-one likes a moaner, so if you are soaking wet, covered in dirt and you've lost your camera just smile and get on with it. The whole experience is a great leveller and laughs are essential. If you're stuck for inspiration just go to the comedy or circus tents, they're always worth a peak, but I seriously doubt you'll have any trouble in the humour department as there's so many sights and delights all around.
If you're after some top tips in the music department I'd head straight to !!! (chik, chik, chik) quite possibly the best electro-indie 19-piece Canadian band on the planet, Biffy Clyro for all out rock excellence and The Go! Team who are guaranteed to get even the most hard-nosed of people laughing and dancing.
That's about it – for all of you that have been before feel free to add your own tips and experiences, I'm bound to have missed loads, in the meantime grab your wellies and I'll see you in Glade!
Comments
comments