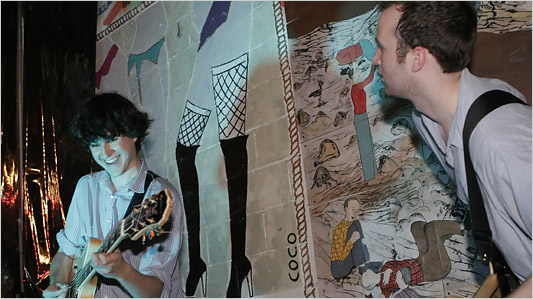 The ubiquitous preppy yanks may have delivered one of the records of the year, but can they take Manchester? Getintothis' Greg O'Keeffe finds out.

One night in Manchester, two very different bands, each with very, very promising futures.
First up were surly scouse quartet Screaming Lights who I believe had a name change this year although I don't know their previous incarnation.
Anyway, their new name – and certainly their live show is superb for fans of angular, moodily atmospheric rock.
I instantly warmed to singer James Treadell when he started getting slated by two immensely annoying middle-aged Mancs behind me.
Unfortunately they seemed to want some pickle to go with the cheese they were accustomed to watching live because Treadell's lack of smiles and lame banter actually offended them. Smile you miserable get one hollered. And this from the city which gave the world The Smiths and Joy Division? Any self-respecting Manc music aficionado would ha™ve wanted to punch them almost as much as me. Anyway, smiling or not Treadell is an absorbing frontman who switches from playing lacerating guitar parts to snarly synths during the 25 minute set.
Screaming Lights came off like a narkier Editors and had enough Interpol echoes to please this listener.
I'll be trying to check them out at their next Liverpool appearance at the Zanzibar on June 27.
Vampire Weekend came on promptly and seemed in celebratory mood straight off. This was the final night of the NYC band's tour promoting their eponymous debut. Even from the opening organ stabs of Mansard Roof it's reassuring to tell there is substance to go with the style.
Yes they rock the preppy, Rayban and cardigan US freshman look quite knowingly, but the tunes more than stand up to scrutiny.
Their album is refreshing as much for its clever and poppy sensibilities as any fusion of African rhythmic ideas with guitar rock and echoey drums. But the band seem pleasingly pretension free and don't come off like students with too many wacky reference points.
Instead the swing which tracks like Cape Cod Kwassa Kwassa and Oxford Comma carry gets everyone dancing and singing along quickly. Ripping through a set, which also includes the bounce of Maccabees-esque single A-Punk and Walcott. The lyrics are interesting enough too, painting a quirky picture of East coast college life, ranting about grammar and pontificating about places and historical facts.
As comfortable here as playing outdoors on Roosevelt Island they are talented musicians and songwriters with enough nouse to hang around. Certainly the 11 tracks of their debt weren't enough to satisy this venue. Even with B-sides thrown in the band reluctantly left the stage admiting they'd have to "write more songs next time". I'll look forward to it.
Comments
comments