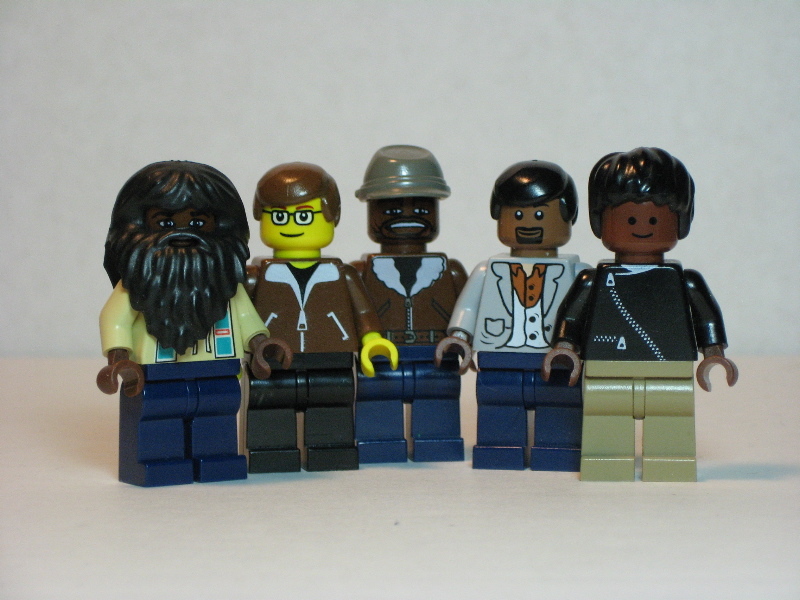 The blogosphere's band of choice deliver – and then some. Meanwhile Deerhunter, Bloc Party, Fucked Up, Liverpool's The Maybes? and more come under the Getintothis reviewascope.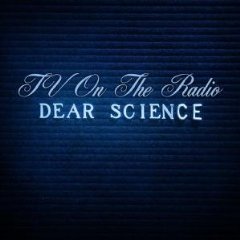 TV On The Radio: Dear Science – Album of the Week
4AD
'Hey Jackboot! Fuck your war! Cause I'm fat and in love and no bombs are fallin' on me for sure. But I'm scared to death, that I'm livin' a life not worth dying for.' – Red Dress – TV On The Radio
In 1987 Prince's sprawling masterpiece Sign ☮' The Times acutely reflected a world awash with confusion and with it a title track which explicitly pinpointed the chaos of society – the space race, the Reagan administration, the AIDS endemic, heroin addiction and nuclear holocaust – all weighty topics dropped into a track deliberately minimalistic in its orchestration to expose the full horror of the world at large.
But what the record as a whole also displayed was a belief and hope in a better future, a world that is willing to change and seek some form of salvation.
Eleven years later, and at a pivotal time in US political history, TV on the Radio, appear to arrived at a similar juncture. Their heads – as always – riddled with disgust and anguish but unwilling to despair, instead believing in their hearts that there will be better days ahead.
Indeed, the artwork to their astonishingly fine new record, Dear Science depicts the group stoney-faced in a lab, perhaps cooking up, or at least trying, a remedy to cure all our ills. And as lead-off single predicts, 'The age of miracles, the age of sound. Well there's a Golden Age, comin round, comin round!'
But hold up. Let's not get carried away, for as so often in the past TVOTR are no bundle of joy, and it would be misleading to suggest Dear Science is their 'happy' album – sure the funky, often brassy and certainly uplifting noise has presented a more wholesome, digestable offering than their previous three, but its their overiding sense of social conscience and dense production which makes them anything but an easy ride.
Take DLZ, a glooming slug-hopper, saluting the destruction-makers – 'Congratulations on the mess you made of things, on trying to reconstruct the air and all that brings,' spits Tunde Adebimpe as the rage builds, before the kiss-off, 'never you mind, death professor' – we'll sort it out ourselves.
Similarly, Halfway Home – a close cousin of Wolf Like Me from 2006's Return To The Cookie Mountain – employs battering ram guitar and fuzz as Adepimbe storms, 'The damage you hold inside your blush…You showed it up. It's over now. And I'm insane.'
But where Halfway Home, and indeed all of Dear Science, deviates from Return.. is the easing off from Dave Sitek. Previously noted for his deftness round the control room, TVOTR in actual fact suffered from a overtly crushed sound – there was simply too much to hear! Dear Science breathes and positively gushes life rather than being bogged down with synthetics.
Take the remarkable Family Tree, a track so laden in sorrow that had it been produced similarly to past efforts it would perhaps be unlistenable. Here there's space, light and the merest twinkle of ivory and strings. It could in actual fact be the song Chris Martin has been trying to write for three albums such is its radio-friendly beauty. But then, Martin doesn't sing about being haunted by his family swinging in the gallows.
And let us not forget, TVOTR know how to rock. Dear Science is brimming with massive wall-to-wall stonkers – Dancing Choose could double as a hip-rock It's the End of the World As We Know It (and I Feel Fine), Red Dress is the funkiest, brashest track they've ever written and Shout Me Out combines garage rock, Prince strut and sax hoots – it's thrilling stuff.
Closer Lover's Day is fitting. After the downbeat misery of DLZ, we're treated to a paegent of colourful flutes, clarinets, alto and baritone saxs and additonal vocals by Eleanore Everdell, as the falsetto of Kyp Malone rains down on Adebimpe's boom; 'I'm gonna take you, I'm gonna shake you, I'm gonna make you cum. Swear to God it'll get so hot it'll melt our faces off!'
At last, this is the sound of TV on the Radio revelling in their sound as an ambitious, event band, sounding huge, colossal, megalithic but keeping their heads and hearts intact.
9/10
For fans of: Funky drummers, snow panthers, Cosmic Slop.
Gang Gang Dance: Saint Dymphna
Warp
Look up GGD on wiki and their refered to as a 'neo-primitivist' or 'neo-tribal' group. I'd be gutted to be labelled such tosh.
Are they living in a frickin wigwam carrying round dead bison and shoving bones through their noses? Doubt it, and judging by the Arabian figure carrying a guitar and amp in his backpack on the flip of their new record, they're fully aware of the silly confines of musical categorisation.
Saint Dymphna is a glorious unpigeonholable sprawl through Brooklyn's much-covered artrock territories. Akin to Yeasayer and Ponytail, GGD fuse mysticism, exotic rhythms, warped dance and an otherwordly playfulness which is so limitless that after first listen you'll be itching for repeat plays.
Pick any track at random and you could be listening to another band altogether; nomadic in approach yes, primitive certainly not, this is a band exploring dimensions on one record few cover in an entire career.
8/10
For fans of: Life of Pi, Mohammad Azharuddin, Ibiza.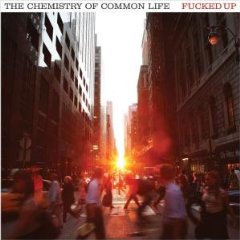 Fucked Up: The Chemistry of Common Life
Matador
I love the way NME put this lot on their cover in a subversive two-fingered salute and then shrink-wrapped it inside a bag no-one could actually see through. Punk rock.
Anyhoo, this is Pink Eyes and co's second full length, and while there's plenty of raging, it's a long way off their hardcore early 7″s.
No bad thing on the likes of No Epiphany which sounds like MBV mutilating Black Flag while the undulating squall of Looking For God adds a much-needed tempo shift.
But ultimately, The Chemistry… isn't as rad as you've been led to believe as the experimental edge is hardly ear-shattering and the harder edges have been diluted resulting in a record which is good, but not fat enough.
6/10
For fans of: The Bushwhackers.


Steinski: What Does It All Mean: 1983-2006 Retrospective
Illegal Art
No relation to mid-90s whopper Normski, Steve Stein is the original sample-ripper that caused a stir in the early 80s by knicking ad themes, jingles and film footage (most controversially the assassination of JFK on the Motorcade Sped On and bringing things up to date, Betty Ong's cell phone call from United Flight 11 on 9/11 – making for a difficult listen on the previously unreleased Number Three on Flight Eleven) to create great swathes of rollicking B-Boy hip-hop.
If it all sounds a bit Girl Talk/Cut Chemist, that's because it is – but this guy was doing it first – and better – 20 years ago.
Mega props also for I'm Wild About That Thing too – perhaps the funkiest, flithiest, down right baddest mix you'll hear this year.
7/10
For fans of: Sugar Hill Gang, Coco Pops, Blackalicious.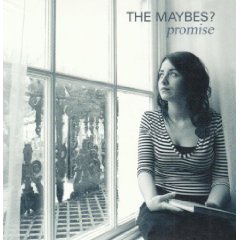 The Maybes?: Promise
Xtra Mile
'About Bloody Time' would have been a more fitting title for Anfield/Kensington's finest.
Since 2002 the various walls of The Pool have been decorated with their moniker and approaching their sixth billionth gig on home turf, they've at last managed to lay down a debut which will frustrate and delight in equal measure. Gone are the ragged early demo classics in waiting Actions and Silverball (only the River Deep Mountain High-apeing Modern Love survives the cut), replaced by a sheen and polish more akin to their Mersey heritage.
This is no bad thing on the three 'She Bangs The Drums' (aka: The Perfect Indie Pop Tune); Talk About You, Summertime and Boys – each a fizzing, rapturous display of winning harmonies and blustery guitars, but there's also a smidgeon of haven't we been here before on the more lightweight Healing Hands (a clear nod to Shack) and Ronnie Loves Julie.
But then there's that song: Promise. The title track has been a live staple for sometime, and it is in fact the reason many of their devoted minions turn up to their many gigs. A near 13-minute swirling, looping, sky-scraping, echo ecstasy that given a mini push into the mainstream would have every chance to trade places with I Am The Resurrection as the last dance down Le Bateau every Saturday night.
If you've heard it, you'll know exactly what I mean, if you've not listen here; loud. I've played it 57 times on repeat and still pushing play. Hopefully, this is an indication of their intent.
6.5/10
For fans of: The Tea Street Band, milkmen, summer nights.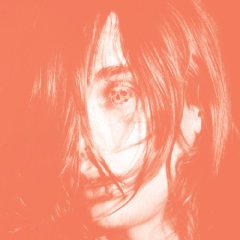 Deerhunter: Microcastle/Weird Era Continued
4AD
Bradford Cox = Winner. There's surely no-one in contemporary music laying down such blissful entrancement on wax while also committing to copy the most provocative and engaging interviews the world over.
Recently he defended his outburst after Microcastle was leaked by a 'worthless loser, who sucks at living' and we'd have to salute him simply because no-one gives away such a plentiful supply of great music for free on such a regular basis.
As a result of this 'loser' Microcastle has been readily available digitally for donkies, but it doesn't lessen its magnificence – each track a hazy snippet of Cox's somewhat unfathomable, unquenchable attempt to soundtrack his every living moment in sound.
More accessible than Cryptograms, yet as equally dazzling, this is Deerhunter gone pop: if pop equates to swirling discordance underpinned by strangulated fuzz and lyrics alluding to Victorian vampires.
The bonus Weird Era record sounds less a tag-on and more an extension into Cox's world – a mesmeric maze which you can't help but want to get lost in.
8/10
For fans of: Slug trails, Another Green World, Rubix Cubes.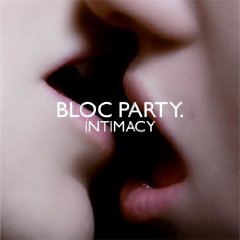 Bloc Party: Intimacy
Wichita
You've gotta admire Bloc Party. While several of their peers construct 'make-do' predictabilities, the overly-earnest Kele and the gang, always aim for the stars.
Intimacy is nowhere near the record it strives to be, but hats off for some bravery. Mercury is not nearly as annoying as on first listen, Biko is as tender and luscious as anything on Silent Alarm and Trojan Horse (despite the fist-biting lyrics) is a belter coming to an indie disco floor near you.
There's ample material for the cynics to let fly in their direction, most notably their emphasis on ramping up the electronica – presumably in an attempt to facsimile Radiohead's transformation to big league avant-gardists – but Bloc Party's winning ambition serves as a reminder that here's a band worth sticking with for the long-haul.
6.5/10
For fans of: Xylophones, grammar enthusiasts.
Comments
comments