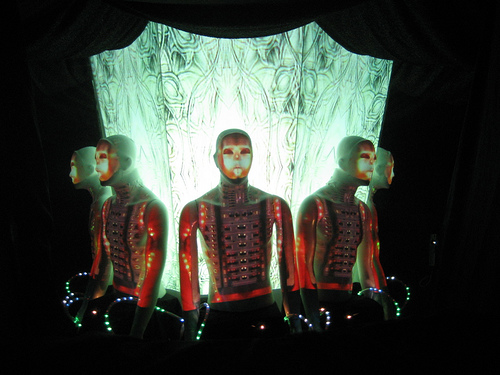 Not just Liverpool's finest night out, The Kazimier is an underground cultural phenomenon – and after last Friday's extravaganza it's safe to say the secret is well and truly out.

Dancing wolves, a dark witch swinging from the ceiling, break-dancing zulu warriors and a 60-year-old dressed as Admiral Nelson.
Just a cursory glimpse around the impressive circular surround is enough to reveal a myriad of wonders on show at this the thirteenth Kazimier spectacular.
Descending through a Lynchian wonderland cloaked in red velvet curtains and dark timber we're greeted by our host, Gregory, a tall, wiry figure dressed in plush Elizabethan costume championing vivid greens and silver. He's a pre-Raphaelite Zappa.
Beneath his impressive moustache, an inviting grin immediately puts one at home, and it isn't long before we're treated to one of the many absinthe cocktails on offer from the upstairs bar. Poured by a kindly treewoman or her birdman colleague.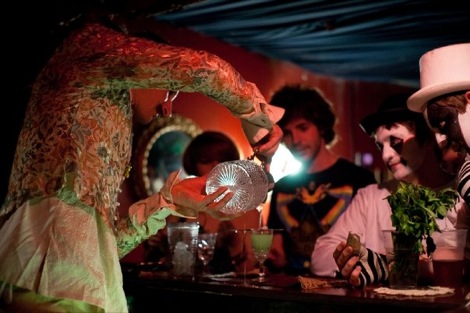 Similarly, to the twelve that decorated 2008, tonight's event – The Glass Organ – carries with it a theme and story which loosely knits proceedings together: a royal ball is interupted when a Dark Queen (below right) imprisons the King's daughter and the only way of breaking her spell and releasing the Princess is playing a sequence of notes on the Glass Organ. Problem is, only the Royal Orchestral Conductor knows the secret tune – and he happens to be frozen in time.
What plays out is a stunning concoction of performance art, improvisational avant-rock, medieval paegentry and a finale which sees the Dark Queen defeating an assortment of heroic suitors before a lazer beam of light, deflected from a giant shield shatters her spell and sends her packing to a darkened corner.

The princess, who has for the last three hours been locked, high above the main dance floor, then descends the battlements as the place erupts to the tune of Chicago disco and euphoric electro.
The Glass Organ roars in jubilation and it's genuinely thrilling.
But this is no one off – each of last year's events have earned The Kazimier the reputation as the place – not just in Liverpool, but the UK – to celebrate the weaving together of art, music, performance and poetry culminating in a party rich in atmosphere and good times.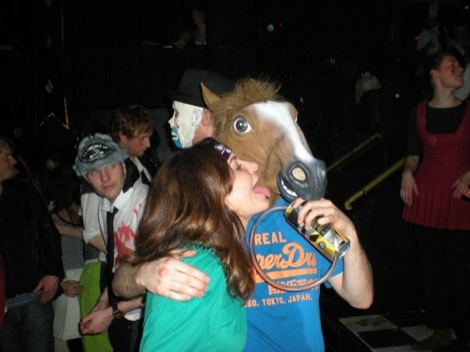 There's been a Wickerman-style Harvest feast complete with sacrificial offerings (Samhain), a grotesque celebration of mortality and identity (Karneval) and a series of Sunday cinema showings featuring Jodorowsky and Kusturica.
Yet, where previously only the select few were privy to the delights on offer behind an unassuming black door in Wolstenholme Square, tonight's event – the first of 2009 – is a capacity sellout, with punters scrabbling over networking sites desperate for their piece of The Kazimier pie. The secret's spilling forth.
How it all began is unclear.
But it's roots are an amalgamation of savy entrepreneuralism and hip artistry by a team from London and Liverpool, combining with the omnipresent goings-on by the arthouse collective housed in Mello Mello on Slater Street.
Facts are scarce and deliberately so.
Indeed Getintothis was set to run an interview and feature with Sam, one of The Kazimier's leading figures prior to their October showcase Imperium (a futuristic ball dance celebrating time travel and stagecraft), but invites were politely declined.
Incredibly, in an age were mystery and enigma are in short supply, The Kazimier, despite having its own myspace, Facebook (check out their incredible, hand designed event posters) and host website, has retained an impressively dignified underground following.
Information is in short supply. Events are announced mere weeks in advance. And details are revealed gradually (for tonight's event themes and appropriate costume details were revealed only once tickets had been purchased), teasing and building anticipation.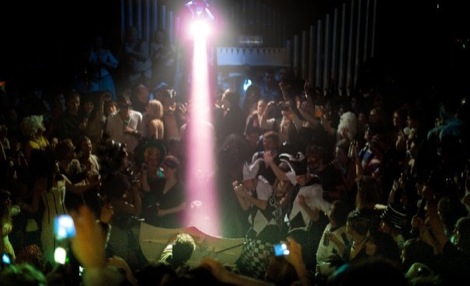 Tonight though, there's a tangible sense, all that's about to change. But, maybe for the better. We discuss the every-expanding interest with Stan Ambrose – harp player, one-time collaborator with uber-ace Pool nutters Super Numeri and now DJ on Radio Merseyside's Folkscene.
He welcomes the growing following and hopes more will be inspired to put on their own events and spread majestic ripples across the City. Hell, they're needed.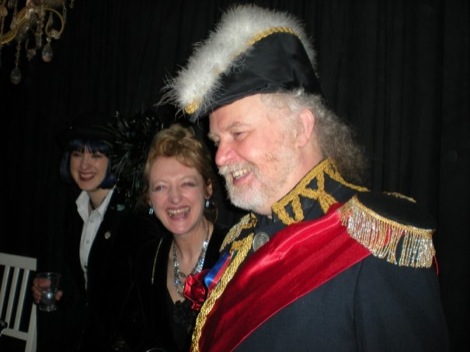 At 69, Stan is just one of many elder statesmen and women enjoying tonight, indeed his mini cult status within The Kazimier's inner sanctum is clear as performers and guests come to greet him, shake his hand and embrace as he watches from a balcony at the back of the hall.
'I don't mind if word gets out, let's hope this is just the beginning,' he beams. 'I hope it carries on forever, in one form or another – there's nothing quite like it.'
He's not wrong.
This is a view shared by many of The Kazimier's regulars, yet there is a strong feeling that should word reach the masses the spirit and vitality may become diluted. Richey, a regular on Liverpool's music and club circuit informs me he's stopped going out much in Liverpool, bored with it's generic club nights.
'I used to go to Chibuku all the time,' he says. 'But now I don't bother. I'd rather go to Kazimier – nothing compares. I tend not to go out much and instead wait for the next one (Kazimier) as I know I'll not be disappointed – though I do hope it stays a secret!'
It's hard to see how.

The Kazimier: The Kronos – Journey in Time, New Year's Eve 2008.

The Kazimier: Samhain party, November 2008.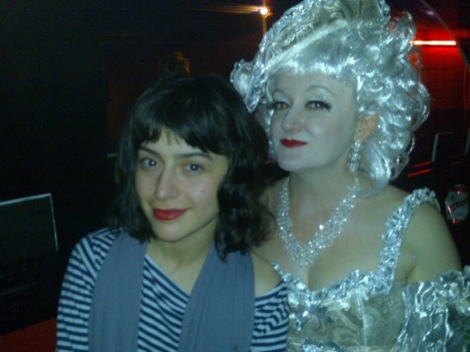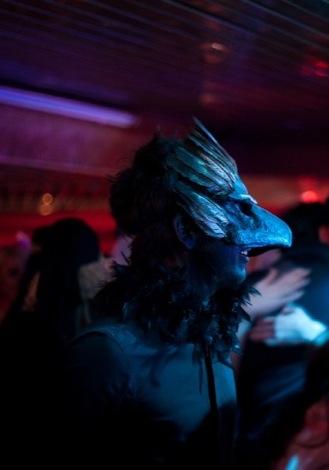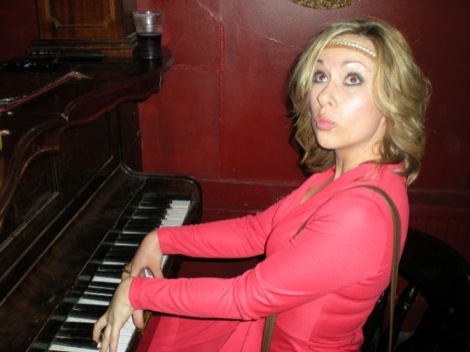 http://www.myspace.com/thekazimier
http://www.thekazimier.co.uk
Comments
comments