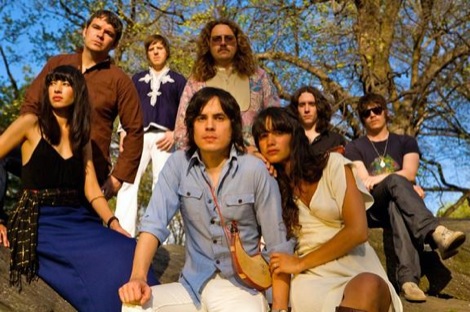 Win two passes to see Brooklyn's whacked-out children of groove – The Phenomenal Hand Clap Band.

Last August was a busy time for these ears. It was one of those months were guilt kicked in as consumption seemed to overtake pleasure.
Well, not quite. But surely you've experienced something similar. Anyways, point is, for all the wealth of music doing the rounds there were but a few that stood out as genuinely impressive propositions.
One of which was undoubtedly The Phenomenal Handclap Band.
A 16-legged beast specialising in big, groove-based progressive disco rock, with heavy sprinklings of 60s soul and hip hop-styled orchestral breakbeats that utilises live instrumentation to evoke the intricate arrangements of Norman Whitfield, Quincy Jones and Phil Spector as well as the pared down beats of contemporaries like The Neptunes and Danger Mouse
Live they are a core band of eight with an array of special guests popping in to lend a helping hand, so don't be surprised to find a 15-piece psychedelic, disco-matic, get down, groovy, hippy cult, rock spectacle-supergroup pouring out of all the nook and crannies in The Kazimier.
To win two guest list passes to this not to be missed gig add Getintothis on Twitter here and tell us something phenomenal in 140 characters adding '#phenomenal'.
We'll do the rest.

www.myspace.com/phenomenalhandclapband
Supporting cast
The Red Deltas
'Roll up on you like a Viking raid on a sleeping village.'
www.myspace.com/thereddeltas
Slopes
'Like a shadow in the night, raiders move with stealth.'
www.myspace.com/thisisslopes
Pink Film
'Zephyr like Zapatista zealots cause a ziganka.'
www.myspace.com/pinkfilm
Advance tickets are priced at £6.
Comments
comments