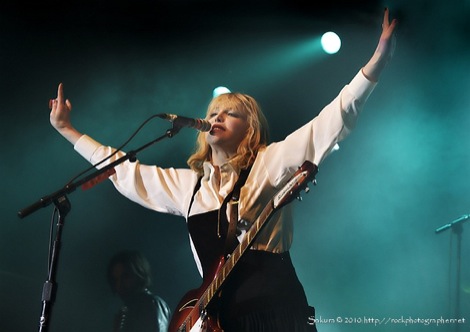 The Courtney show comes to Manchester for the first time, Rosanna Hynes reports on all her ragged glory.

Courtney Love took to the stage in Manchester for the first time in her career on Friday.
Wearing a black pinafore dress and oversized white shirt, as well as sporting her trademark red lipstick and tousled blonde mane, she casts an impressive, if somewhat spectral, figure over the crowd.
As she launches into the slurred opening lines of Pretty on the Inside there is a moment, repeated throughout the gig, where the audience breathes a sigh of relief. This is Courtney as we all dreamed she'd be. She seems genuinely pleased to be here, wielding her guitar, standing splay-legged at the front of the stage, giving us the last of her "fucked up voice" that she began to lose in Glasgow a few nights previously.
Pretty on the inside turns, a few lines in, to her rebuilt version of Sympathy for the Devil, where Love has included a few verses of her own devising.
Blurring into Skinny Little Bitch, the single from her latest album, Nobody's Daughter. The band are on familiar ground at this point; the current lineup is completely new with the exception of Love, and the latest album is the only work they have produced together.


Safe ground has never been Courtney Love's territory, however, and she launches into Miss World with blustering enthusiasm before telling the crowd, 'If we suck, deal with it'. Love seems geared up for the new album to be received with hostility, but it is rather received with anticipation. They are songs that are untested and tonight is where they will earn their stripes. The new album works a filler for the big hits in this performance though.
Love stands on stage, her beautifully gravely voice matured and bringing a new depth to songs written nearly 20 years ago. She spreads her arms out like wings and leans into the crowd, basking in the attention. She seems almost shocked by the response she receives, and it is fairly surprising, in even this varied crowd, there is pure adoration her for her.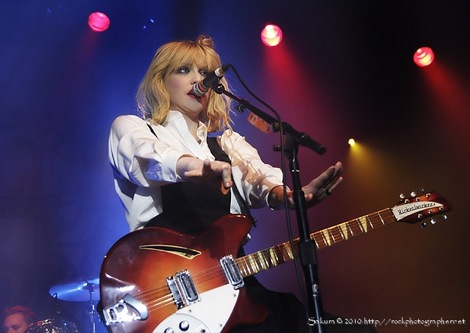 Halfway through the show, Love's amp breaks, and she launches into impromptu acoustic performances of Gold Dust Woman and Boys on the Radio. This was followed by a repaired amp and stunning closing tracks Malibu and Asking for It, closing with Doll Parts.
'This was either the best fucking show of your lives or the worst', declares Love, and she has a point. All that could possibly be wrong failed; a singer losing her voice, technical difficulties, a band unfamiliar with the big hits. But somehow it all works, and Love provides an unmissable performance.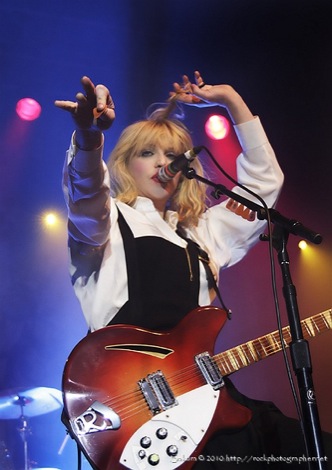 Photography courtesy of Sakura Zilla
Comments
comments