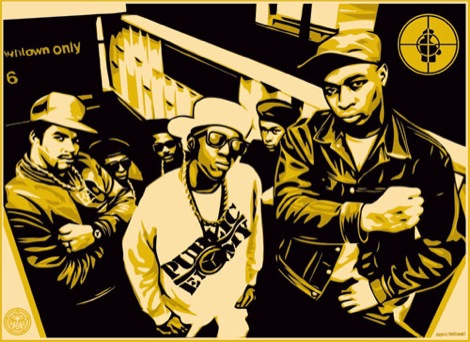 Northern Irish lecturer and journalist living and working on Merseyside since 1995, Paddy Hoey, casts his vote on the top 10 political rock songs.

Sam Cooke: A Change is Gonna Come
A beautiful hymn for change in Segregation era USA by a man who possessed the voice of his generation. Inspired after his arrest for trying to book into a whites only motel in Louisiana, Cooke set about his masterpiece in1963, the year of Martin Luther King's 'I Have a Dream' speech.
The final verse, There have been times that I thought I couldn't last for long/but now I think I'm able to carry on/It's been a long time coming, but I know a change is gonna come, is one of the great refrains of the civil rights-era and the combination of Cooke's wonderful voice and atmospheric production could make stone cry. Otis and Aretha versions are also worth a listen.

Stiff Little Fingers: Alternative Ulster It may have been a cut price version of The Clash and lambasted by many in Northern Ireland during the Troubles, but Alternative Ulster has strangely stood the test of time.
Belting final verse too: Take a look where you're livin'/ You got the Army on the street/ And the RUC dog of repression/ Is barking at your feet/ Is this the kind of place you wanna live? Is this were you wanna be?/ Is this the only life we're gonna have?/ What we need is/ An Alternative Ulster
Like all great political songs, it's a call for change.

The Jam: Eton Rifles
Paul Weller's somewhat naive call for class war by taking on the officer classes of the British establishment wrongly endorsed by Dave Cameron a couple of years ago.
Weller's always been an uppity outsider: 'All that rugby puts hairs on your chest,' 'What chance have you got against a tie and a crest?' kinda lay bare his intent.
His best political lyric is however on 'Down in the Tube Station' 'They smelt of pubs and Wormwood Scrubs/ And too many right wing meetings'
That's the 1970s right there and tragically parts of Essex and the North today.

Public Enemy: It Takes a Nation of Millions to Hold Us Back
A complete political history class in urban black America at the end of the 20th Century. Focussing on drugs, violence, government neglect, segregation, black consciousness and militant Islam, it's hard to separate any one song.
Perhaps Black Steel in the Hour of Chaos or Night of the Living Baseheads illustrate the primal anger and power that made Chuck D the greatest songwriter of his generation. And always remember: freedom is a road seldom followed by the multitude.

Billy Bragg: Waiting for the Great Leap Forward
It was a toss-up between Housemartins-era Paul Heaton and the big nosed bard of Barking, for who wrote the best lefty lyrics in the 80s. But, Bill it had to be, especially given he's still harassing the BNP whenever he can.

A lyric that is brilliant from start to finish, but the opening verse has a beauty we don't often ascribe to Billy: It may have been Camelot for Jack and Jacqueline/ But on the Che Guevara highway filling up with gasoline/ Fidel Castro's brother spies a rich lady who's crying/ Over luxury's disappointment/ So he walks over and he's trying/ To sympathise with her but he thinks that he should warn her/ That the third world is just around the corner.
Best thing is, he's still rocking this and updating it at every available opportunity. Check out this performance on Craig Ferguson's Stateside Talk Show.

Gil Scott-Heron: The Revolution Will Not Be Televised.
Intellectual black consciousness, proto rap which lambasts the growing commercialisation of American life in the age of television advertising. Sadly, not on his play list in Liverpool last week, but still a very potent example of political polemic nearly 40 years since it was first written.

Elvis Costello: Shipbuilding
The bitter sweet ironic reality of politics in a song. Costello juxtaposes the prosperity that the Falklands War brought to the working class shipbuilding communities in the early 80s with the reality that these people were building ships to kill in the South Atlantic. Best version is this much shown Robert Wyatt cover from the Whistle Test.

Midnight Oil: Beds are Burning.
There can't have been many more political bands to have worked over the last 30 years and there can be very few who have had a global hit about Australian Aboriginal land rights. Lead singer Peter Garrett is now Australian Minister for Environment Protection, Heritage and the Arts.

Rage Against the Machine: Killing in the Name
A popular anarchist/ left wing band writes an anthemic protest song that accuses the military and police of being in the Ku Klux Klan.
And now all we know about it is that it kept Joe McElwotsit off the Christmas Number 1. Go figure.

Christy Moore: Vive la Quinte Brigada
He wasn't afraid to put his head above the parapet during the Troubles and say what he felt even if it was controversial, but this beautiful song is a loving tribute to the Irish Socialists who fought on the Republican side during the Spanish Civil War. It's an education listening Christy.

Spotify group started here Political Songs for Election Day
Paddy's blog Gobshite's Miscellany concerning all things culture, politics, music and banter can be found here.
Comments
comments