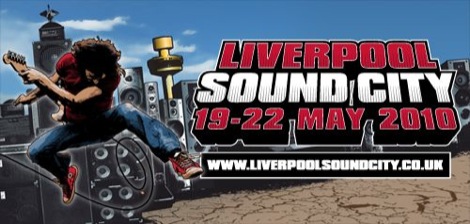 On a night were nothing went to plan, Liza Williams unexpectedly leaves more than happy.

It was a bad night for timing. Every band I aimed to see I missed, and after sitting through about seven sound checks my plan for the Friday night listings lay in tatters.
But sometimes its good not to know what to expect.
And from mysterious English folk to quirky Taiwanese melodic rock, Sound City had it all if you were prepared to let fate decide.
Metropolitan was our first stop and we caught Bluejuice, an Australian five piece with a bit too much confidence for their own good. They were competent but veer to close to MoR.
But it is often the bits of Sound City that you catch by mistake that end up being the most impressive.
We wandered into 3345 at Parr Street to the sound of perfectly tuneful folk harmonies sung by three girls. They were accompanied by a boy with a banjo, but sadly their name escapes me – and the bar staff. These impromptu sets at the festival add to the atmosphere, and prove it's best for the venues to sometimes be flexible with the line ups.
The laid back atmosphere in 3345 contrasted sharply with the Magnet, which was full of excitable Taiwanese fans following Tizzy Bac.
The keyboard-led band dispense with guitars, utilising just bass, and are obviously successful in their native country.
Like Ben Folds Five, they're melodic, with an engaging female singer.
We had headed over to see Liverpool outfit Seawitches and were disappointed when we realised the schedule was running behind. However Tizzy Bac were worth the climb up Hardman Street alone.
Next up were Heike has the Giggles, an Italian trio, that disappointingly sounded like a generic American punk band. But they seemed to impress the rest of the crowd as the Magnet began to fill up.
Being at the mercy of Merseyrail we missed Seawitches completely, yet left somewhat fulfilled by an evening of unknown riches.
Comments
comments