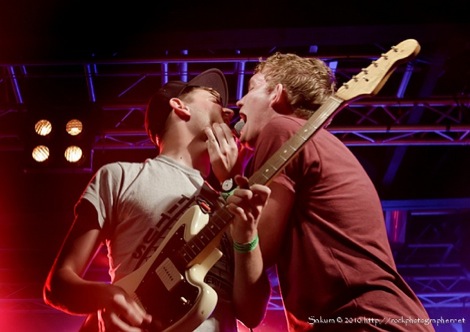 Myths and legends from the perfect 21st Century pop band, Getintothis' Matthew Eland soaks up a packed Academy.

The O2 Academy is packed when Los Campesinos! take to the stage, and the vast room is a shock to the system after running round Mello Mello and The Kazimier for the previous three nights.
It seems to be the antithesis of Sound City, but these are the big names the wristband holders have paid for.
And LC! give good value for money, the tracks from three records in as many years gelling nicely. The palm muted staccato of Straight in at 101 complements the jaunty bounce of Miserablia, while older songs like My Year in Lists sound as assured as the new.
Perhaps the gloss of that 'tweeXcore' tag is beginning to wear off as Gareth's lyrics come more to the fore, his narcissistic self-loathing being the best thing about this band after the sheer energy.
And he's in fine fettle tonight, bantering between songs and showing none of the alienating grumpiness that's been glimpsed before, unlike bassist Ellen, who looks as though she'd rather be doing anything else in the world.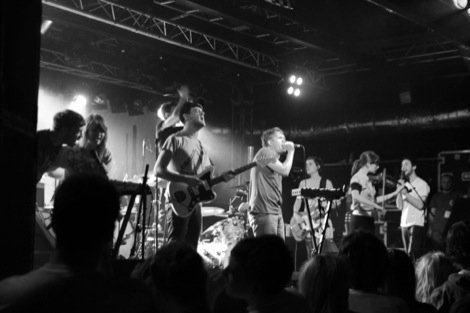 Reservations about the line up change are unfounded – new keyboardist Kim is a worthy replacement for the one who went to be a doctor, and Rob, the new eighth member, adds some nice percussive depth to the sound.
They seem a little less orchestral than they did in 2008, the emphasis more on the three minute pop song than on violin led digressions.
But when it all condenses, such as The Sea is a Good Place to Think About the Future, the results are rather stirring.
They close on Sweet Dreams Sweet Cheeks and finish the set stood on the monitors, gang vocalling the refrain, as the violin sails on.
They're the perfect 21st century pop band. Catchy, and with enough venom to remain interesting alongside it.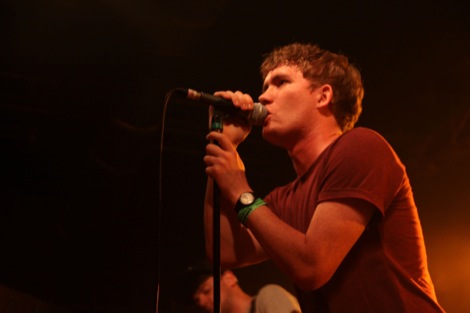 My guess is that they'll be here for a few albums more and then vanish Keyser Soze style, leaving a dignified little legacy.
The strange stories will pass from memory to myth, and one day even the singer will struggle to glean fact from fiction.
He'll sit back in his easy chair and think 'Did I really steal a pedalo? And was I really bullock naked?'
Pictures courtesy of Sakura Zilla and Conor McDonnell.
Comments
comments