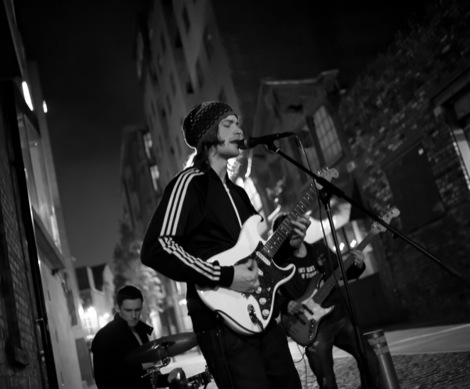 One of the joys of Sound City is you can just be stumbling along Bold Street and WHAM you're slammed bang in the lughole by an outrageous slice of noizze. Take Getintothis' Mike Doherty, he was sitting off in the summer haze reading some Dostoyevsky, when up rocked a group from Manchester and cheered him up no end.

Rolling out of the O2 Academy, the Delphic and The Fall crowd found an impromptu gig from Manchester's Shoshin.
Having supposedly being promised a support slot and then later got turned down, they began just as the venue emptied and played their tight, infectious rap rock tunes.
Their efforts weren't in vain either as they amassed a crowd of nearly 200 people, some who were filming on their phones and recording the sound on their iPods.
They quickly ran out of their demo CDs and made about £50 in change.
Today's conferences were all about how young bands can make money from their music – none of them mentioned this. Good luck to them.
Comments
comments