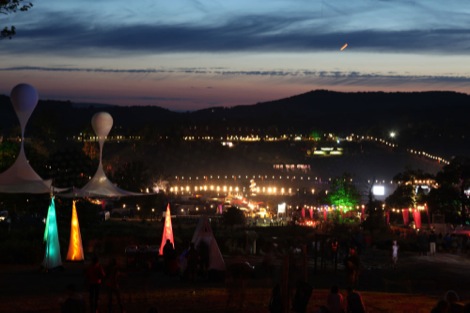 While we recover from Latitude, here's Getintothis' Luke Traynor on the hottest festival next on the horizon – The Big Chill 2010.

'Just 16 sleeps, 15 hours, 50 minutes an 57 seconds until The Big Chill', the ticker reads on the official homepage, like an excitable child waiting for Christmas.
In many ways though, that's how many seasoned Chillers are when July breaks and it's weeks rather than months before the festival kick-off.
They say the Big Chill has the highest average of repeaters, that is, those who find their home at the Eastnoor Castle festival, so it's time to see if the organisers have this time amassed enougb to bring you back once again.
Here are some of the many 2010 highlights.
1. M.I.A.:
Thank God for acronyms. Mathangi Maya Arulpragasam is a major coup for the festival and the Mercury, Grammy, and Academy award winner will get everyone shaking their booty.
Mixing hip hop, electro and a touch of grime, M.I.A's a girl of the moment featuring highly in Time Magazine's 2009 'World's Most Influential People', while latest record ///Y/ has proved yet another critical sensation despite pushing the boundaries of sonic warfare.

M.I.A – BORN FREE VIDEO OFFICIAL (real and explicit version)
Uploaded by elnino. – Music videos, artist interviews, concerts and more.
2. Spencer Tunick
Known for pushing the boundaries, The Chill brings provocative artist Spencer Tunick to Hertfordshire.
Vaunted for large scale displays, mainly consisting of people in the buff, it's a slightly disturbing development to learn the subject of his festival exhibit will be us…the paying public kits off, let's hope for good weather.
Previous projects include 7,000 people snapped in Barcelona, 18,000 in Mexico City, 2,000 in Amsterdam and 2008 naked football fans pictured in the run up to the European Championships in Austria. One thing's for sure – the American likes his flesh.

3. Caribou:
Canadian Daniel Victor Snaith has been making consistently whopping electronic music for donkies, but he really surpassed himself with this year's Swim.
Critics aggregate site Metacritic notes he's averaged 83 which is a bit like hitting six sixes in an over being bowled by . Only Michael Holding is really old now and you'd only score 36.

4. Massive Attack
The first announcement of the festival, and it's always a good move to get your big boys out first. The Bristol trip hoppers are perfect fare for the more mellow and informed crowd down at Eastnoor.
Their brand of dark, brooding heralded a new sound of a generation and a host of immitators and while it's been a quiet half a decade for the band they have still earnt the right to their 'seminal' tag.
This will be their only summer festival appearance and it comes hot on the heels of critically acclaimed album Heligoland. The cinematic-style and dub grooves are set to chime well out from the Deer Park stage. Could some eye-popping guest friends be joining them this time?
5. Thom Yorke:
Having released debut album Eraser to much acclaim, scoring top five chart positions on both sides of the Atlantic, Yorke is an intriguing choice for a top Deer Park Stage slot.
After he and Radiohead axe-ripper Johnny Greenwood wowed the Park Stage at Glasto it'll be interesting to note what surprises will be in his armoury this time round.
And more to the point, will he be donning that headband again. Come on Thom, give Eastnoor a smile!
6. Mystery Jets:
The Eel Pie Islanders flit into town with their folksy indie rock. The Blaine family recently wowed a select gathering this summer in Liverpool on a boozy boat which sailed back up and forth up the Mersey, ending with a bang with the brilliant Behind The Bunkhouse.
Their poppy romance, with lead singer Blaine a minstrel-like figure, could mean this Syd Barrett-inspired outfit are a high point of the festival.
7. Bonobo:
Last heard by this scribe while lying flat out at 4am in the sheltered Glade field at Glastonbury, their chillout is the perfect come down after a raucous night.
Simon Green's output is so blissfully downbeat, it'll be the last thing you listen to before you finally decide that the tent is beckoning. We shall sleep like kings.

8. Liars:
chill (chl)
n.
1. A moderate but penetrating coldness.
2. A sensation of coldness, often accompanied by shivering and pallor of the skin.
3. A checking or dampening of enthusiasm, spirit, or joy: bad news that put a chill on the celebration.
4. A sudden numbing fear or dread.
Brookyln's Liars put dictionary definition number 4 into this year's Big Chill. Expect the finest horror upon horror of music from this lot. DO. NOT. MISS.

9. John Shuttleworth:
A staple diet of pensionable banter here at The Chill, cries of 'I Can't Go Back To Savoury Now' and 'Austin Ambassador Y Reg' will have even the most straight-laced listener giggling before long.
Shuttleworth is best served when the sun is out, the grass is suitable to lie on, and the paradox of watching this brown leather jacketed, bespectacled Yahama keyboard player trotting out sheltered accommodation riffs, as Annie Mac polishes off her best vinyls, is duly noted.

10. Weather
I'm touching every bit of available wood here, but bear with me when I say the Big Chill takes place, on average, on the hottest day of the year.
Statiscally, you've a pretty decent chance of having a sun-soaked festival here in Herefordshire than at any other British festival.
And as we all know, good weather, and no mud, equals good times. Don't shoot the messenger. I only recount history.
The Big Chill takes place on August 5-8 2010, for artist and ticket info see here.
Comments
comments